From sharpening up soft skills to having the right attitude, here are some key insights into what you need for your first job.
More than experience — The right attitude is needed
Kim (not her real name; from the media industry):
My new job in an editorial role is my first job, though I did complete a few internships in the media industry while studying for my Diploma in Visual Communications. Although the role has a slightly different focus than when I was interning — I did graphic design then — I've always had a talent for copywriting, so I decided to venture out of my comfort zone to gain more experience. Plus, I really enjoy writing!
I find that if you take a positive approach to your work and are solutions-oriented while being a good team player, then you can stand out and do well, even if you are a newbie. I received my diploma in 2017, but as a fresh graduate, I discovered that many employers did not want to give me a chance due to my lack of experience.
My current employer looked beyond this, so I am adamant that I remain open to learning on the job and taking different roles, as I believe this will open the door to greater opportunities and help me gain more experience.
Thinking of a career change? Your resource for career-related articles, updates, and events starts here!
Keith Ng, the co-founder of Gametize, a digital gamification platform that offers training on the go, notes that one of the main attributes he looks for during the interview is to see if candidates have the right attitude. "Paper qualifications and experience are not a good enough judge," he shares.
During interviews, Keith assesses how the person would fit into the culture of the workplace, and how willing they are to learn on the job. "I find that gauging their interests and work habits is probably just as important as their technical skills. I look for candidates who will thrive at Gametize so that they become their best selves while doing their job," he adds.
Keith cites the example of one of his staff: Wena Ng, who joined the company three years ago in a client engagement role as a fresh job entrant. Wena now holds a management role in Gametize, heading the Channel Distributor Programme. Although she had little experience when she first joined the company, Keith says that she stood out for the following reasons:
She was impressed with her research on Gametize and showed interest and belief in their company
She was not afraid to try new roles within the company
He adds that his first impression of Wena: that she would be a good fit with the company was spot on. He says that she is never scared to share strategic visions for the company and explore unknown waters. Keith shares that at Gametize, they value team members who are open and direct, and who always want to improve their knowledge, striving to achieve above and beyond their job scope.
When it comes to new job entrants, Keith also says that he appreciates candidates who follow up with the company after every round of interviews.
Read Also: Acing the Interview: 3 Tips From HR Experts
"It shows us they really 'hunger' for the job," he says. "In cases where we are unsure of the job candidate but like their attitude, we ask if they are willing to be on a humble salary during their probation period which normally lasts about two to three months. I have done this with a few fresh job entrants and have always confirmed them within two months. Of course, their salary increases once their probation is over."
Keith adds that this approach has worked for Gametize and the candidates they have worked with because it allows both sides to get to know each other before they commit.
Watch the video for tips on how to research your prospective employer so that you can better customise your job application.
Learn to be a communicator
Sonia (not her real name; from the media industry):
One of the many stereotypes that younger, new job entrants tend to face is that we are all too much into digital gadgets and technologies such as our smartphones and social media, and therefore, don't know how to interact with others. In my opinion, this is just a misconception, just like there are older workers who are actually quite tech-savvy, so it's unfair to lump them all together and say they are technologically challenged.
While I am naturally quite reserved, in both my jobs — first as a subeditor and the second as a writer — I have learnt to observe my teammates and ask questions when I am not sure of something. Seeking the advice of those who have more experience saves you time and helps you steer away from avoidable mistakes.
Read Also: The Art of Being a Better Co-worker: Ways to Improve Relationships at Work
At both jobs, my colleagues and bosses have been very encouraging and I have found that I have been able to learn quickly and apply the learnings easily. Meeting people for interviews also helps push me to interact more and learn about different types of people. My passion for my work has helped me become more of a communicator. I've also formed some really good relationships through work.
Chan Guat Cheng, Executive Director of travel company Chan Brothers, says that communication is important — it is vital for the employee in the course of their daily work, and also helps the company, boosting customer satisfaction as well as the employee's own job satisfaction.
"While finding the right local talent can sometimes be a challenge in our industry, there are still service-oriented staff around, you just have to find the people who have passion for the industry," she says.
She adds, "At Chan Brothers, our approach is driving home the importance of customer service in everything we do so that it becomes a natural part of every employee's consciousness. We have documented steps and processes which we use as a standard operating procedure to ensure this is a priority in each employee's mind — so it becomes second nature."
Ms Chan also stresses the importance of giving feedback, for both employee and employer, especially on areas that can be improved.
"We have a system where this can be done anonymously, so those who are shy can still contribute their ideas or voice their opinions. In addition, we have also introduced a staff rewards system that recognises those who receive the most compliments from customers — we find this has been successful in motivating our staff."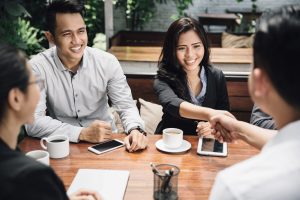 Enjoy what you are doing
Sonia has always known she wanted to work with words. "Having a passion for what you are doing is very important. I know that many tend to think that younger workers tend to job hop. I spent two and a half years in my first job, even though I felt it was not fast-paced enough for me.
However, I gave myself time to ensure that it was really something I didn't like before I decided to leave. My current job is still in the same industry, just in digital, which is more me and something I really enjoy so I am not planning to leave it anytime soon!"
Keep updated on the latest job opportunities on Telegram
Jonathan Wong, Co-founder of Genesis Gym, agrees that you should enjoy what you do. He shares that Genesis staff have comprehensive training programmes that are focused on catering to the needs of customers. This helps keep them updated on the latest industry and nutrition trends, so they can better engage with customers.
Jonathan believes this is a key motivator of his staff, as keeping abreast with the latest fitness trends keeps them both competitive in the industry and passionate about their job.