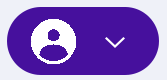 In today's dynamic environment, various factors such as the emergence of new technologies has transformed the nature of work fundamentally. Here are 3 key employment trends that we will see in the future and how you can leverage on them to keep yourself relevant in the job market.

Help us understand your goals better.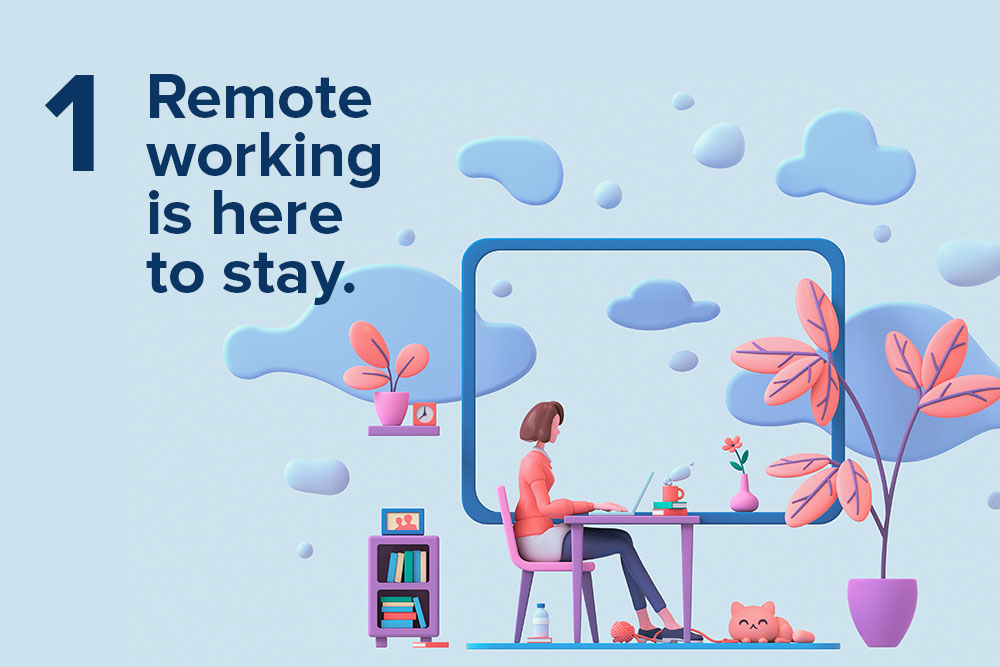 In the past, remote working in Singapore was largely unheard. However, things changed when the Singapore government announced that non-essential companies must adopt telecommuting during the circuit breaker period. As a result, many companies swiftly adapted to the new normal. Even as we exit the circuit breaker, our government has indicated that telecommuting will remain in the long term.
At a virtual conference organised by the Singapore Institute of Directors in August 2020, Infocomm Development Authority of Singapore's Chief Executive Mr Lew Chuen Hong said that "working from the go" is a trend that will continue, given that Singapore has made significant investments in broadband capabilities.
Considering these circumstances, it is essential that you familiarise yourself with popular video-conferencing software when you work from home. These include Zoom and Microsoft Teams, as well as other remote working software such as Slack and Trello.
However, the rise of remote working also has some challenges. For instance, individuals will have to juggle multiple tasks at home, from parenting to household chores. This will inevitably lead to higher levels of stress. It is therefore important to take care of your mental health during this period. The Ministry of Manpower offers some self-care tips for individuals working from home.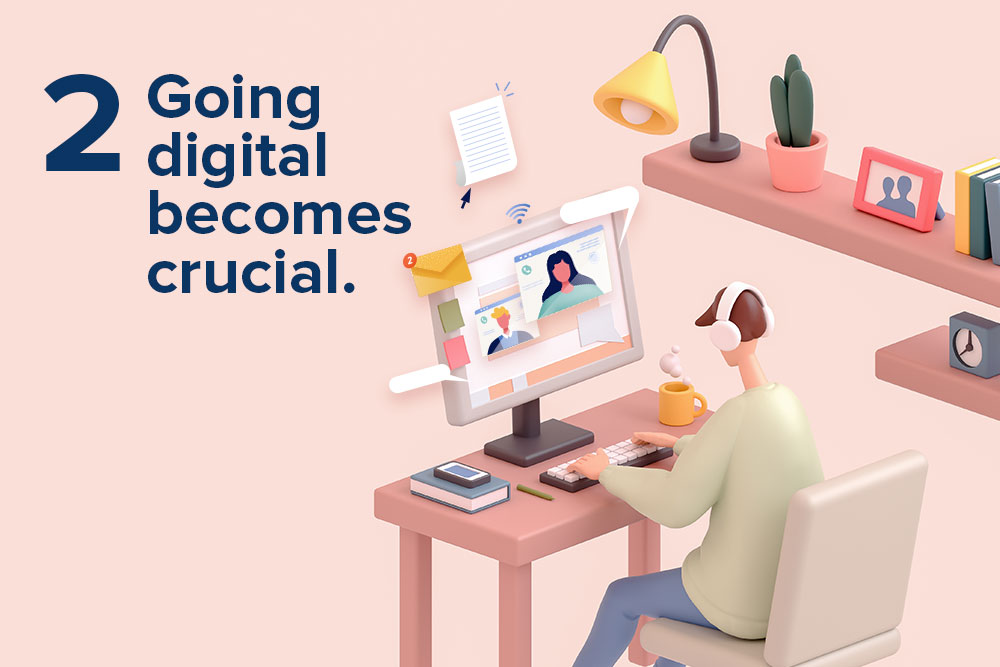 In the 2017 report published by the Committee on the Future Economy (CFE), the CFE noted that Singapore is "in an era of rapid technological change." Additionally, the introduction of new technologies will create innovative businesses such as ride-hailing company Grab.
Some SMEs such as BreadTalk as well as candy floss and popcorn shop Candy House have also started digitalisation due to its advantages. On the individual level, getai singer Wang Lei's foray online as a Facebook Live fish seller also bolstered his income when getai shows were stopped due to Covid-19 preventive measures.
Likewise, the recruitment company Hays predicts that digitalisation will create a higher demand for hybrid roles that combine multiple functions. Some examples include the development of new business intelligence and analyst positions as well as data science evangelist positions that call for a mixture of data science skills and consulting experience.
However, to take advantage of this trend, the CFE recommends that individuals continue upskilling to remain relevant in the job market. Our government has also pledged to help all Singaporeans thrive in a digital world, regardless of their age. As such, the government will introduce more digital ambassadors to support the digitalisation efforts of organisations and also to teach senior citizens to learn about these new technologies.
For individuals, you can also deepen your digital skills through existing government initiatives such as SkillsFuture and Lifelong Learning Institute courses.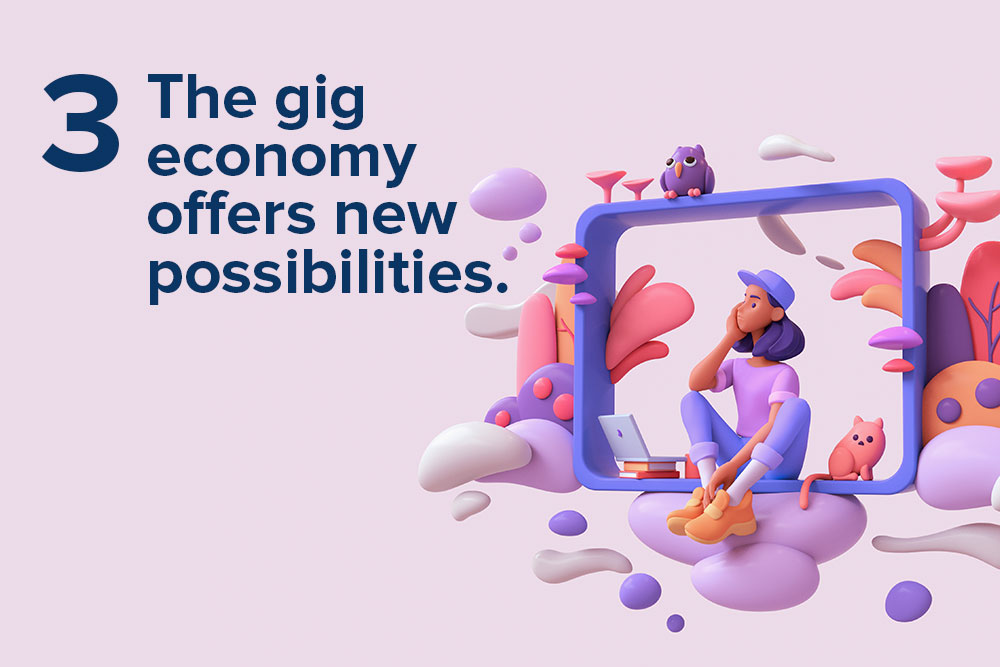 The gig economy is becoming more popular in recent years. In 2019, the Ministry of Manpower's statistics showed that 8.8% of working Singaporeans and permanent residents were self-employed.
Augustin Lee, the former Deputy Secretary at the Ministry of Manpower attributes the rise of the freelancing phenomenon to various factors. These factors include the emergence of new digital platforms which make freelancing easier, the displacement of jobs due to technological advancements and the breaking up of tasks into parts that can be outsourced.
Regardless of whether you are an individual or a company, the gig economy offers many benefits. For example, freelancers can take on multiple gigs to increase their income streams. Additionally, freelancing offers individuals more flexibility in accepting or declining a job. For companies, freelancing allows them to outsource some of their projects to external manpower without straining their limited resources.
For those who are keen to become a freelancer, you can prepare yourself for these opportunities by reading up what it means to be a freelancer and where to find such gigs.
Adapting to get ahead of the crowd
With new change comes a slew of new opportunities. As Minister of Trade and Industry Mr Chan Chun Sing shared in a televised ministerial broadcast, Singapore is signing free trade agreements with various countries to make itself more attractive for investments. The government is also creating 100,000 jobs and training opportunities.
"As you can see, there are still many opportunities for us, but we must be on our toes. Survival favours not the strong, but the agile," Mr Chan said.
This article is part 4 of Unit 3 of the Career Guide on "Get Ahead of the Crowd".
SIGN UP NOW or LOG IN to read the rest of the articles for FREE.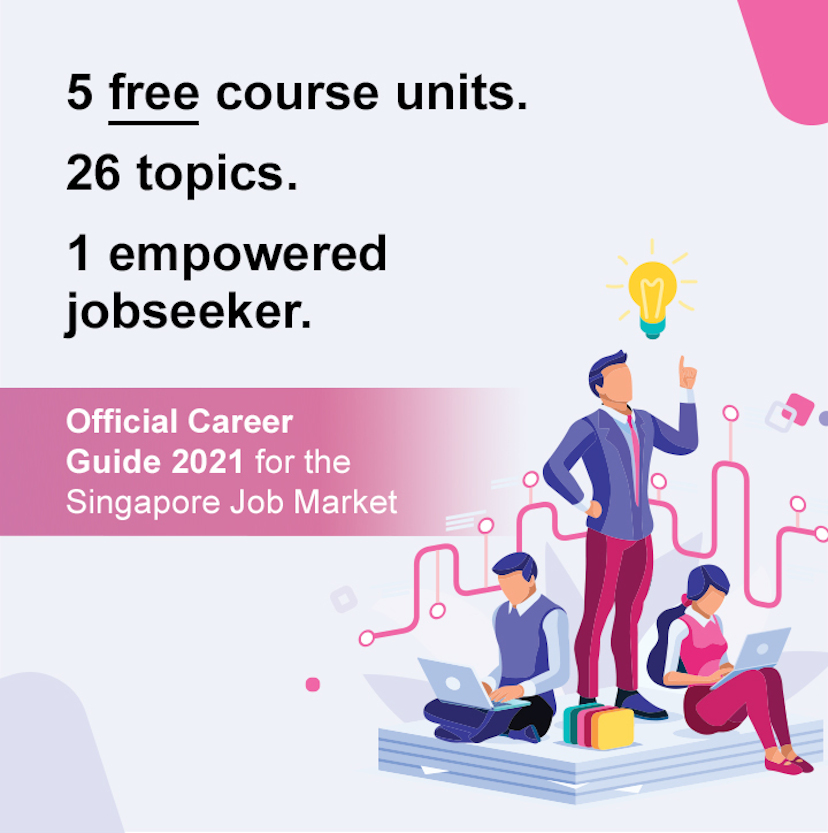 Explore the Career Guide today to increase your employment prospects.