There are encouraging signs ahead for the labour market, with a recent survey showing a Net Employment Outlook (NEO) of +15%, the highest in Singapore in six years. The net employment outlook is a metric used to gauge the expected increase in employment levels.
There are indications that the healing process began towards the end of 2020, with employment levels of Singaporeans and Permanent Residents increasing for the first time in the third quarter. And while the return to pre-pandemic hiring levels will be slow and steady, the employment outlook was positive across all sectors surveyed, with the strongest indicators in Construction, Services, Transportation & Utilities, and Public Administration & Education.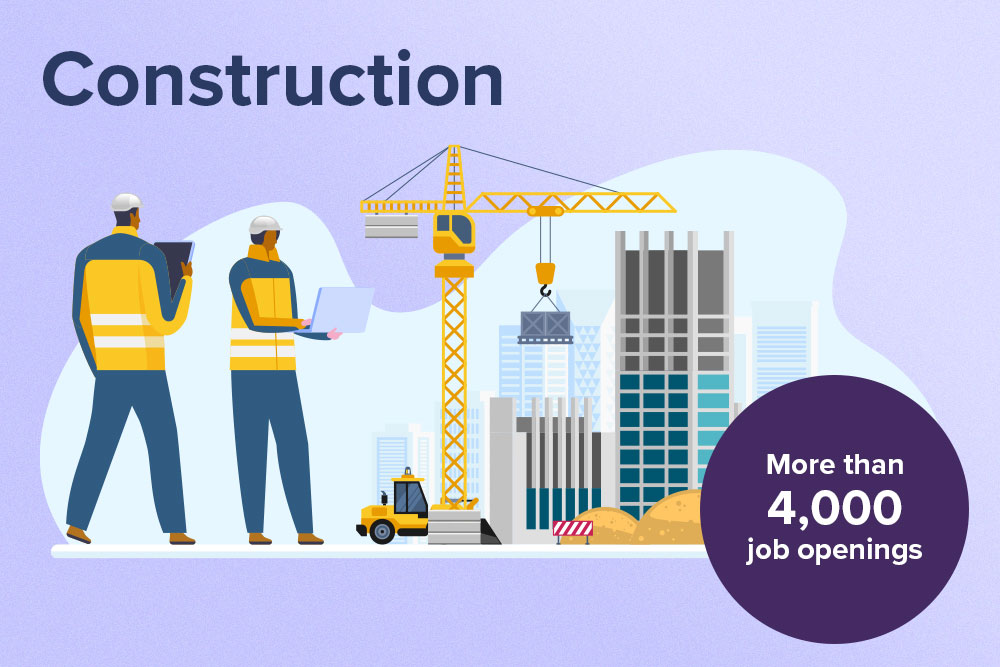 Construction
The Construction sector has the strongest outlook, with an NEO score of +26%. With projects postponed to 2021 due to Covid-19, the sector is expected to post a strong and sustained recovery over the next five years. This will start with public sector projects which account for about 65% of all projects and include public housing, transport and healthcare infrastructure. The private sector recovery will be more cautious and is expected to grow steadily in the medium term. 
There are currently more than 4,000 job openings in the construction industry on MyCareersFuture, from administrative roles to mechanics, project engineers, supervisors, and all the way up to Managing Directors. 
Stay on top of your job search by updating your work experience. Log in to MyCareersFuture now.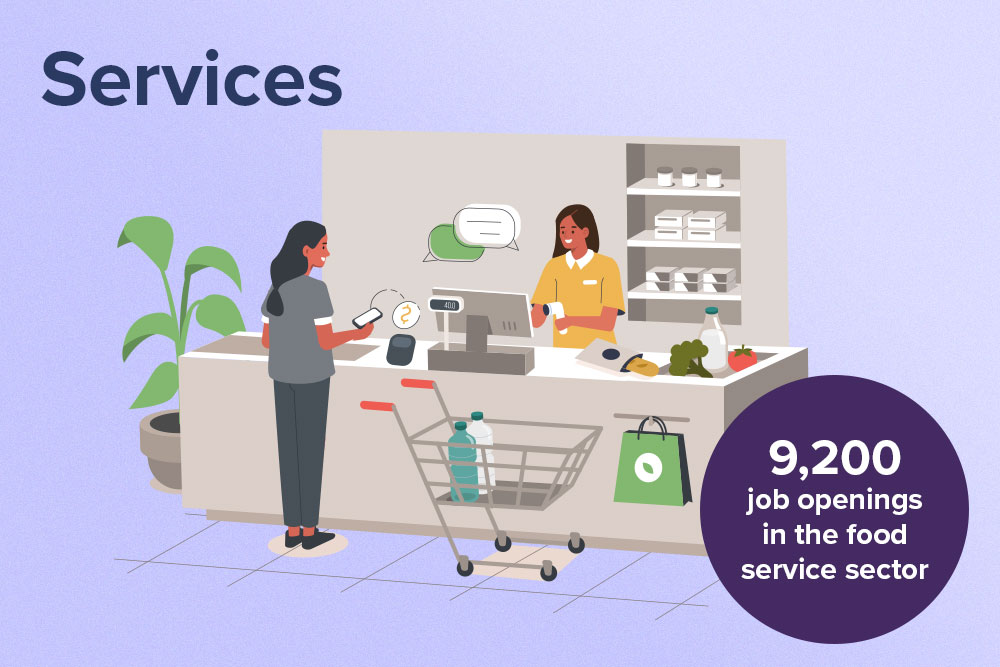 Services
The services industry is also picking up strongly, especially due to the Jobs Growth Incentive scheme, which is a wage subsidy scheme introduced as part of the government's support package. In September 2020, one month after the launch of the scheme, over 7,700 new hires had been made in the food services sector alone. In fact, the food services sector had 9,200 job openings posted on the MyCareersFuture portal at the end of last year, 37% of which are for PMET roles such as sales, marketing and business development managers.
Explore thousands of jobs in sub-sectors such as food services, customer services, retail services and more, and find a service role that's right for you.  
Like what you're reading? Join us on Telegram to get real-time updates on job vacancies, upcoming career events, career-related tips and more!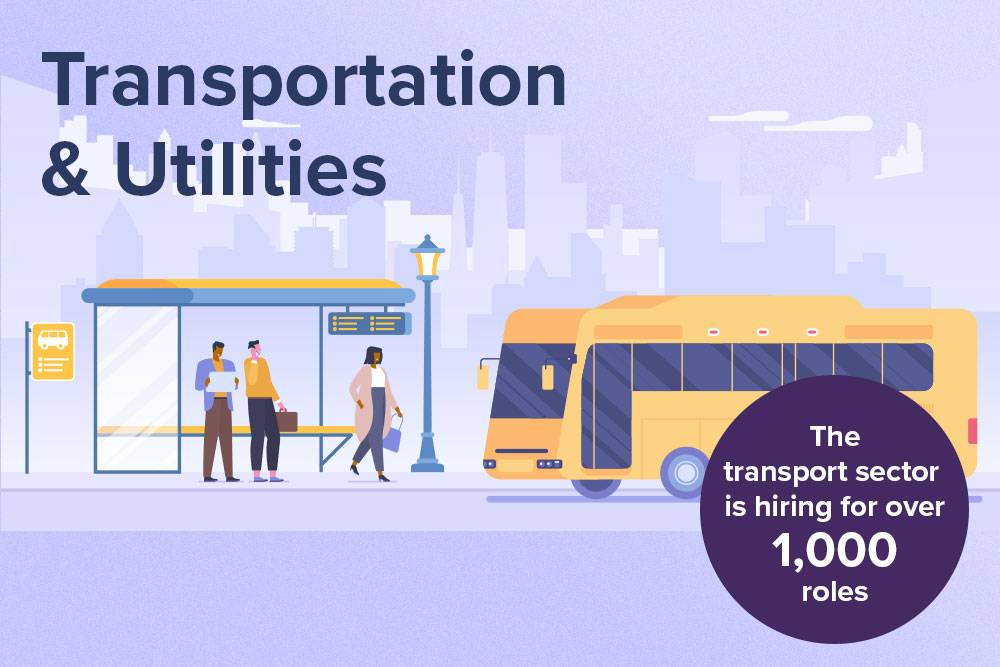 Transportation & Utilities
Transportation is picking up on the public transport and sea cargo fronts. Our ports remained open, and sea cargo levels are almost at pre-pandemic levels. The plan is also to grow the industry's talent pool as it gears up for more digitalisation. Public transport ridership, while currently at only 70% of pre-pandemic levels, is steadily increasing as the economy and workplaces open back up.
Environmental services is another industry that is showing lots of growth. While the industry is traditionally reliant on manpower, it's primed for transformation with the adoption of technology and innovation. Jobs are being simplified and automated, and new roles have emerged in areas such as sustainability management, research and development, and engineering, which has given rise to more younger people joining the sector. As of June last year, the industry employed almost 74,000 people, and as recently as last month, there were 1,600 openings for roles such as mechanical design engineers, service delivery leads and various executive roles.
The transport sector is currently hiring for more than 1,000 roles, including drivers, managers and operations, while the utilities sector needs supervisors, engineers and more.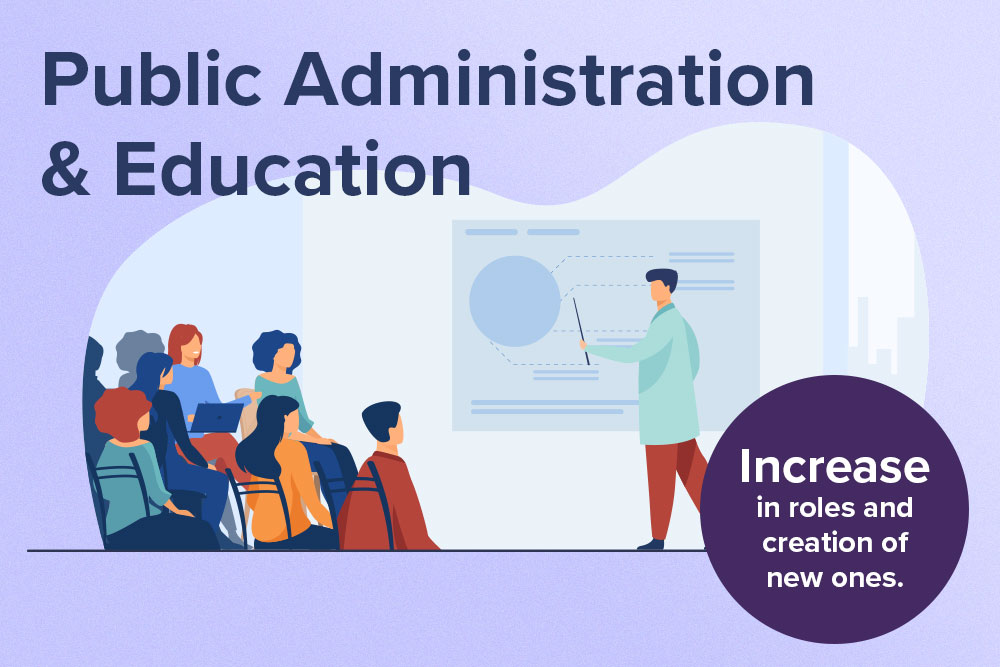 Public Administration & Education
Singapore is also undergoing a broad-sweeping, fundamental change in the way we approach education. Rather than focusing on education during one's younger years, the aim is an education system that supports learning for life, and this has led to an increase in roles, including the creation of new ones. There is also a push for more support for children who come from lower-income or disadvantaged backgrounds, as well as greater awareness of the importance of other skills beyond traditional academic areas. To support this change, more allied educators, counsellors and welfare officers are being employed.  
Read More: The Talent Issue: Local and Foreign Employees Needed for Organisational Success
Our tertiary institutions such as the National University of Singapore, Nanyang Technological University and the Singapore University of Social Sciences are just some of the organisations with openings available in education. There are also many government organisations hiring for public administration roles. 
There are a variety of roles and positions available, whether you're starting out in your career, or at the mid-career stage and even looking to make a switch. With these sectors finding their feet and even heading towards growth, 2021 is looking to be a year of recovery.
If you're looking for roles in customer service, data analysis, project management, recruitment, supply chain and sales development, LinkedIn's new Skills Path service allows you to upskill with free courses, and validate these skills with assessments, to help you become more noticeable to potential employers. Find out more about this LinkedIn service here.
Did you know?
A profile with an updated work experience on MyCareersFuture is 75% more likely to be noticed by employers. This is because the MyCareersFuture jobs portal allows employers to view candidates' work experience conveniently, without even having to download individual resumes. This helps them to identify potential talents quickly.
So, if you're looking to stand out and get noticed by more employers on MyCareersFuture, don't forget to update your work experience on your profile!
Stay on top of your job search in just 3 steps:
Log in to MyCareersFuture with your Singpass
Click on your name at the top right corner, then on 'profile' and scroll down to 'work experience'
Fill up the relevant fields and add your latest work experiences. Remember to set your profile to 'open to opportunities'.
Get noticed by employers while job-hunting. Log in to MyCareersFuture and update your work experience now.