In today's competitive employment market, landing a job can be tough. Having the right skills and experience alone is not enough. You must ensure that employers see your resume and consider you for the role. 
To cast the net wider, most jobseekers would resort to spamming. Sending their resume to dozens, if not hundreds, of different employers, and hoping that one or two applications will stick.
Does resume spamming work?
While this may seem like the most logical way to most, the issue is that this strategy is overused. If you're deploying the same tactic, it is unlikely to give you the edge in your job search.
Sending resumes rapidly also means that you are not tailoring each one to the position you are going for. This is a bad idea as your generic resume will not highlight your strengths in the most relevant way to employers.
For example, you may list "writing" as one of your skills in your resume. However, writing will mean differently for an advertising copywriter role and for a journalist role. You need to be specific. 
If you're currently job hunting, here are some tips to help you increase your chances of landing the job you're aiming for.
Explore over 100,000 job postings on MyCareersFuture and land your next job! Enjoy a more personalised job search experience with us. Start searching now.
1. Analyse the job listing carefully
When drafting your resume and CV, it's critical to concentrate on your most pertinent talents and strengths. Your chances of finding a job are better if you can show the employer how closely you match the role and how you would benefit the company.
Some job postings are succinct, while others provide more information about the position and the company. Take the time to carefully read the job posting so you understand what the employer is looking for.
Some questions you need to ask yourself are:
What do I know about this company?

What are the qualifications needed for the role?

What are the responsibilities of the job?

How am I a fit for the job?
Thankfully, in this digital age, most job portals have features that are able to help you make a more calculated assessment of the job you're keen on. Job portals such as Jobstreet, LinkedIn and Indeed allow the jobseeker to input details such as preferences, education levels and location to narrow the search.
To help the jobseeker find a job that is a good fit for him or herself, the MyCareersFuture (MCF) jobs portal has a feature that indicates how well their skills match the job. Furthermore, jobs that have the highest skills match are highlighted in green. 

For every job posting, the MCF portal will also suggest the relevant skills that the job requires. If you have these skills, you can add them to your profile to increase your skills match percentage and show employers that you are well-suited for the job.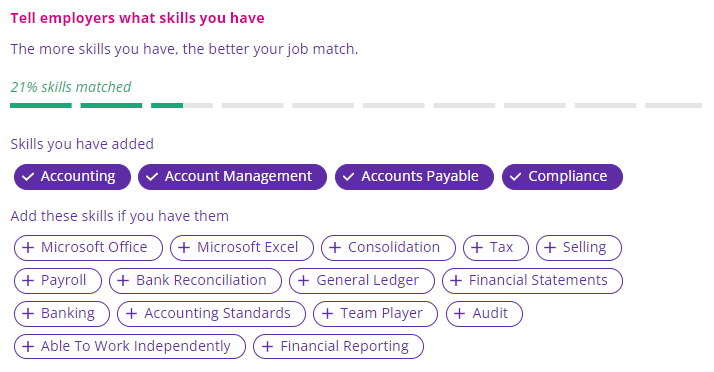 Do note that honesty is important here, if you add skills that you do not have, you may face problems later during the interview stage!
Unlock 2X more job opportunities on MyCareersFuture! Your personalised Jobs Dashboard finds the most suitable jobs for you based on your skills. Try it out now.
2. Tailor your resume for the job you're applying for
Examine your current resume to ensure that you have included as many statements as possible about the preferred qualifications for the target job. To get the most attention, list the most important phrases at the beginning of your descriptions.
The job application process is now mostly digital. If you've been applying for jobs but haven't received any responses, your resume may have been rejected by software – the Applicant Tracking System (ATS).
In a nutshell, the system sorts through resumes and turns them into a standard basic format, before comparing them against the job description to see which are the closest match.
For example, the ATS looks out for skills and keywords that hiring managers have listed in the job description and compares them against your resume. This way, the recruiter, or a hiring manager only reviews resumes that have passed the ATS screening when deciding who to interview.
On the lookout for a new job? Kickstart your career and discover meaningful career opportunities at WSG's Virtual Career Fairs. Register today!
Over 90% of large companies use ATS for their recruitment process, particularly during a recession when they are inundated with thousands of job applications. Therefore, optimising your resume for an ATS puts you ahead of 75% of applicants in the eligible candidate pool.
3. Keep track of your applications
You may end up applying for dozens of jobs during the job application process. As time goes by, it's natural to forget the jobs that you have previously applied for. A common scenario would be: you get a call about a job that you have applied for, and the first question that you ask is, "Which job is this for?"
Although it's alright to ask the question, it gives the impression that you're unprepared while also giving away the hint that you're currently waiting for a call from several employers.
It's time to be organised! JibberJobber, an online career management tool, is one place to get this information organised. There, you can keep track of every job application you make, as well as make lists of useful contacts in your application process.
4. Know your competitors
Job searching is a competition. You may not see your competitors, but they are there. Unless you're applying for a very niche role (think astronaut, but even this job would have several qualified candidates), every job posting will have dozens, if not hundreds of people vying for the role.
"When you know both yourself as well as your competition, you are never in danger. To know yourself and not others give you half a chance of winning. Knowing neither yourself nor your competition puts you in a position to lose."

– Sun Tzu
Knowing where you stand among the others who have applied to the same job posting can give you a rough gauge of your chances of at least scoring an interview. We know what you're thinking now: "But how would I be able to know this? Impossible!"
Again, welcome to the digital age where advanced job portals have smart features that allow you to gauge how popular a job posting is, or what kind of jobseekers are applying for it.
For example, LinkedIn will show when the job posting was posted and how many applicants were received at the moment, you're looking at it.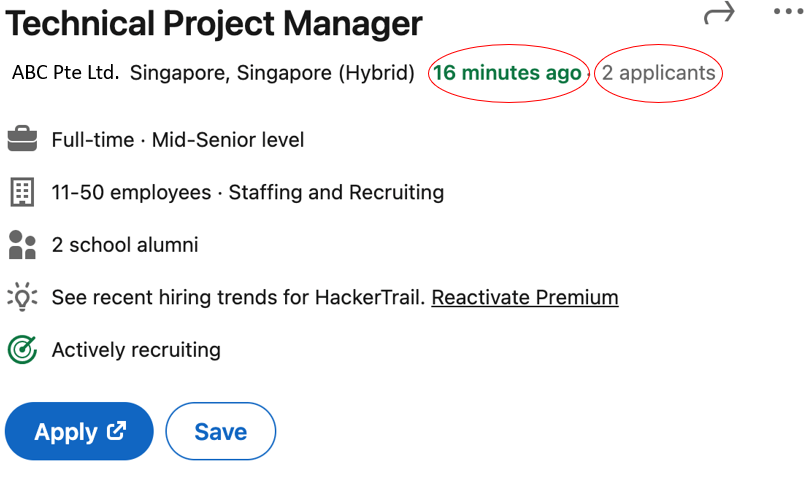 For a more detailed breakdown of how you measure up against other applicants for a job posting, the MCF jobs portal has an application benchmark feature in three categories: skills match, years of experience and field of study.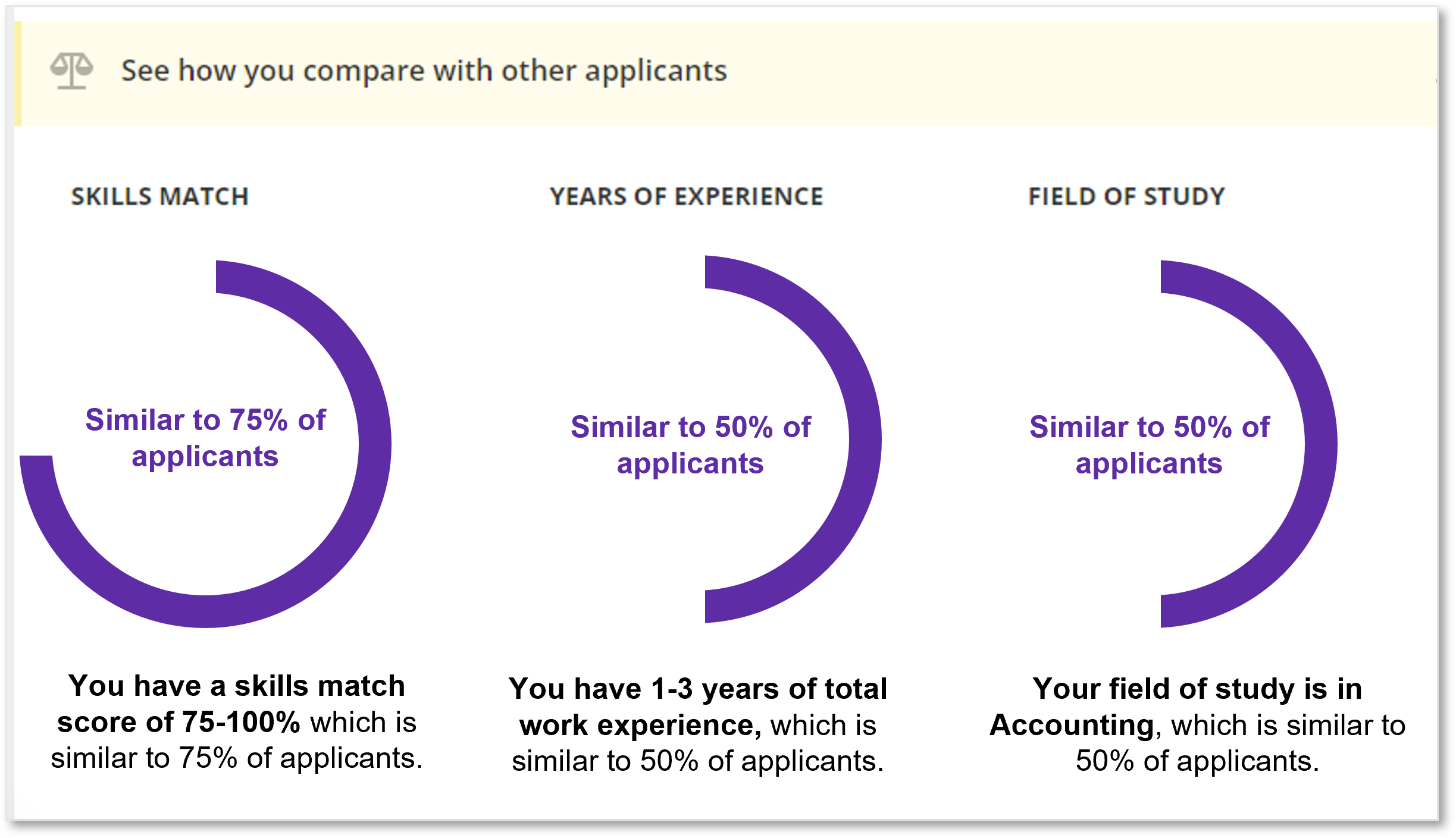 However, do not be disheartened if you see many applicants applying for the job you're keen on or if you fall short in terms of experience. If you're really keen on the role, apply for it anyway!
5. Market yourself
Think again if you believe that impressing the employer only happens during the interview stage. It goes without saying that how you present yourself during an interview is crucial. You dress to impress and try your hardest to sell yourself to the employer to get the job.
However, if your interview preparation is solely focused on what to wear that day, prepare for another rejection. While looking good for the interview is important, you must be more than just eye candy if you want to impress your interviewers.
It is critical to distinguish yourself in a competitive job market. Having the necessary skills and experience is not always sufficient to land that interview. Effective self-marketing is essential for getting noticed by employers.
However, self-marketing for a job can be difficult, especially if you're a new job seeker or a worker considering a mid-career change. Being the former indicates that you are new to the job search game, whereas being the latter indicates that you are out of touch with current job search trends.
Read our article here to learn more about how you can market yourself effectively.
Bonus tip: Tap into WSG's Career GRIT
If you're looking for a great resource on job searching and career navigation, tap into Career GRIT to access information curated based on specific career stages. With Career GRIT, you're able to access career tips, get information on workshops and seminars and even sign up to connect with WSG's Career Officer for more personalised support!