Designing a platform that fosters seamless interaction is a hugely rewarding experience, whether you're talking about a website, a mobile application or software. So, who's responsible for the creation of these digital experiences? The answer is user interface (UI) designers.
When a company builds a new digital product, UI designers produce the specific look, feel and interactivity that make up a successful product. From screens and buttons to spacing and typography, UI designers are responsible for these crucial elements.
Ready to learn more? Here, we delve into the daily responsibilities of UI designers and explore the must-have skills. Finally, we'll provide some insightful tips on how you can enter this dynamic industry and forge a successful career.
Looking for a job? Explore a range of career opportunities with Career GRIT. Connect with hiring employers at various career events such as walk-in interviews, virtual job interviews, virtual career fairs, and many more!
What does a UI designer do? 
UI designers are responsible for producing a digital experience that people love to use. To achieve this, UI designers conduct extensive research into their target audience. In addition, they must carefully weigh their findings and strategies against business goals to ensure the product reaches its objectives.
Alongside rigorous competitor analysis, where they analyse similar products to discover a better solution, there's also the hands-on design work. The latter involves them in deciding on colour palettes, typefaces, buttons, menu systems and much more.
In addition, UI designers must create detailed wireframing and prototypes that replicate what the final product might look like. This way, stakeholders can experience an early version before developers deliver the completed project.
What is the difference between UI and UX designers?
If you're considering a move into the digital design space, you're probably wondering about the difference between user interface designers and user experience (UX) designers. While these roles sometimes overlap, UI designers focus on nuanced interactions like page animations, colours, button designs and accessibility considerations.
UX designers take a broader perspective on the product to create the overall experience of the website or mobile application. Typically, UX designers will consider a user's journey through the entire product, while UI designers handle the fine details on each page. As you might expect, UI and UX designers collaborate closely throughout the process.
The must-have skills for UI designers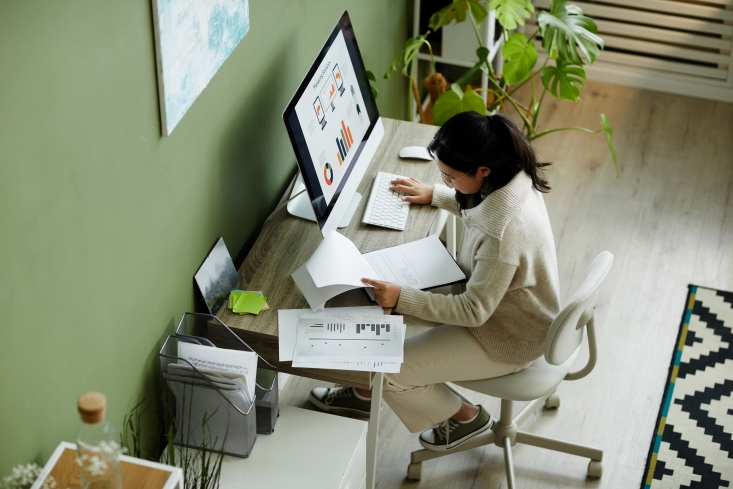 UI designers require several hard and soft skills to succeed in the industry. Below, we cover three vital talents that an exceptional candidate would have.
1. Research 
You must conduct comprehensive research to deliver consumers a superior product and meet business objectives. This involves analysing competing products to understand where they fall short.
Plus, you can embark on market research with prospective customers to discover what they want from a website, app or software product.
Begin with what you need to find out and map your findings to draw connections.
2. Creativity
Although UI designers focus on the small details, there's still plenty of space for creativity in this role. Supported by meticulous attention to detail, you can create a digital product that filters findings from your research into a striking visual language.
This is where users benefit from an experience that easily surpasses the competition.
Considering a Mid-Career Switch into a new industry? Register for a complimentary session with WSG's Career Matching Services for some helpful guidance today.
3. Technical knowledge
Considering the technical nature of UI design, workers in the industry must develop extensive knowledge of several design tools that make their ideas a reality. While there are many to master, vector-based software like Sketch, Adobe XD and Figma is essential.
Meanwhile, prototyping tools like Marvel and UXPin are also great resources for budding UI designers. You can get a headstart by signing up for courses online.
How to launch a successful UI career
Is it time to launch your UI career? Consider the following tips to take your first steps in the industry and land an outstanding job at a great organisation.
1. Mirror other designs
There are so many fine details involved with UI design that it could take years before you've perfected the art form. You can practise the basics by mirroring someone else's design you appreciate. This helps you understand the decision-making process while boosting your creativity.
Want instant access to the latest job listings, career events, job search & interview tips and more? Join our Telegram channel today. 
2. Launch personal projects
Launch personal projects that explore your interests and put your skills on display. If the final product is impressive, it can form a central piece of your design portfolio online. Your different projects will showcase your ideas, process and talents to potential employers and highlight your ability to help their operation succeed.
3. Get feedback from others
Throughout the website, mobile application or software design process, getting constructive feedback from users about the user interface is crucial to delivering a top-notch product. These critiques are vital for enhancing your knowledge as you learn which elements resonate while exploring why some experiments didn't live up to expectations.
The opportunities in both UI and UX design are endless – decide on what interests you and then embark on a path to your desired career. Begin by charting SMART goals that'll help you align every small achievement to the big picture.