If you're interested in working at the heart of a company's financials, becoming an auditor is a stellar career choice. With this role critical for businesses needing to analyse financial statements and comply with laws and regulations, there are several fascinating career paths to explore.
Alongside a qualification in finance, economics or accounting, you'll be preparing to delve into the inner workings of a company to evaluate and verify the accuracy of its information. A collaborative mindset, rock-solid work ethics and superb communication skills will also benefit your journey.
Looking to explore a new industry, but need professional guidance? Register to speak to WSG's Career Guidance team and get support today!
The difference between auditors and accountants
While there is some overlap between auditors and accountants, several distinct differences outline how the responsibilities between these positions can vary significantly. For example, accountants prepare financial statements and tax information while completing bookkeeping tasks and reporting on the company's financial health.
In contrast, auditors review these statements and filings to determine their validity. Throughout this process, auditors implement checks to identify potential problems while assessing sources to confirm their accuracy. These procedures help protect the organisation against fines and other penalties for breaking government and industry regulations.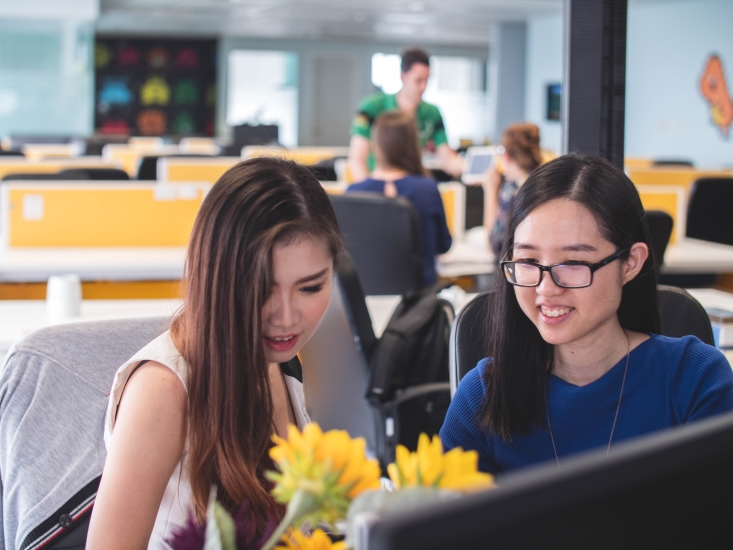 The four main auditor roles
Prospective auditors can take numerous career paths during and after earning their qualifications. Although there are many roles to consider, the following four are the most common.
1. External auditor
External auditors work for public accounting firms that perform statutory audits for clients. With every private limited company in Singapore needing to complete this process, external auditors review financial statements to determine whether they accurately convey the company's finances. This review is crucial because it speaks to the organisation's honesty. You must be a Certified Practising Accountant (CPA) to work as an external auditor in Singapore.
2. Internal auditor
Internal auditors perform financial assessments on their employer's accounts and finance departments. This role completes many of the same tasks as the external auditor by identifying and resolving problems with existing reporting systems. This helps to prepare the business for its own external audit. From valuing inventory to evaluating financial statements, internal auditors will report their findings to upper management to disclose the company's financial status.
3. Forensic auditor
Forensic auditors assess financial information to look for misconduct. With this information potentially being used in court cases and other mediation actions, a forensic auditor's findings may reveal fraud, embezzlement, money laundering, market abuse, and other potential crimes. This work is typically carried out by Certified Fraud Examiners (CFEs) – a specialised auditor credential. Meanwhile, forensic auditors may also investigate divorce settlements, bankruptcy filings and failed businesses.
Want to explore these roles and more? There are over 100,000 jobs available on MyCareersFuture. Apply for your next job role here!
4. Government auditor
Government auditors review financial statements and key performance indicators associated with official bodies, such as government departments and statutory boards. This process ensures government and public authorities comply with local laws and agreements. Plus, it reviews the suitability of internal control systems to protect against financial waste, loss and misuse.
How you can succeed as an auditor
After receiving a relevant bachelor's degree in finance, accounting or economics, you can take the next step in your career by earning a designation as a Certified Public Accountant (CPA), Certified Internal Auditor (CIA) or Certified in Risk Management Assurance (CRMA). You'll also need the following skills to level up your success.
1. Integrity
Auditors must have unwavering integrity to ensure outside parties don't influence their assessments. As you'll need to perform appraisals that determine a company's financial position and reputation, stakeholders may react poorly to an unfavourable audit. However, dealing with these high-stress situations with poise and resilience is essential.
Looking for a job? Trying to ace that interview? Subscribe to our Telegram channel for useful career tips, resources and events! 
2. Communication
Once an auditor performs their review, their findings need to be communicated to relevant partners. Throughout this process, you'll need to clearly explain the information while answering questions that provide greater clarity. Some of these parties may not have the same level of financial literacy, so communication skills help achieve the ideal outcome.
3. Analytical precision
A talented auditor must know how to see through the noise when analysing complex financial statements. Supported by robust skills in mathematics and statistics, you'll evaluate and report on an organisation's information to identify potential flaws that could lead to issues with regulators. Plus, outstanding attention to detail and insightful analysis help prove your credentials as an auditor.
Taking the next step to becoming an auditor? Here are some ways you can improve your chances of landing the job.