A leading travel agency in Singapore, EU Holidays was founded in 2010 by Wong Yew Hoong and Alan Ang. Despite the company's humble beginnings as a small, unknown agency, EU Holidays quickly established itself in Singapore's tourism scene by offering customers a new travel experience, specialising predominantly in European, USA and exotic long-haul tours.
When Yew Hoong first described this business idea to others, sceptics advised him that the company would not succeed if it were to focus solely on a single product line.
"The company was named EU Holidays for a simple reason – because we wanted to stand out from other agencies and specialise in tours in Europe. It was our goal – and still is – to provide high-quality, reasonably-priced tours to further destinations. So many people told me that the idea would never work and that I needed to expand my line of products. I never listened to them – I strongly believe that to succeed, you have to do things differently."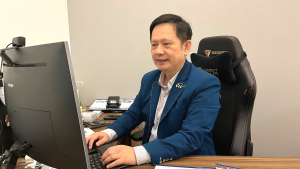 Yew Hoong was 34 years old when he decided to strike out on his own. Armed with 4 years of experience in the industry, Yew Hoong and his co-founder Alan put together $100,000 to start their own company and chart a new way forward.
"Traditional ways of doing things didn't cut it for me. If EU Holidays were to beat our competitors and get to the top, we had to innovate continuously and find more efficient methods of operation. In addition, we focused on building a good team. I've always believed that the heart of any company is its staff."
The proof is in the pudding. After just 1 year in the business, EU Holidays earned $11 million in revenue. Since then, the company has outperformed itself year after year – opening subsidiary offices to target different market demographics and clinching awards.
Looking for more candidates for your jobs? Our Suggested Talents feature allows employers to reach out to skills-matched candidates, who are open to opportunities.
Surviving the pandemic
No one could deny that the pandemic devastated the tourism industry, leaving a trail of travel restrictions and border closures. Yew Hoong and his fellow shareholders' sense of responsibility and care for their staff were what tided EU Holidays through the COVID-19 storm.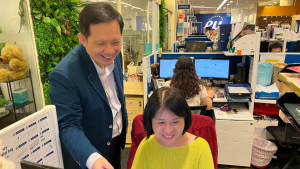 "We had two choices. We could either pause all activities and remain dormant or stand with our staff to do what we could to stay afloat. We chose the latter. If you are good to your staff, your staff will be good to you. As the bosses, we wanted to show our staff that we will always be there to work things out."
And so, they did. As EU Holidays continued to pay its employees despite the lack of business, Yew Hoong and his fellow shareholders put their own salaries on hold. When travel was entirely impossible due to COVID-19, everyone in the company – from bosses to employees – resolved to use the time meaningfully. They began upskilling themselves by participating in courses ranging from retail to marketing.
"Eventually, we ran out of relevant courses to take and even started to learn about bread making and coffee appreciation!"
To keep the company going, EU Holidays diversified and branched out into the sale of fruits and bicycles. When COVID-19 measures began to ease, the company began offering local tours and yacht bookings.
Looking to grow your team? Tap on our 500,000-strong talent pool of Singaporeans by posting your jobs on MyCareersFuture today.
Business transformation with Workforce Singapore
Yew Hoong saw how the pandemic had accelerated the adoption of digitalisation in businesses not only in Singapore but around the world. To prepare the company for this new normal, EU Holidays worked with WSG to reskill its staff by tapping into two Career Conversion Programmes (CCP) – the CCP for Immersive Digital Experience Tourism Executives and CCP for Digital Marketing Tourism Professionals.
"It's important that my staff keep up with the times. Some employees had worked in the same field for 10, 20 years – I took the time to speak to them, understand their motivations and encourage them to prepare themselves for the digital economy. Given the current manpower crunch, retraining existing staff and redesigning their roles for more productive work has become more important than ever before."
Through the 2 CCPs, EU Holidays' employees underwent 4 months of training, covering structured classroom training, On-the-Job Training, and applied-learning projects. They then worked on redesigning work processes, developed digital sales strategies and produced immersive digital solutions for the company. Staff learnt about bridging the company's activities with the online space via content and marketing on the latest platforms – all of which were barely touched on before the pandemic.
"Now, we have 3 new departments in EU Holidays. The first is digital platform sales, which works to place our travel offerings with third-party agents such as KKDay and Klook. The second is digital marketing, which enhances our presence on social media and connects with our customers with digital advertisements. Lastly, we have our online customer service team, which responds to customers daily from 9am to midnight. This has allowed us to better maintain customer relationships, which in turn, leads to more sales!"
Want to stay in the know? Receive hiring tips directly in your mailbox by signing up for our e-newsletters today.
Looking to the future
Yew Hoong is not one to rest on his laurels. After conquering the Singapore market, Yew Hoong dreams of expanding to the Southeast Asian market and beyond.
"It's time to step out of Singapore. Now that we are at the top, we cannot sit still and wait for others to take our share of the pie. The company must continue thriving – not just for myself, but for all employees of EU Holidays."
---
FACTBOX
The Career Conversion Programme (CCP) for Immersive Digital Experience Tourism Executives is customised and contextualised to train and reskill new and existing employees in the Hotel, MICE, Attractions and Tour & Travel sectors in operational roles.
This hands-on programme consists of a 4-month structured classroom training, On-the-Job Training and an applied learning project aimed at exposing employees to the various forms of immersive digital solutions. Participants will be equipped with the skills and knowledge to redesign their work processes and incorporate immersive digital solutions as they take on new roles to support their companies. WSG will provide employers with up to 90% of salary support and course fee funding for the CCP training duration.