Now that we are returning to the office either full-time or on a hybrid work arrangement, we'll need to adjust our work and communication styles for the physical workplace setting. This also means that we'll be interacting with our colleagues and bosses in person once again.
Good communication is essential to maintain strong working relationships with your colleagues, and eliminate issues and misunderstandings. It can even help boost your workplace productivity due to your improved working relationships with others.
Some people may feel excited about returning to the office as they get to catch up more with their colleagues and friends. However, others may face some challenges in finding a safe and comfortable space at work during this transition. Hence, it is critical that we keep an open mind and adapt to communicating with others after two years of video conferencing.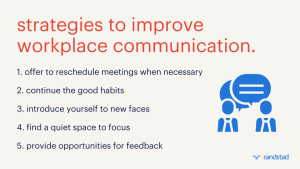 How to communicate better when you're back in the office
Social distancing measures have kept you physically apart from your colleagues and friends for the past few months or years. It's normal to feel awkward or anxious to be in close proximity to people whom you haven't met in person or had a chance to work with yet.
These effective communication strategies can better prepare you for your return to work.
1. Offer to reschedule meetings when necessary
When working from home, we rarely have unscheduled meetings, as most meetings are already booked in our calendars. Should the need for unscheduled meetings arise, we would usually be informed beforehand.
Don't be alarmed if impromptu meetings happen in the office! Since everyone is working in the same space, some discussions could take place without advance notice, so make sure that you're always prepared to participate and contribute. Sometimes, your colleague or boss calls for you because they want to align work priorities with you. They might also be seeking your creative input for an impromptu brainstorming session.
HWant to level up your career? Explore career events and resources designed to help you develop your skills and expand your knowledge with Career GRIT. Check it out now!
However, know that you don't always have to say yes to all these unplanned meetings. After all, you do have work to do. One example of demonstrating good communication skills is to offer to reschedule meetings, so that you can focus on finishing your tasks first. In doing so, it displays your courtesy and commitment, which colleagues will appreciate.
2. Continue the good habits you've developed when working from home
Most of us have developed new habits when working from home, such as having an early morning routine, exercising, eating healthy or preparing a daily schedule to help us focus better at work. You should continue to practise such good habits even when you return to the office. For example, you can meal-prep all your lunches for the week to keep to your healthy diet and avoid heading out to crowded spaces.
Being in the office doesn't always have to just be about work either. You can still take short breaks or a walk around the area for a quick mid-day recharge.
3. Introduce yourself to new faces you see in the office
If you've joined a new employer during the lockdown, going to the office may very well feel like it's your first day at work. This feeling may also be experienced by existing employees who have not been back in the office for more than a year, as they are expecting (excitedly) to see some new faces. Some companies have also taken the opportunity to renovate the office to accommodate the needs of a hybrid workforce. This could all be unfamiliar yet exciting at the same time.
Once you have settled down in the office, introduce yourself to the people around you and those you meet in the pantry and hallways. Let them know who you are, which team you work with and ask them for similar information. It helps to put faces to names, which would make it easier for you to collaborate with others in the future.
Our virtual seminars can teach you effective job search strategies, enhance your personal brand, and more. Explore Career GRIT to learn more!
If you are an existing employee, use the time to catch up with your colleagues and make sure that new staff feel welcomed and integrated into the office culture. You'll never know what you'll get from having these conversations – and you may find some new lunch buddies who enjoy the same kind of food as you!
4. Find a quiet space to focus
Some of us may experience sensory overload when we return to the office. The noises from typing, ringing phones and chatter, as well as the sights of being surrounded by people, can be a little overwhelming. The office work environment is drastically different from our dedicated workspace at home where we have the whole place to ourselves. Being in the office can be distracting and we might not be able to focus as well as we did back home.
Every office should have a quiet space where you can go to and do some work. You can also escape to a little quiet and quaint cafe nearby, but just make sure that your teammates and bosses know where you are and how they can find you.
5. Give feedback to your employer
Since everyone will be going back to the office, you may face some new challenges at work. For example, you may have some thoughts about flexible start and end times to avoid the peak hour crowds. Or you may want to set up new reporting processes that accommodate your colleagues who are working from home.
Be sure to share your thoughts with your manager and work with them to streamline processes that would drive productivity in your team. Your initiative could demonstrate your commitment to your job and indicate that you are ready for more responsibilities and a promotion.
Want to be in the know of the latest career tips, events and workshops organised by Workforce Singapore? Sign up for our e-newsletters now!
Improve your relationship with your colleagues
Take this chance to strengthen your relationships with your colleagues and build healthy communication. Fostering good internal communication within your team and across other departments is essential to your career growth.
Whether you are starting a new role or returning to the office, this will be an exciting time to connect or reconnect with co-workers. Book a time to have lunch together or invite them for a drink after work so that you can socialise outside of the office and get to know one another better. Taking part in team bonding activities or engaging in casual conversations can also help foster better workplace communication.

If you're still not comfortable being in the same enclosed space as your colleagues and can perform your duties at home, then you should raise your concerns. Speak with your manager about having some flexibility to work from home. The good news is many organisations are either piloting or already offering hybrid work arrangements to their employees!
This article is contributed by Randstad Singapore.