Businesses looking to rise above the competition must use every opportunity to increase morale and show their employees how much they appreciate their hard work. Although we typically associate Valentine's Day with more personal relationships, there's no reason companies can't use this event to spread a little positivity.
This strategy helps bring your team closer together and gives your business a greater chance of long-term success. Employees who feel they belong at a company are 167% more likely to recommend it to others, while a strong sense of belonging sees workplace productivity increase by 56%.
Ready to make your employees feel special this Valentine's Day? We've highlighted a few fun-loving ways business leaders can level up camaraderie in the office, keep their employees engaged and showcase how much you respect their year-round efforts.
Looking to grow your team? Tap on our 500,000-strong talent pool of Singaporeans by posting your jobs on MyCareersFuture today.
1. Enjoy a group breakfast
Launch into Valentine's Day in the best way possible with a delicious breakfast for your team. Whether you order catering for the office or book out a local cafe, celebrating this special occasion with an extravagant meal is a great morale booster.
As always, it's important to consider dietary needs when organising a group meal. Remember to account for different schedules to ensure that most people can attend. This way, your Valentine's Day event can be a massive success.
2. Stock up on snacks
If you're looking to add to the feasting fun, stocking up on celebratory Valentine's snacks is another way to promote a positive workplace culture. Although serving an array of decadent desserts is tempting, don't overlook the importance of healthy snacks.
Depending on the mood you're looking to promote, consider offering a delicious chocolate bouquet with dried fruit, almonds and veggie chips. Alongside some decorative flourishes, your office snack corner can be a vibrant Valentine's Day addition.
3. Share supportive notes
Valentine's Day is all about showing someone how much you appreciate them. Therefore, it only makes sense to express your gratitude to each employee through personal notes that thank them for their hard work throughout the year.
According to Glassdoor's Employee Appreciation Survey, 53% of workers who feel appreciated by their boss are more likely to stay at the company for longer. This personal touch helps forge strong bonds across your team while providing businesses with growth benefits.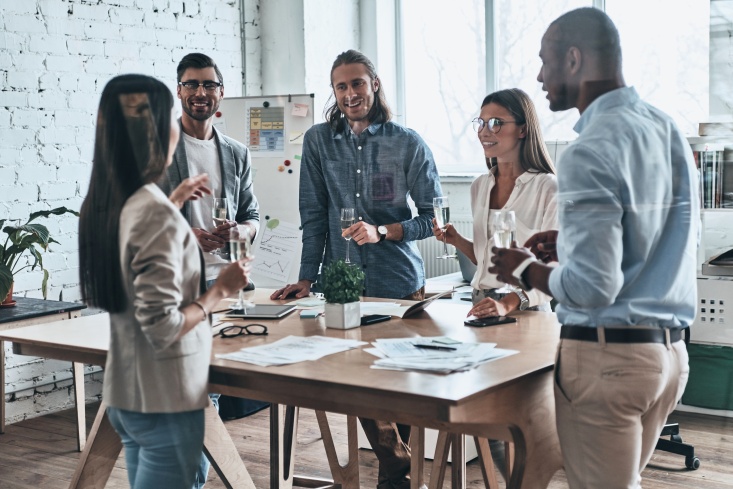 4. Host a lottery contest
A light-hearted giveaway competition makes increasing morale in the office incredibly simple. With a selection of enjoyable and appropriate Valentine's Day prizes, feeding into the holiday and its charms ensures your team has a memorable experience.
So, what prizes are suitable for the workplace? Gifts like chocolate treats and novelty coffee mugs are always a hit. However, handing out gift cards to a popular store can also mean employees can choose their ideal present.
5. Benefit the community
You don't have to spend Valentine's Day in the office to improve your team's spirits. Setting aside a morning or afternoon for your team to volunteer with a local community organisation can deliver a feel-good boost that strengthens your business from top to bottom.
For example, you might come together to clean up a public space for the good of nearby residents, assemble care packages for under-served communities or donate pet food to a respected charity. These Valentine's Day ideas are excellent for supporting your organisation's values.
Want to stay in the know? Receive hiring tips directly in your mailbox by signing up for our e-newsletters today.
6. Celebrate in themed clothes
Celebrating Valentine's Day at work with a themed dress code is easy. Just as people love to wear a Santa hat in the lead-up to Christmas, encouraging your employees to arrive adorned in a colourful outfit is a great way to ring in the occasion.
Some people might prefer to go all out with a dress or shirt featuring a love heart or red lipstick pattern. Yet even an extra dash of red, white or pink from each team member can speak to Valentine's Day and its warm-hearted festivities.
7. Decorate the office
No matter how you celebrate Valentine's Day in the workplace, decorating your office space is a straightforward but effective way to toast the event. As soon as your team arrives for the day, they'll instantly feel the love of their colleagues and managers.
Spread a few fragrant flower bouquets throughout the space to kickstart the vibe (after making sure no one has a flower or pollen allergy). Then, add heart-shaped furnishings, streamers and decals so your team can capture great snaps to share with their networks on social media.