Companies must maintain a positive relationship with their customers, clients and the broader public to achieve the ideal outcomes. This need has given rise to public relations (PR) – a form of strategic communications where businesses cultivate their public image through press releases, outreach, social media content and more.
Keen relationship-builders with savvy communication skills can forge a flourishing career as a PR expert. As everyone from government bodies to multinational businesses requires public relations to raise their profile and increase credibility, there are several career paths to consider. Here's how you can find a great public relations job in Singapore.
Why does public relations matter?
Public relations is essential in the modern business landscape. With companies relying on their reputation to attract customers, planning and releasing information strategically helps manage brand values and trustworthiness. Meanwhile, public relations increases visibility in the marketplace to foster growth and development.
As businesses now advertise more than ever to reach their customers, even occasional mistakes can generate issues. Public relations specialists craft carefully considered responses that address these situations to protect a company's reputation. Meanwhile, PR workers must build and maintain a network of media connections to disseminate news and attract attention.
Considering a Mid-Career Switch to Public Relations? Register for a complimentary session with WSG's Career Matching Services for some helpful guidance today.
How to launch a public relations career
Ready to start your public relations career? Here are the basic requirements to find your place in the industry and set yourself up for a flourishing future.
1. Get qualified
There's no single way to earn your public relations qualifications. Although you may find a bachelor's degree or diploma dedicated entirely to the field, a similar qualification in communication, journalism or business management is also beneficial. Mid-career switchers can also take up a related WSQ or part-time course to learn the ropes. This is especially beneficial for those who have transferable skills, like media, marketing or internal communications.
No matter the course or upskilling path you take, you'll learn about the value of high-quality written and verbal communication in the classroom. Plus on the job, you'll grow to understand the modern media landscape and how it can be leveraged to achieve business objectives.
2. Gain experience
There are numerous ways budding PR professionals can gain experience before landing their first job. For example, starting a blog or a social media profile dedicated to a specific topic highlights your initiative and introduces you to basic public relations concepts.
Perhaps you can volunteer at a local social enterprise or contribute articles to a magazine. These ideas and many more foster your reading and writing abilities while potentially helping you land a work placement that furthers your experience and education.
Want to increase your chances of nailing the job interview? Learn effective job search strategies, enhance your personal brand, and more with Career GRIT. Register for our Virtual Seminars today!
3. Grow your network
Whether you're getting into public relations as your first career or making the switch later in life, understanding the value of your network goes a long way to determining your success. For example, journalists that move into PR can use their contacts to achieve their employer's goals.
If you know what field you want to enter, having a dedicated approach to networking can give you an enormous advantage. You can establish a network that supports your needs by attending relevant events, staying in contact and reaching out via platforms like LinkedIn.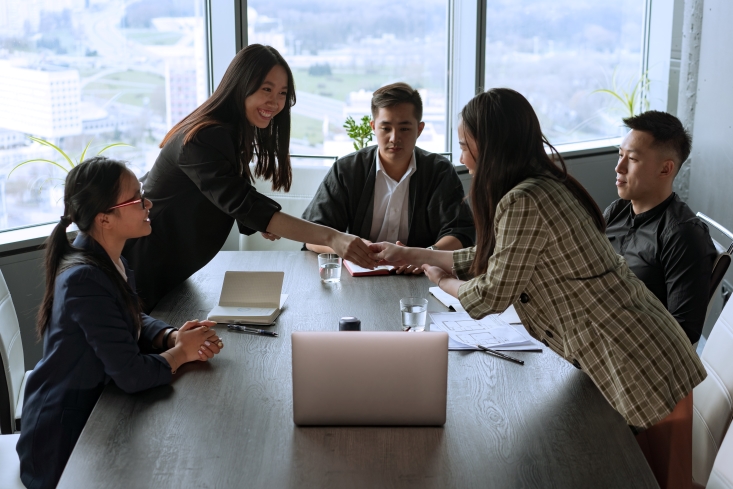 Top skills for public relations professionals
Growing your public relations career requires refined talents involving both hard and soft skills. PR specialists looking to leave their mark on the industry need these essential skills.
1. Written and oral communication
Communication skills are the most crucial talent for public relations employees, as this is how you position the business. For example, an effective press release requires clearly expressed ideas free from grammatical mistakes. You must also understand how specific words and tones appeal to various target audiences.
Oral communication is also critical for PR specialists. When answering questions from the public or a journalist, you must thoughtfully represent the business without losing your composure. This talent requires exceptional listening skills, calmness under pressure and controlled body language.
Attend walk-in interviews, virtual career fairs, workshops and more! Explore Career GRIT and find events and other resources best suited to your career journey. Check it out now.
2. Interpersonal skills
Maintaining strong relationships is imperative for a PR worker. Although your business can promote new information via press releases, having strong connections in the media ensures you can reach your ideal audience far and wide.
However, to do so, you'll need to build positive relationships with individual journalists and media companies that can help your business achieve its objectives. Meanwhile, productive relationships with sales representatives, advertisers and customers are also helpful.
3. Strategic thinking
Public relations professionals are partly responsible for how the business positions itself in the marketplace. If the company is looking to promote a new product, PR professionals can use their contacts in the media to drive attention and sales with the right people.
Public relations is also needed to manage an organisation's reputation and brand. For instance, if the business has released a faulty product, a strategic response that displays empathy for customers while highlighting a resolution can avert a costly problem.
Excited to kickstart your career in public relations? Here's how you can make your resume stand out to potential employers so you can land your desired job.