Singapore has developed a stellar reputation for engineering since the country's first investments in the manufacturing sector during the 1970s. Now regarded as a top destination for aerospace engineering, civil engineering, electrical engineering and chemical engineering, it's possible to work locally for some of the world's leading firms.
To discover why Singapore's diverse engineering industry offers incredible opportunities for talented workers, we've put together this detailed salary guide that helps you make the right decisions for your future.
Looking to join the engineering industry? Explore available job listings now on MyCareersFuture!
What is the engineering industry?
The engineering industry covers a wide variety of fields where people design, manufacture, assemble, package and install high-quality manufactured products.
With the most cutting-edge operations using the latest technological innovations to develop superior engineered products, these items help people and businesses achieve their goals safely, efficiently and productively.
While there are many branches of engineering to explore, almost all of them provide excellent salaries and deliver work satisfaction. As you master your trade, you also get to utilise fascinating technology and contribute positively to everyday societal needs. Whether you're joining as a fresh graduate or exploring a career switch, choosing to join this dynamic industry is a wise decision.
Why you should work in the engineering sector
There are approximately 2,700 engineering operations across Singapore, including small businesses and multinational corporations.
These organisations produce everything from superconductors to aerospace equipment, ensuring talented engineers get to work on ground-breaking products that deliver a better world.
Meanwhile, the Precision Engineering Industry Transformation Map (ITM) 2025 highlights strategies to reskill and upskill workers in digital technologies, such as additive manufacturing, robotics, and lasers and optics.
Together, this will position Singaporean engineering professionals at the forefront of global practices that ensure stellar wages and career progress awaits.
What qualifications do you need to work in the engineering industry?
To find an entry-level engineering role, you'll need to complete a bachelor's degree in a relevant field. Depending on your chosen path, you'll have specialised knowledge to work on specific projects that set you apart from other types of engineers.
An engineering degree also teaches students excellent mathematical and technical skills, ensuring they have the option to move into sectors like finance, business or information technology. Consider these qualifications to make yourself an attractive candidate in the engineering industry:
Engineering
Aerospace Engineering
Biomedical Engineering
Chemical and Materials Engineering
Civil Engineering
Electrical Engineering
Environmental Engineering
Looking for a new role? Explore over 100,000 jobs available on MyCareersFuture now!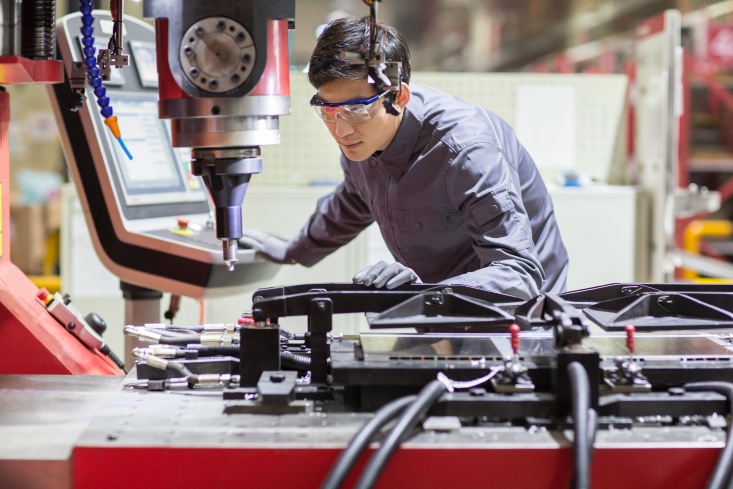 Engineering sector salary estimation
The highly technical nature of most engineering jobs offers outstanding salaries that make this sector even more appealing to graduates and those making a mid-career switch.
Although the projects you work on can be complex and have tight deadlines, you'll experience thoughtful ideas being transformed into tangible products that make a difference in people's lives.
Below, we've put together a list of the most common engineering jobs and their salaries, beginning with starting pay. This way, you can choose the ideal career path for your needs and aspirations.
Please take note that these figures are not officially approved by Workforce Singapore. These are deductions after pooling together data from various sources. These include:
Indeed Salary Guide
Glassdoor Salary Guide
Jobstreet Salary Guide
Talent Salary Guide
PayScale
Seedly
These only serve as a helpful benchmark of salaries in the engineering industry and are not indicative of actual salaries.
Engineering Industry Salary Guide in Singapore

Role

Minimum   Education Qualification

Salary

Aerospace   Engineer

Degree

$3,600 – $5,250

Biomedical   Engineer

Degree

$3,225 – $6,875

Civil Engineer

Degree

$3,500 – $6,250

Mechanical Engineer

Degree

$3,250 – $6,000

Electrical   Engineer

Degree

$3,200 – $6,000

Systems Engineer

Degree

$3,750 – $7,000

Marine Engineer

Degree

$3,250 – $5,600

Environmental Engineer

Degree

$2,750 – $6,000
Discover your place in the Singapore engineering industry
The massive variety of engineering sub-sectors means talented professionals can pursue their ideal career path with outstanding confidence. For example, those exploring the civil engineering space can specialise in areas ranging from traffic engineering to water management.
To learn even more about your career options and discover techniques to compare your salary against like-minded professionals, head to Workipedia by MyCareerFuture's 2023 Salary Guide. This useful resource will help you make the right decisions for your future in Singapore and beyond.