Living with a disability is tough enough as it is, but finding a job makes it even more challenging for persons with disabilities (PWD) in Singapore. 
As such, SG Enable and the Ministry of Manpower have come up with a guide to help companies better integrate those with special needs in the workplace. 
Called the Job Redesign Guide for Inclusive Employers, it teaches companies how to reassign roles and responsibilities, make changes to the work processes or arrangements, or ways to modify the workspace. 
This is a huge step forward in helping to enhance the employment and employability of people with disabilities in Singapore.
Here's a list of some companies in Singapore that adopt inclusive hiring policies to ensure equal opportunities for PWDs: 
1. Dining in the Dark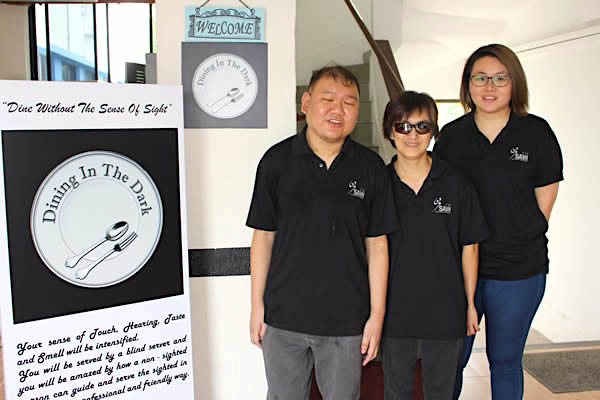 The idea to dine in the dark is inspired by Blindekuh (Blind Cow) restaurant in Switzerland, where patrons at the restaurant are served by blind and visually impaired individuals.
This 'Dining in the Dark' experience is organised by the Singapore Association of the Visually Handicapped (SAVH) to raise public awareness of the challenges, that persons with vision impairment face in their daily life. 
Patrons are served by blind and visually-impaired staff, who are specially trained to prepare set course meals as well as work as servers and kitchen helpers.
At the restaurant, patrons are expected to abandon their vision and step into the shoes of the blind for a few hours.
Without relying on sight, their other senses such as taste, touch, smell, and hearing will be heightened thus elevating the dining experience.
Exploring career options? Click here to receive updates on more articles, career-related tips, exclusive invitations to our career events and more!
2. United Overseas Bank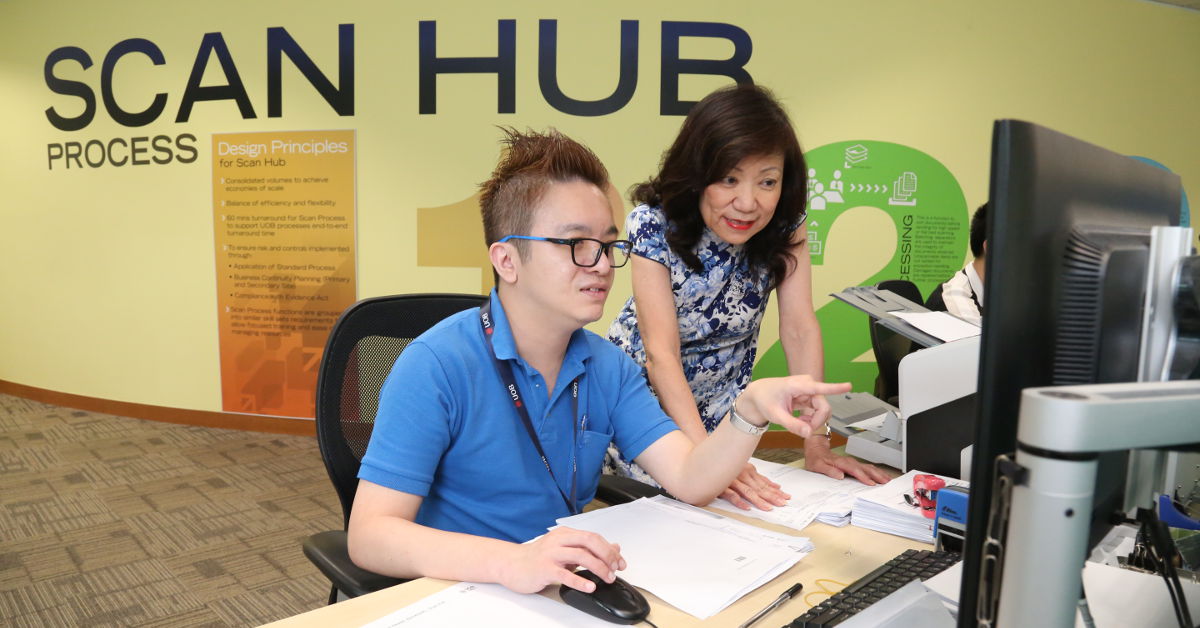 In May 2013, United Overseas Bank (UOB) launched an "inclusive employment" initiative that offers career opportunities to persons with special needs. 
It started hiring people with autism, as well as those with hearing impairments, to work at UOB Scan Hub.
This department scans and archives' customers' documents, and requires employees who possess a sharp eye for detail and a methodical approach. 
People with autism proved to be a perfect match, as they had characteristics that are well-suited to the job, such as their focus and inclination towards structure. 
Previously, the department experienced a high turnover rate of about 50% due to the repetitive nature of the job.
However, since the redesigning of roles and new hires, the turnover rate in the department has dropped to 5%, while productivity has increased by 101% since 2013. 
3. Uniqlo Singapore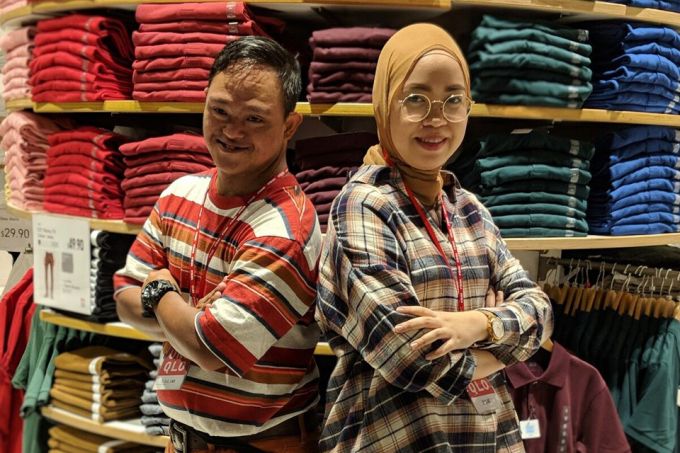 Uniqlo has been working towards the goal of employing at least one person with disability per store since 2001. 
Over 90% of its stores in Japan employ at least one person with disability, and Uniqlo has expanded this initiative to overseas outlets. 
As of May 2019, Uniqlo has employed 28 workers with intellectual disabilities across their 28 outlets, tailoring the work training programme to their needs. 
Intellectual disability refers to an impairment of a person's mental ability which may affect, among others, his reasoning, writing and social skills. It is also associated with an IQ lower than 70. 
Uniqlo has also created a buddy system that pairs staff with disabilities with store managers to help guide and mentor them in their training. 
All employees — PWDs or not — have the same set of benefits, compensation, and a fair chance for career progression.
Read Also: Top Do's in Company Diversity and Inclusion Practices 
4. National Library Board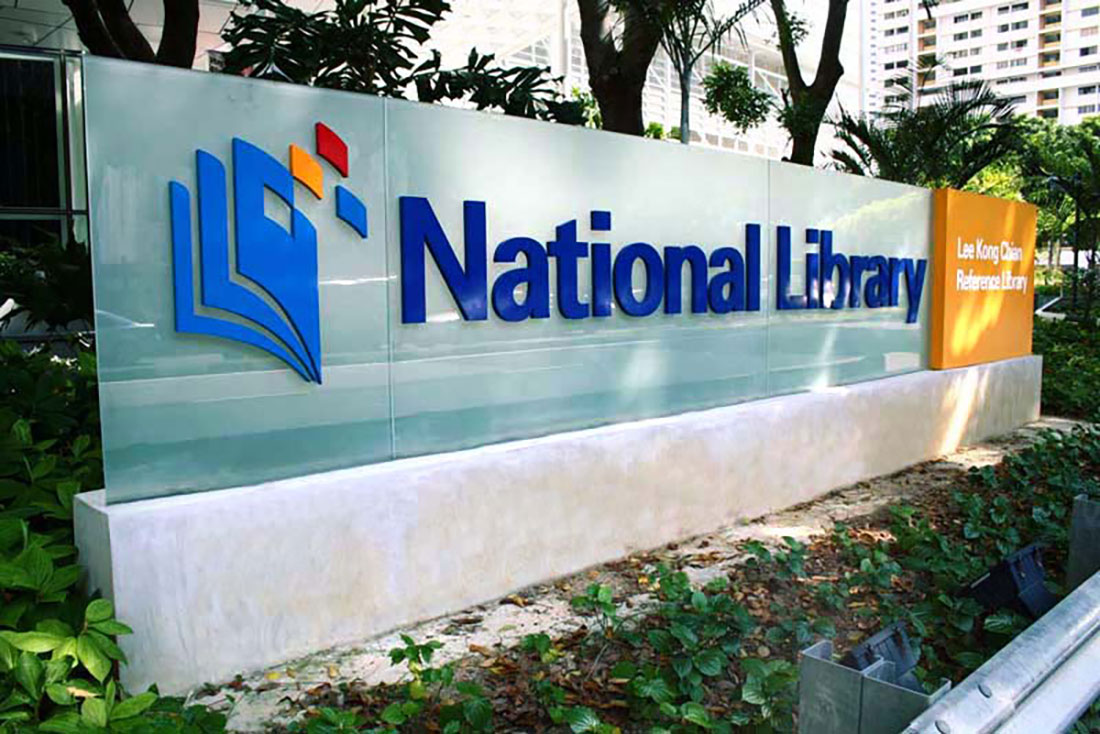 In 2016, the National Library Board (NLB) signed a five-year partnership with the Autism Resource Centre (ARC) to help those with special needs, find employment converting old library materials into a digital form for the public database. 
These individuals will have to undergo training to do scanning and other digitising tasks at the Digital Services Centre in the Enabling Village in Redhill. 
Most digitising work is done at NLB but in a previous collaboration in 2011, it outsourced similar cataloguing work to the ARC, whose beneficiaries completed the work accurately in half the expected time. 
Such tasks, which require focus and precision, make the job very well-suited to those with autism and related conditions.
Beyond that, what is perceived to be their weakness has now been turned into a strength. 
5. KK Women's and Children's Hospital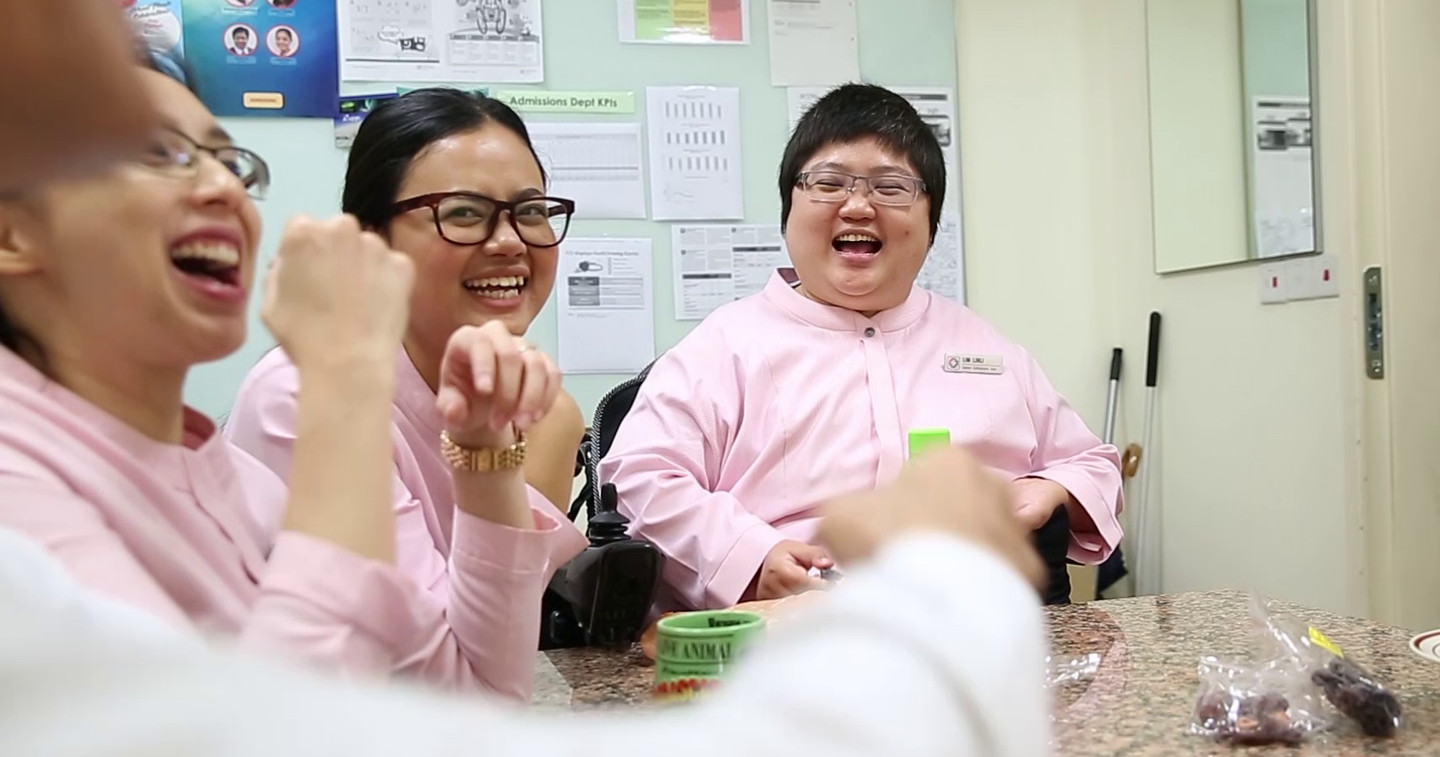 In 2017, KK Women's and Children's Hospital employed eight physically challenged staff.
It believes that physical disability will not hinder a person's prospects and walk the talk with fair employment practices. 
One staff, in particular, Ms Lim Lin Li has been with KKH for about 10 years now. She works as a Senior Admissions Assistant, helping patients with their admission procedures as well as hospitalisation bills.
She uses a motorised wheelchair, relying mostly on her right arm for her tasks. 
KKH has done much to accommodate Lin Li at the workstation. Since she can't reach high areas, a printer was placed beside the counter for her convenience. The counter was also made bigger to suit her wheelchair. 
6. Singtel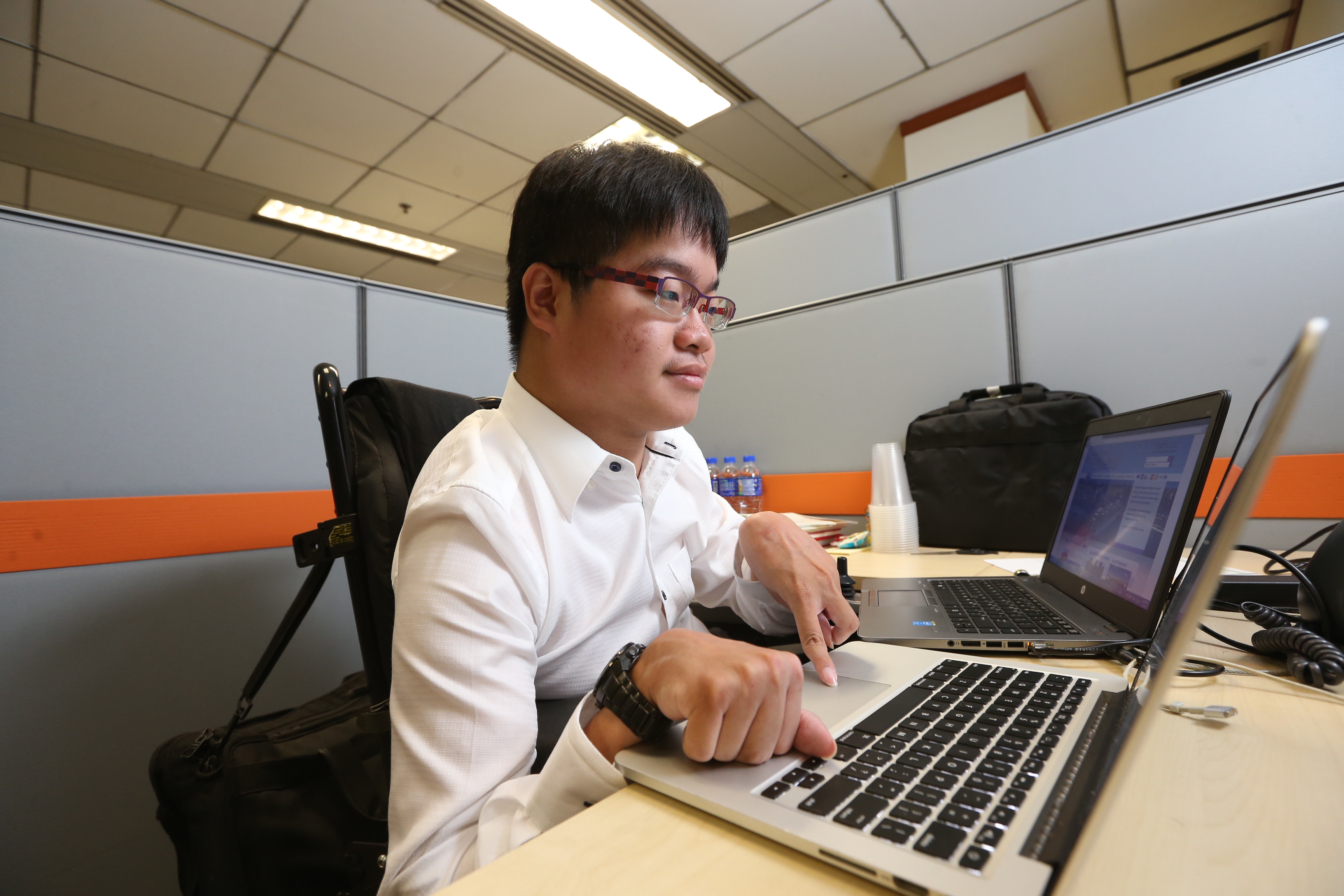 As part of its efforts to promote a more inclusive workplace, Singtel has participated in SG Enable's RISE Mentorship programme on three occasions, mentoring 10 students with disabilities in total. 
RISE Mentorship is a 12-week programme where students with disabilities from universities and polytechnics, are matched with business managers from local companies or multinational corporations. 
Some of its hires include Alister Ong, who has cerebral palsy, as a sustainability group associate; as well as a Nanyang Technological University graduate who has autism in its finance department.
It has also supported the training and hiring of persons with disabilities to work in call centre operations. 
It has invested nearly $200,000 to make the workplace disability-friendly.
It made some modifications to its offices, such as installing automatic doors with RFID readers to make it easier for them to use staff access cards, especially for wheelchair users. 
7. Grab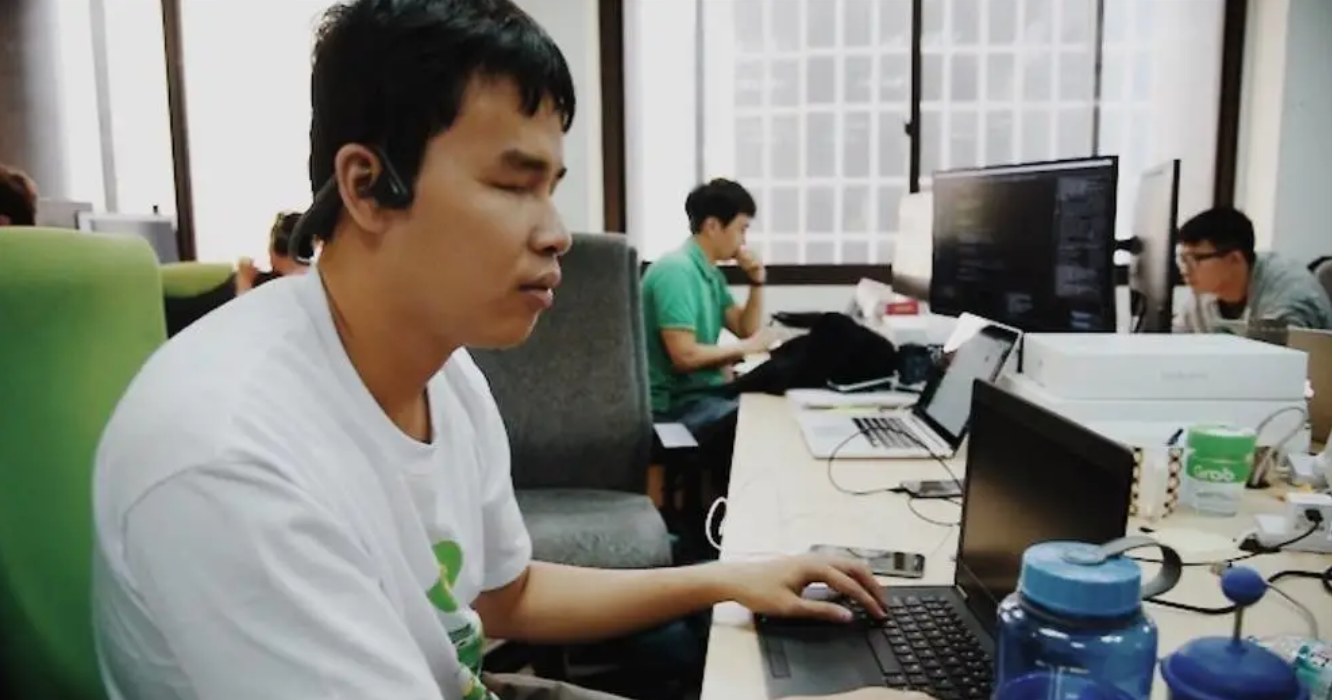 Ride-hailing firm Grab hired its first blind employee across its regional offices in February 2017. 
Vietnamese-born Giang Nguyen works as a Grab coder and software engineer, where he does programming for its Android app.
He has also been developing the app to make it more accessible for all passengers, including the blind. 
Meanwhile, Grab's food delivery arm GrabFood has around 20 delivery partners with physical disabilities out of its approximately 13,000 riders.
Since these riders carry out deliveries in a wheelchair, they are prioritised for shorter-distance jobs. 
Currently, GrabFood is looking at enhancing the platform's functionalities so as to only assign jobs at wheelchair-friendly locations, and indicate on the app that they have physical disabilities so that merchants and customers can manage their expectations, or offer help if necessary. 
It also hopes to partner with electric wheelchair manufacturers so its riders can get wheelchairs or batteries at a cheaper rate if needed.
Due to a wheelchair's finite battery life, a rider cannot travel for long which limits their working hours and income. 
Keep updated on the latest career trends via the WSG Jobs and Career Advice Telegram channel
What support can companies get?
Although more people with disabilities are in employment today, significant barriers remain when it comes to participating in the labour market.
To encourage employers to hire and train persons with disabilities, the Government has come up with several initiatives that companies can tap on: 
Open Door Programme (ODP): Under the ODP, employers can apply for grants and employment services to hire, train and integrate PWDs. This includes Job Redesign Grant, Training Grant, and Recruitment, Job Placement and Job Support Services.

 

Special Employment Credit (SEC): Employers receive an SEC to offset up to 16% of the wages of employees who have disabilities, capped at $240.
Workfare Scheme: Workfare Training Scheme supports employers to send their workers for training. The training grant covers 95% Absentee Payroll (no dollar cap). Employers can benefit from this when they enrol their employees in any of the courses that are supported or accredited by Workforce Singapore.

 
(Main Image Credit: The Society of Publication Designers)