Teachers are crucial to developing modern society. As each generation eventually becomes the day's leaders, their work shapes children into intelligent and honest role models that benefits society.
If you're looking to forge a successful career in education, learning about the skills and qualifications needed to achieve your objectives is essential. We look at what makes teaching so rewarding and how you can develop your talents into an invaluable resource.
The qualifications needed to teach in Singapore
Whether you're completing your teaching studies or are keen to move into the education sector, achieving the right qualifications is vital. Here, we explore how to become eligible to teach at early childhood, primary and secondary schools, and tertiary levels.
Early childhood
You need to earn a Certificate in Early Childhood Care and Education (ECCE) or a Diploma in Early Childhood Care and Education to become a preschool teacher in Singapore. If you study for the certificate, you'll be eligible to work with children aged 18 months to four years in pre-nursery, nursery and playgroup settings.
The Diploma of ECCE is earned through registered schools under the National Institute of Early Childhood Development (NIEC). This allows teachers to work with children aged 18 months to 6 years from pre-nursery to kindergarten. Student teachers with 5 GCE 'O' level credits can also study through private training agencies.
Looking to pivot to a career as a teacher? Explore available jobs now on MyCareersFuture!
Primary and secondary school 
Depending on your education level, you can study to become a primary or secondary school teacher through several Ministry of Education programmes.
O-Level
O-Level holders can apply for a Teacher Training Sponsorship to teach Art, Chinese Language, Music, or Tamil Language at primary school.
A-Level/Diploma
Prospective primary school teachers can access the two-year Diploma in Education Programme with a GCE A-Levels, International Baccalaureate (IB), Polytechnic Diploma, NUS High School Diploma or equivalent certification.
Aspiring secondary school teachers must complete the four-year Bachelor of Arts/Science (Double Major/Education) Programme. Based on operational needs, you'll be deployed to a primary or secondary school upon graduation.
Undergraduate/Degree
If you've already completed an undergraduate degree but wish to become a teacher, the Postgraduate Diploma in Education (PGDE) is for you. However, before being accepted, you must complete a mandatory stint as a contract teacher, where your passion and suitability for education are assessed.
Tertiary 
While no strict requirements exist to teach university-level classes, candidates at a minimum must have a bachelor's degree in a related field. Plus, jobseekers are advised to have a demonstrable passion for teaching alongside a track record in research and practice.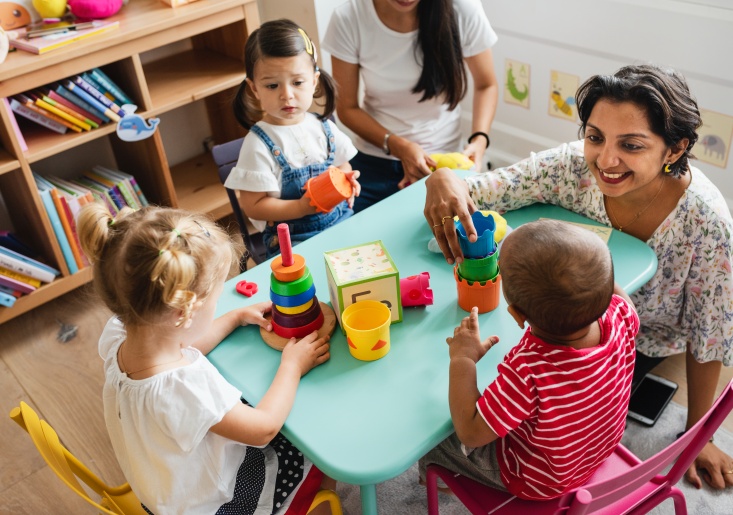 The must-have skills for teaching
Preparing to land your first teaching job? Below, we've listed some must-have skills to ensure you grow your career and provide an engaging learning experience.
1. Communication
As you might expect, teaching requires outstanding verbal and non-verbal communication skills. By developing techniques that appeal to students irrespective of their learning stage, you'll ensure students absorb each lesson.
2. Patience
Teaching young children, teenagers and adults all requires a patient mindset that prevents you from losing your cool in a stressful situation. Remember, everyone learns at their own pace, so calmness and tolerance are valuable traits.
3. Time management
An incredible amount of work goes into delivering a class. From prepping creative ideas to grading student assignments, managing time is vital in virtually every role. Supported by problem-solving and organisational skills, you can increase your in-class performance.
Need guidance for your career switch? Register for a complimentary session with our career consultation team now!
The challenges that come with a teaching career
Teaching is a hugely rewarding career choice, partly because there are always challenges to overcome. Conquer these hurdles and ensure your students flourish now and in the future.
1. Time limitations
Every student deserves your attention, but with only so many hours in the day, ensuring they all receive your utmost consideration is an enormous challenge. However, setting clear priorities, planning your classes and using technology can decrease time constraints.
2. Disruptive students
You may encounter disruptions by some students, no matter where you teach. So, what can you do about them? Developing clear rules, learning about individual issues such as attention or learning disorders, for instance, and establishing meaningful relationships help students focus and reduce lesson interference.
3. Difficult parents
Some parents struggle to accept when their child is not achieving top grades or causing classroom distractions. Approach any concerns in face-to-face meetings where you can have honest conversations about getting the best out of their child.
By planning an appropriate approach to challenges and polishing up the skills that will enable you to shine as an educator, a fulfilling career in education awaits you.