As the holiday season kicks in, you must be looking forward to those long-awaited days of lounging on the beach and seeking Instagram-worthy food.
Vacations are great, but coming back to work after can be a stressful aftermath. You might face difficulties jumping straight back to replying hundreds of unread emails and attending meetings. While sitting at your desk, you may even zone out and feel lethargic, unable to concentrate on work.
Have a job but want to level up? Explore career events and resources designed to help you develop your skills and expand your knowledge with Career GRIT. Check it out now!
Why do I feel tired after a vacation?
We would usually think that spending holidays with our family and being disconnected from work will make us feel rejuvenated. But some of us may feel even more tired after coming back from a vacation. Here are some reasons why.
1. Post vacation syndrome
If you find yourself feeling depressed, anxious and overwhelmed after coming back home, then you're probably experiencing 'post vacation syndrome'. Reality hits hard when we have to switch from relaxing to working on all the backlogs and new projects the moment we get back to work. It's completely natural for anyone to feel stressed after a fun holiday.
2. Sleep deprived after a holiday
You had probably planned a jam-packed itinerary to make the most of your vacation, and might even have stayed up for several nights to visit that cocktail bar or get that kebab for supper. Most of us may also choose to take the first flight out and last flight back to maximise our vacation and leave days, leaving us with only a few hours of sleep before diving straight back into work the next day. With this lack of rest, you could feel more tired and irritable than usual.
3. Checking emails during holidays
It is not uncommon for employees to reply to a few emails when they are lounging on the beach, especially if you work in a management position with a team reporting directly to you. The Randstad Workmonitor survey found that 47% of respondents in Singapore choose to handle work-related matters during the holidays as they prefer to stay involved or updated.
However, if you don't give yourself the time to rest, you may feel mentally drained when your vacation comes to an end as it would feel like you had no break at all.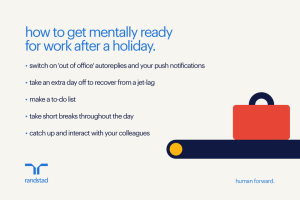 How to mentally prepare yourself for work after a holiday?
The thought of going back to work after a long holiday with a laundry list of to-do tasks will likely elevate your stress levels and may make you feel guilty about taking leave in the first place.
Here are 5 helpful tips on how you can adjust your state of mind and prepare yourself to cope with your anxiety about going back to work after vacation.
1. Switch on 'out of office messages' and turn off your push notifications
Before you go on leave, turn on the 'out-of-office' auto-reply with information about your unavailability and contact details of your team members who can assist with critical matters. This will ensure that projects continue to progress even when you're absent.
You may also want to switch off the notifications of work-related mobile applications on your smartphone, such as your mailboxes, calendars and chats to avoid working in the middle of your vacation.
Upon your return, you may need to do a lot of reading to catch up on everything that's happening at work. Instead of reading 1,000 new unread emails on the day you return, you could dedicate 30 minutes every day in the morning before you head out of the hotel to stay updated with work, so you don't feel too overwhelmed when you return. Just make sure you stick to the committed time so that you don't miss out on once-in-a-lifetime experiences!
Attend walk-in interviews, virtual career fairs, workshops and more! Explore Career GRIT and find events and other resources best suited to your career journey. Check it out now.
2. Take an extra day off if you need to recover from jetlag
Managing jetlag is one of the worst ways to start your first day back in the office. Jetlag could make you disoriented, lethargic and irritable throughout the day.
If you're coming back from a place with a different time zone, try to regulate your sleeping pattern a day before you get on the returning flight. Alternatively, take an extra day off to recover from jetlag so that you can adjust your sleeping patterns before you resume work. If it's difficult to fight sleepiness during the day, distract yourself with housework or grocery shopping to stay awake until the sun sets.
3. Make a to-do list
Ease your way back to work by making a priority list on the returning flight, and another one after you've gone through all your unread emails. Instead of replying to emails immediately, take the time to read them to understand the progress of each project to get a better idea of the tasks you need to prioritise.
Rather than saying yes to every request, work with your team to align and prioritise the important tasks with nearer and non-negotiable deadlines. You can even request for an extension or delegate the task to someone else in the team who has the bandwidth to support you.
Remember, it's all about the quality of your work and not the quantity!
4. Take short breaks throughout the day
You should always prioritise your mental health and learn how to effectively manage your stress levels. Being stressed makes you more prone to making mistakes and producing lower quality of work, which isn't what you want.
Taking regular breaks is necessary for a healthy body and mind. If you're someone who needs reminders to do so, set them up in your work calendar. Do your laundry or make yourself a cup of tea during these breaks to help you feel more relaxed, and put yourself in a better mood.
Like what you're reading? Join us on Telegram to get real-time updates on job vacancies, upcoming career events, career-related tips and more!
You can also snack on some energy-efficient food such as granola bars and bananas to boost your energy level when you feel tired in the afternoon. You may be tempted to get a cup of coffee to stay awake during the day, but bear in mind that taking caffeine in the afternoon might cause you to stay up at night again.
Remember to end work on time so that your mind can wind down and prepare you for a good night's sleep. The last thing you should be doing is to work 10 hours on your first day back at work. Leave the non-critical tasks to other days, or delegate it to your team members if possible.
5. Socialise and catch up with your colleagues
It's always a good idea to take some time to catch up with your colleagues to maintain your work relationships. After an amazing holiday, there must be lots you want to share with them, or souvenirs that you would like to give them. Communication with your colleagues can also help you get up to speed with what's happening at work while you were away, and reduce your stress levels.
This article is contributed by Randstad Singapore.