As digitalisation continues to transform the financial services sector in 2022, how consumers and businesses conduct banking and financial activities will change how organisations operate. 
With rapid advancements in the banking and fintech industries, the type of skills and roles are also impacted. The Monetary Authority of Singapore (MAS) estimates that there will be more than 9,400 hiring opportunities for permanent roles in the financial sector in 2022. 
As the financial sector looks set for growth this year, Standard Chartered is one of the banks that is actively hiring on the MyCareersFuture portal.
Charlotte Thng, Standard Chartered's Head of HR, Singapore, Australia and ASEAN Markets speaks to Workipedia by MyCareersFuture on why jobseekers should consider coming on board.
Standard Chartered's road ahead
Why is Standard Chartered actively hiring?
As a global bank operating in 59 markets, Standard Chartered is committed to developing talent in all our markets and strongly supports a culture of diversity and inclusion – ensuring its employees, regardless of background, have equal opportunities to be the best they can be. 
With Singapore as the bank's operational hub housing its global business, technology, operations and innovation headquarters, the bank aims to create and grow opportunities for its employees based here. 
We want to include them in our diverse teams by getting them involved in innovation projects, winning deals and growing a global business. 
Looking for a new role? Explore over 100,000 job roles on MyCareersFuture now! 
Why is it exciting to join Standard Chartered now?
We're an international bank that is nimble, yet big on impact – we work to make a positive difference for our clients, communities and colleagues. 
We believe in fuelling positive change and are accelerating net zero through sustainable economic growth, lifting economic participation across the world and resetting globalisation by standing up for transparency, fairness and trust in global markets.
Our commitment to promoting equality in the workplace and creating an inclusive and flexible culture has gained strong recognition. We were listed on the Bloomberg Gender-Equality Index 2022 for the seventh year, and are the first financial institution to be awarded the EDGE certification in Singapore. 
Empowering our employees and providing them with the best environment to thrive is a huge focus for the Bank, and we made it to LinkedIn's Top Companies List in 2021. 
In the same year, we successfully transitioned our workforce into our "Future Workplace, Now" programme, offering employees the option of flexible work arrangements that enable them to choose what's most conducive for them to stay productive and creative. 
83% of our people now work flexibly.
Our expanding suite of development programmes is aimed at helping our people reach their ambitions and feel confident in realising their potential. 
In December 2020, we launched a global learning hub named diSCover Lab, following a S$5 million investment committed to offering employees opportunities to reskill and equip themselves with future-compatible skills. 
The learning continues, with other avenues including our SkillsFuture@SC programme and external accredited courses with the Institute of Banking and Finance.
What are some of the in-demand jobs that Standard Chartered is hiring for?
We are on the lookout for talents for a wide range of positions such as Data Analysts and Architects, Product Engineers, Cybersecurity experts, and Developers to be part of our Technology team!
At the same time, our Consumer, Private, and Business Banking division is also recruiting Relationship Managers and Business Development Executives. 
We also have plenty of opportunities for jobseekers who are interested in Compliance Advisory, Project Management, and Governance, as well as our Sustainable Finance and Digital Banking teams as well.
Check out jobs at Standard Chartered here. 
What is in store for Standard Chartered in the years ahead? 
We continue to focus our priorities on growing our affluent and international banking businesses, to deliver best-in-class client experiences with improved efficiency. 
There are also opportunities to grow our network businesses further with MNCs, global FIs, and regional corporate, commercial, and institutional banking (CCIB) clients, as well as build on supporting our clients' digitalisation journey through co-creation and innovation. 
How has COVID-19 affected Standard Chartered and how will it flourish post-pandemic?
We have seen greater solidarity through adversity, and it has been heartening to see how our colleagues demonstrate greater empathy and compassion in the way they support one another, our clients and the communities to navigate the pandemic together. 
Ready to start applying for your next job? Explore job postings on MyCareersFuture now!
With new ways of working a norm, we transitioned seamlessly into a Flexible Work Arrangement programme in 2021 and were recognised by the Tripartite Alliance for Fair & Progressive Employment Practices (TAFEP), as a leading and exemplary best practice for the industry. 
We believe our flexible working approach will continue empowering employees to choose what's most conducive to staying productive and creative.
Benefits and employee offerings 
What kind of bonuses/increments/financial rewards do you give your employees?
The bank provides our employees with an appropriate mix of fixed and variable pay and a core level of benefits that enables us to attract, motivate and retain our employees based on market rates for their role, location, performance, skills, and experience.
What are some steps Standard Chartered have taken to take care of your employees in terms of work-life balance/mental health/during COVID-19? 
The bank has enhanced its flexi-working policies, giving employees greater control over when and where they prefer to work. We also have a variety of interactive tools and programmes to help employees keep socially active and take care of their mental and physical wellness during this period. 
Read More: The Great Reshuffle: What S'pore Employees Want and How Can Employers Support Them?
In addition, we are proud that a group of trained and certified employee volunteers have stepped up as mental health first aiders, to support the well-being of colleagues. 
What is Standard Chartered's stance on upskilling and reskilling?
Our mission is to enable our people to transform their careers and become future thought leaders, by creating a future-ready workforce through re-skilling and learning. This will enable us to meet our future aspirations and the changing nature of work.
How does Standard Chartered recognise/reward its employees' performance and contributions?
Reward and compensation at the Bank are made in tandem with individual performance and conduct, business performance and the overall Group's performance. 
Are there any other attractive perks/benefits that Standard Chartered offer?
We offer a comprehensive benefits scheme which ensures that our employees' mental, physical, social, and financial health are taken care of. These include complimentary access to on-demand services for mindfulness and wellness sessions, counselling services for employees and their families, and also competitive leave and benefit policies.
On the lookout for a new job? Kickstart your career and discover meaningful career opportunities at WSG's Virtual Career Fairs. Register today!
Tapping on Government programmes 
How have WSG's programmes assisted with getting the right talent(s) for your company?
WSG's programmes have provided opportunities for locals to reskill and upskill, while allowing the Bank to assess the suitability of talent pools, resulting in permanent positions upon programme completion.
What are some of the Government's programmes that have helped? 
Workforce Singapore's (WSG) Career Conversion Programme and SGUnited Traineeship. Other programmes that also helped are SkillsFuture Singapore's (SSG) Work Study Programme and Work-Life Grant, WSG-SSG's Employment Support for Employers to hire Persons with Disabilities, and the Inland Revenue Authority of Singapore's Jobs Growth Incentive.
Could you share examples of talents that Standard Chartered has hired recently through such programmes? 
The first profile is Lam Siu Hon, our data science analyst who was converted into a full-time role through the SGUnited Mid-Career Pathways Programme. He was a former Mechanical Engineer and founder of a start-up but left to take a break during the pandemic. 
He enrolled in the programme with a desire to upskill and picked up new skills such as Python, SQL, and Power BI analytics. After four months of training, he joined Standard Chartered as an Associate Machine Learning Engineer where he worked on several AI and Machine Learning projects. 
Within six months, he was offered a permanent role with the bank. 
His advice for anyone interested in the programme is to put in the time and effort, as there are plenty of opportunities within the industry.
Think a career in banking and finance might be your calling? Take this quiz to find out!
The second profile is James Iau, an associate in Financing and Investment Solutions who converted through the SG United Traineeship Programme. He enjoyed the experience and found that the various rotations during his traineeship gave him a holistic perspective of the bank's various businesses and operations. 
His advice for anyone interested in the programme is to keep an open mind as he was previously set on the roles he wanted to apply for. However, that changed during his traineeship. He believes that adaptability and opportunity go together – the more adaptable you are, the more opportunities you will have.
Applying for jobs?
See how you stack up against the competition. Check out the Application Benchmark tool to see how you compare with other applicants in terms of skills match, experience and education.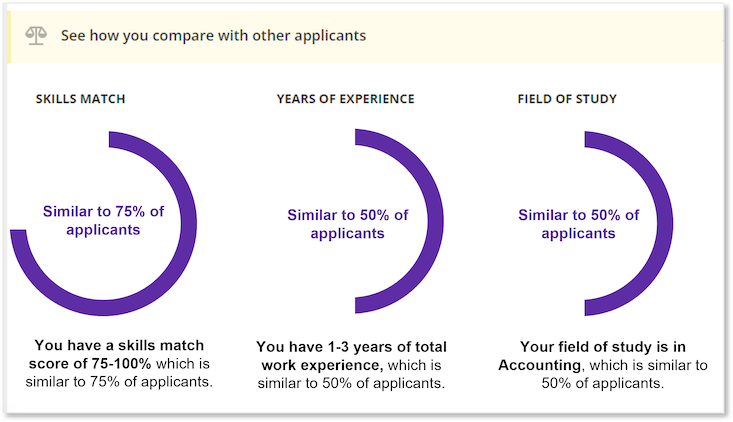 This will also give you an idea of how suitable you are for the job.
Start applying and try this new feature out now!