Kelvin Ong began working at the tender age of eight, in Segamat, Malaysia. In many ways, he has not stopped working. Today at 44, he is Chief Executive Officer (CEO) at Eurasia Global Food Pte Ltd with the goal of retiring at 50 and devoting his life to doing good for the needy. 
His parents saw him as the "tougher" of the three children. At the crack of dawn, he followed them for 'rubber tapping' (the process by which latex is collected from a rubber tree), then by 10 or 11 in the late morning, he would head to school. School became the place to catch up on much-needed sleep. Kelvin was in the Chinese stream till Form Three (the equivalent of Lower Secondary School in Singapore). 
Looking to grow your team? Tap on our 500,000-strong talent pool of Singaporeans by posting your jobs on MyCareersFuture today.
He remembers his first day at work in Singapore, when asked "What is your name?" in English, he froze and fell silent, not understanding a single word. Yet, when he had to man the ice-cream counter at a Hilton Hotel, where orders were rattled off in English, a young man wrote down the names of the orders repeatedly, memorised them and showed he was made of sterner stuff. Sheer grit, determination and hard work helped him rise through the ranks and become a Chef – but not without having to deal with a great deal of baggage. 
At 12, his father committed suicide. At 15, he worked as a cook for $300 Malaysian ringgit. At 16, he left home for an $800-Singapore-dollar job. He was delighted. He was also grateful to his uncle who was a lecturer at the Singapore Hotel Association (SHATEC) for setting him on his career path. To say that he has been through the school of hard knocks is putting it mildly. 
Without hesitation, without shame, without guile, Kelvin says, "I am really a stupid boy, from the village". Such a boy now heads Eurasia Global Food. It is the holding company of Eurasia Global Trading, Eurasia Food Supply, Eurasia Food and Beverage and Gochiso Shokudo. The main group activities include production, processing of frozen pork and supply chain to other restaurants, supermarkets and resellers. 
WATCH: Looking to pickup new digital skills? Here's how to make the learning curve easier!
The Past, the present and the future
The Kelvin Ong of today is informed very much by the Kelvin Ong of yesterday. 
Mild-mannered, respectful of the cleaner all the way to his managers, Kelvin puts his love of food down to his poverty. "We were poor when I was young. There was no food. So, when there's good food (at the Hotel), you feel great. I loved to cook and loved to eat."
Today, he designs the menu, cooks for leisure and will wash the dishes, clean and mop the restaurant floor, if shorthanded. He expects the same from his team. During the early months of COVID-19, he did not retrench his staff. Eurasia instead tied up with WSG for the Job Redesign Reskilling (JRR) Programme for the Lifestyle sector where staff are trained to take on an all-rounder role in the front-of-house and back-of-house, with the adoption of technology. Their head count stands at 60 and despite the times, he opened 10 new outlets as rents fell in some locations. The recipe he adopted includes keeping the menu affordable, offering premium products, and instituting mixed food themes at one location. He was able to expand by ensuring the factory, where the food is processed and readied, is streamlined and operates with fewer workers who also receive higher salaries.  
Eurasia's aim is to build a holistic and sustainable F&B supply chain with the objective of being efficient in logistic operations, customer service and quality assurance management. In this regard, the employees deployed at the F&B restaurants are required to understand how the company's overall value chain functions and run the restaurant functions in the context of the broader business functions. It is a win-win situation for Eurasia and the staff. A pipeline of talent is built so that the company can remain competitive in the long run.
Attend walk-in interviews, virtual career fairs, workshops and more! Explore Career GRIT and find events and other resources best suited to your career journey. Check it out now.
Together with Singapore Management University (SMU), Eurasia shares all the knowledge and experience it has accumulated over the years to develop an advanced diploma. The intent is to train managers and heads who know about the logistics, the premium product and the challenges of running a restaurant in a highly competitive sector. In partnership with WSG, Eurasia has since adapted the Advanced Diploma to hire mid-career individuals to join the company through the Professional Conversion Programme for Restaurant Managers (Value Chain Management).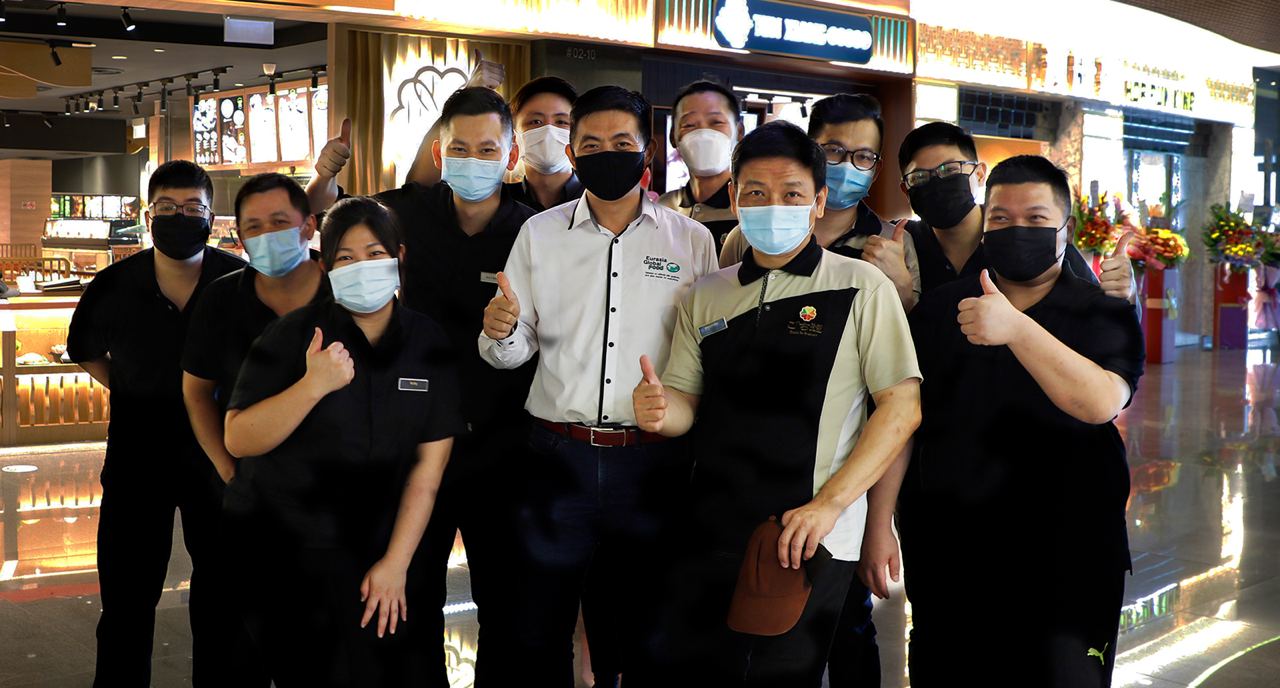 Moving from chef to strategist
In the early years, when Kelvin was mainly at the back of house in the kitchen starting out and training to be a chef as in Hilton Hotel and casual sushi eateries, he made inroads into managing the kitchen operations at restaurants. The long 15- to 16-hour days however meant little or no time for anything other than work. 
When he joined Suki Group, he rose to be the CEO handling more of the strategic aspects of the business. He took the company from zero revenue in 13 years to $80 million in sales. He left Suki Group to enter another phase in his career. 
Kelvin joined Eurasia in 2011 when it had literally zero earnings. The co-founder is Daisuke Yoshioka, a contact he had met from his previous company. Daisuke asked for his help in building the company.  In five years, it hit $36 million dollars. If not for Covid-19, a healthier profit margin could have been possible last year. Covid-19 presented different challenges for this CEO. A balance had to be cut between looking at rental differentials between the factory and the restaurants as well as reskilling and retraining manpower to handle varied aspects of the job. Much of the food preparation was done in the factory.  
Coupling the business strategy in such challenging times with a strategic employee training plan was the only way to go for Kelvin and his team. In tandem with WSG, Eurasia has adapted employees' skills in order to build resilience to face the challenges ahead. 
Making an impression
Small and medium-sized companies (SMEs) like Eurasia Global Food are an important part of the economy. The restaurant arm of Eurasia is a relatively new player in the industry. The company was incorporated in 2017 and since then, they have expanded aggressively into 13 outlets island-wide and are looking to expand further in the coming years. Eurasia Global Food currently sees 45% year on year growth — making it a force to be reckoned with in terms of its growth potential.
Singapore's economy is powered by SMEs, which make up 99% of all enterprises and provide an employment rate of 65% of all workers in Singapore. They are crucial in Singapore's economy and play an imperative role. 
The food and beverage sector accounts for 1.1% of gross domestic product (GDP). It employs 5.5% of the workforce. The intent is that this sector will take greater steps to lift its economic contribution even as Singapore continues to weather the pandemic. Uncertain as the times ahead may be, with economic experts pointing to a K-shaped recovery pattern, it is in the assistance provided to SMEs that helps them build the muscle to adapt and grow during these times — that will stand them in good stead whenever the going gets tough, and still enable them to "take off against the wind".   
Find out more about PCP for Restaurant Managers (Value Chain Management).