Whether you're a first-time jobseeker or have years of working experience under your belt, job hunting is always a tough process, especially in the current job market. 
You may have spent countless hours scouring job boards for roles to apply for or submitting resume after resume. You've tweaked your cover letter several times to align with the job descriptions of the jobs that you're applying for. Yet, you still find yourself waiting for a call back from an employer.
If this is your current situation, you're not alone. According to Randstad, a normal job search process takes about two to six months, depending on the role and seniority. This is a long time to deal with insecurity and uncertainty. 
This begs the question: Should you just wait and hope for the best, or is there something else to explore?
You've done everything right… but?
You've updated your resume, optimised your CV, taken up relevant courses, organised your social media profiles and a myriad of other things to make yourself marketable the best you possibly could. However, if you still find yourself in the waiting game, perhaps it's time to do something to turn the odds in your favour.
It's no secret that you, like most jobseekers today, search and apply for employment opportunities through online job portals. It's one of the most efficient ways no doubt. With just a few taps and clicks on the computer, you're presented with a list of job openings to submit your application. 
Sounds simple enough, but is the jobs portal that you're tapping into right now, getting you the results? Otherwise, maybe it's time to consider using a different one.
Not all jobs portals are made equal
At this point, you may be asking: "Don't all job portals work the same way?" You're right that basically, these portals are just platforms where employers post job roles that they're looking to fill, and interested jobseekers apply for the said jobs.
However, there is a difference between an advanced jobs portal from a basic one, that would give its users an edge on their job search process. One common pain point for most jobseekers is having to go through one job description after another to figure out if the job is the right match for them. 
This is time-consuming and job descriptions may be at times challenging to decipher. Hence, a great feature to have in a jobs portal would be one that helps you to list the jobs that fit you.
If this feature is something that you're looking for in a jobs portal, you might want to explore the MyCareersFuture jobs portal which recommends jobs to you based on your skillset and allows you to filter them through five other categories. 
Look through 60,000 job postings on MyCareersFuture and let our jobs recommender narrow down the best jobs for you! Try it out now.
Add skills to your profile to discover more jobs
Here's how to add skills on MyCareersFuture:
Step 1:
After logging in to the portal with your Singpass and creating your profile, click on "Add Skills" while conducting a job search to add skills to your profile.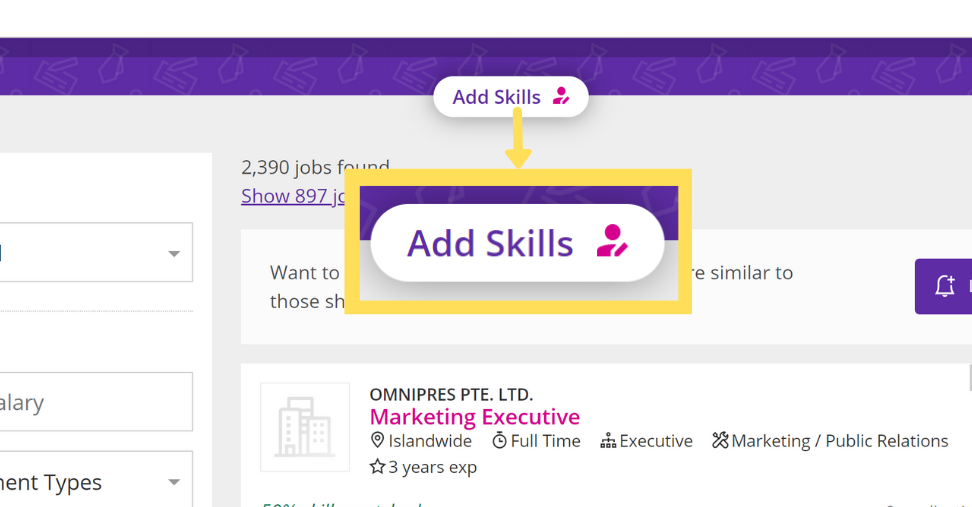 Step 2:
See suggested jobs (highlighted in a green box) that fit your skills.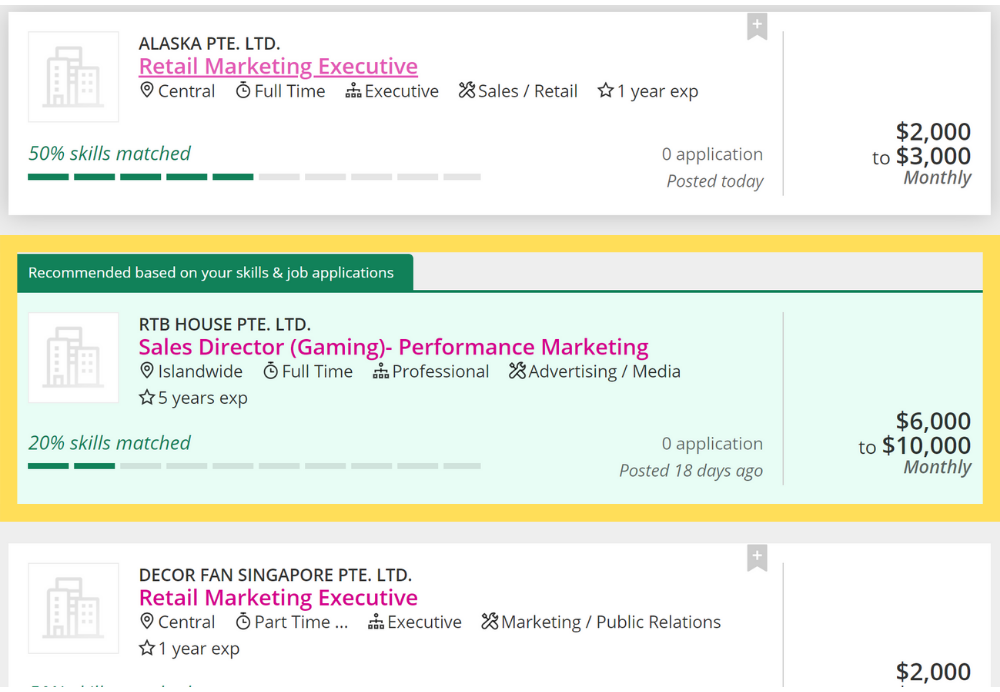 Step 3:
See which suggested jobs offer you higher skills matched.

Step 4:
Increase your chances of getting shortlisted by adding more relevant skill pills.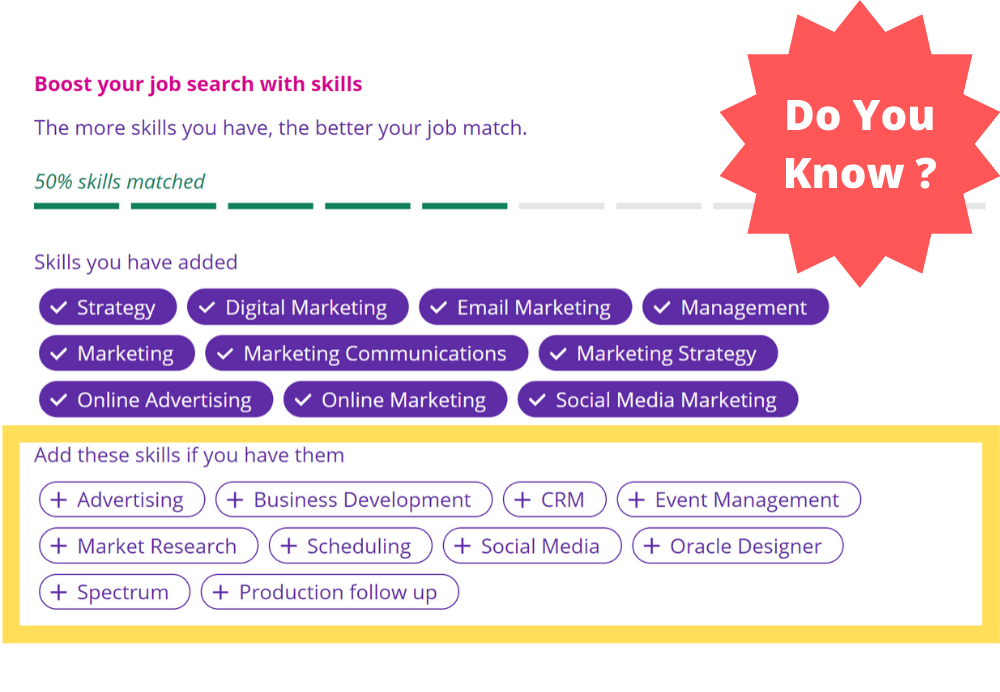 What are skill pills and how does it work?
Each skill pill is a definition of the skill sets you inherently possess and adding more skill pills would help complement your existing resume. Skill pills are an integral part of job postings on MyCareersFuture and learning when to add the relevant skill pills would increase your chances of finding a job.
1. Jobs relevancy
By keeping your resume and skill pills up to date, MyCareersFuture will recommend more relevant jobs based on your profile and saves you precious job search time. The system offers up to 109,000 skill pills so you can customise your profile accordingly.
2. Stand out from other job candidates
"The more (relevant) skill pills you have, the higher your chance of success". By customising your resume and adding skill pills relevant to the job description, you stand a higher chance of getting shortlisted by an employer. So research your future employer so you can customise your profile to increase your chances of landing an interview.
3. More employment opportunities
By adding more skill pills and switching on your job-seeking profile, you will be exposed to more employers in need of your skill sets.

Customised job recommendations based on your profile
Based on your skills, the MCF jobs recommender will help you find more relevant and suitable jobs to apply for, by recommending up to six different categories of jobs. 
The jobs will be classified into:
Based on your skills

Many have applied for

Recently posted jobs

Others like you also applied for

Others like you also viewed

Based on your recent searches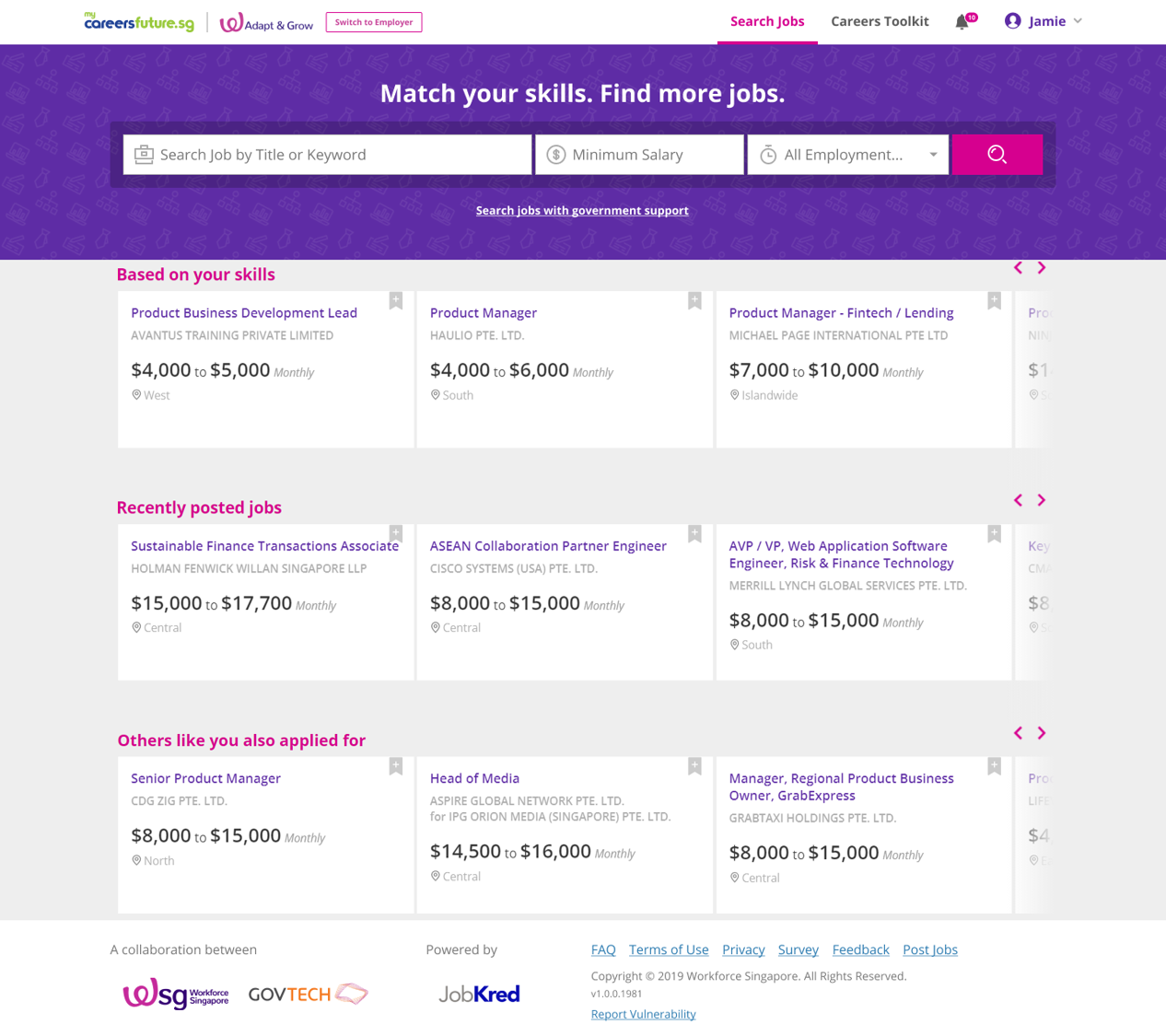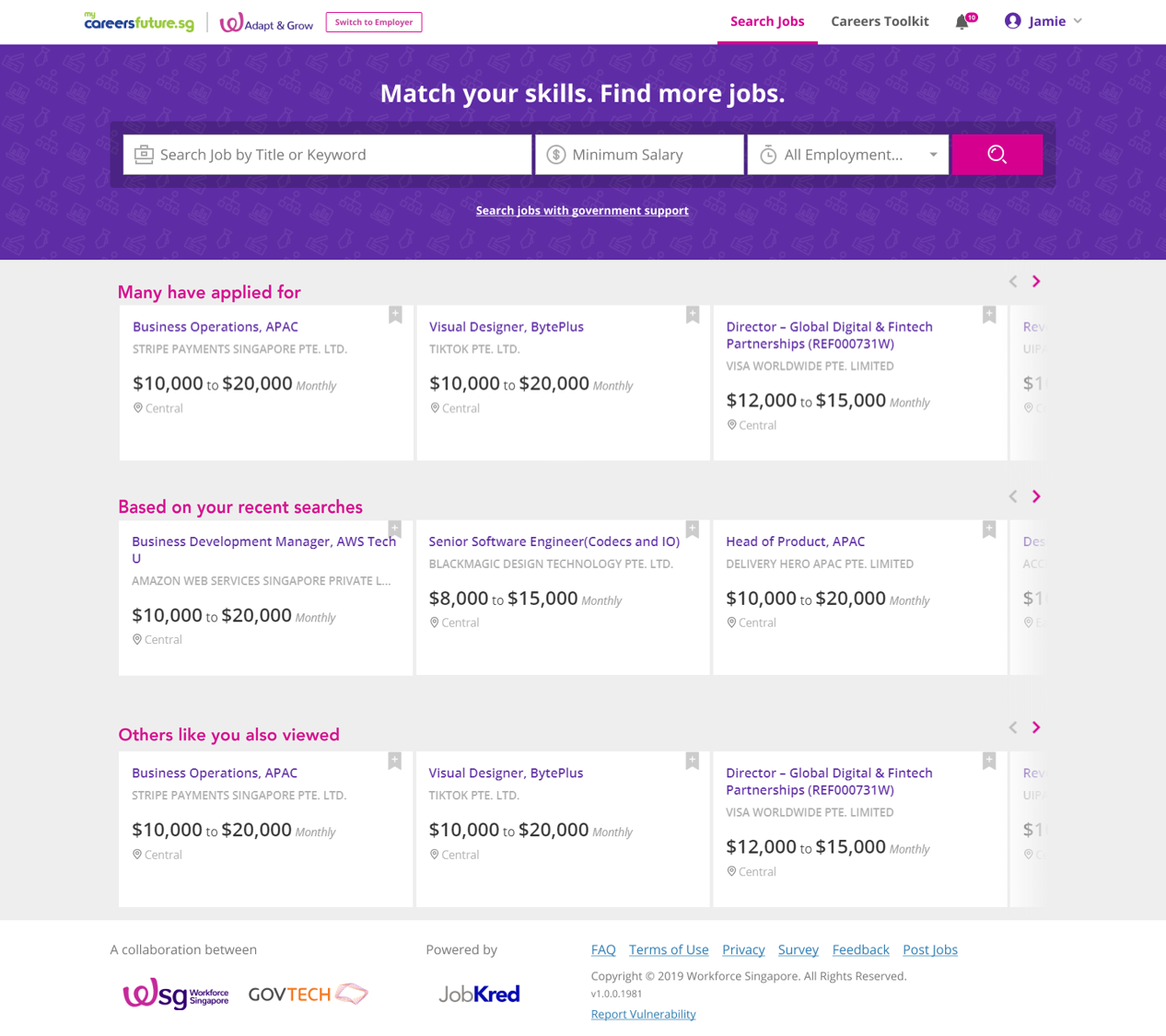 These categories will help you to have a better overview of the jobs that you can apply for based on your skills, trending jobs and those that similar jobseekers are applying for. 
These recommendations are customised to your profile — the more skills you add, the better the results will be. So if you're looking for a jobs portal that offers a wider range of jobs for you to apply for, give MyCareersFuture a shot!
To use, simply login to MyCareersFuture, and browse job recommendations found on the homepage after logging in. 
Job searching is challenging, but don't give up!
Job hunting can be extremely challenging and time-consuming, even for experienced professionals. One of the best ways to stay focused and productive is to set aside a fixed amount of time to do it. Treat your job search as real work with daily goals and keep track of your progress. 
Most importantly, remember to take appropriate breaks for self-care and spend quality time with your loved ones. Good luck!