Let's face it – being Asian, Singaporeans generally aren't as gifted as those from Western cultures in making small talk. Over in countries like the United States, or nearer to home, Australia, saying "How's it going" to strangers is part of the day-to-day culture.
In comparison, step into a lift in Singapore, and we act differently with our awkward silence and look down at our handphones to avoid eye contact.
Interestingly enough, a study by a scholar at Portland State University on a comparison between small talk amongst American and Japanese men found that the Japanese tended to have more pauses and silences in conversation compared to their American counterparts. The Japanese average frequency of pauses per conversation was recorded as 16 for the Japanese and 6 for the Americans.
In addition, the most prominent result showed that interactions with strangers were completely normal for the Americans, while the Japanese found the experience made them feel surprised and uncomfortable. They did not prefer to talk to strangers and needed a defined place or reason to talk in order to converse openly and exchange personal information.
Doesn't sound too far off from us Singaporeans, either.
Looking for career guidance? If you are exploring career changes and need professional advice, register for a complimentary session with WSG's Career Coaching today.
While there's certainly nothing wrong with preferring to keep a distance, it does disadvantage Singaporean workers in the workplace and professional situations. In fact, a researcher found that small talk at the workplace is intertwined with main work talk. They found that "small talk can build solidarity and rapport, as well as maintain good relationships between workers."
And if you're looking to boost your overall career prospects and resilience, this matters just as much when it comes to networking, whether you're speaking to your own colleagues or in the marketplace.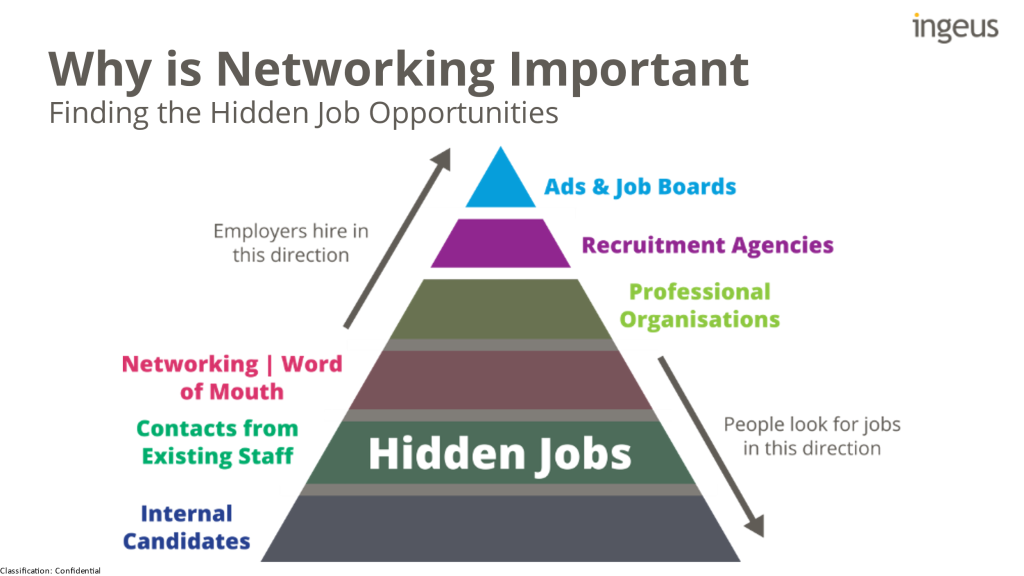 In fact, research on the effects of networking on career success found that networking is related to concurrent salary, and it is related to the growth rate of salary over time!
Linus Leen, the head of coaching and delivery at Ingeus, a career matching provider (CMP) for Workforce Singapore, believes that networking isn't just something you do outside the office, and that should be done even with colleagues in your own organisation.
He shared these sentiments with Workipedia by MyCareersFuture at Workforce Singapore's Take Charge of your Career at Suntec event.
The week-long event was designed for Singaporean workers and jobseekers to discover and unlock their career potential with engaging activities, extensive digital resources, and valuable insights.
Networking is not always just an external affair
"Even when I was working in an MNC, I would meet other leaders from other departments, talk to them, have lunch with them", Linus shared.
"And what that did was open up possibilities for me, even though sometimes I wasn't keen because the roles didn't quite fit me.
"But the key thing is they liked my work mentality and personality and were willing to give me opportunities."
Of course, there's a fine line to thread about looking like you're trying to job-hop within your own organisation and company, of course. That's where your mentality and motives come in, according to Linus.
"If you start internal networking with the motivation that you want to move roles, that's a problem.
"But if you're networking because you want to grow your professional and work network within the company, there's nothing wrong with that.
"In fact, you can even look at job functions where you can collaborate. For example, marketing and sales teams tend to be a bit… adversarial. But if a marketing colleague comes to sales with an idea that can be monetised and is win-win, that's also networking that can both benefit individuals and move on to an organisational level."
Your previous work experience can also help effective internal networking. Linus revealed how he used to work at Singapore Airlines and Intel, and a win-win perspective to networking paid off for all parties.
"So when I joined Singapore Airlines, they were buying a lot of IT equipment, and one-day sales and procurement asked me if I knew anyone at Intel from my days doing program management. I introduced both parties, which got the head of the sales and procurement division interested in hiring me.
"While I wasn't interested in the role, it was certainly an effective example of how an always-on perspective to networking can pay off for anyone's career."
Want to increase your chances of nailing the job interview? Our virtual seminars can teach you effective job search strategies, enhance your personal brand, and more. Explore Career GRIT to learn more!
And what to do if you're not that good at networking?
Linus shared various networking wisdoms at the Take Charge of Your Career @ Suntec event for those who felt they needed help with professional small talk. Here are some tips gleaned below:
1. How many people in your current LinkedIn connections would respond if you needed career help? A straw poll of participants at the event showed that they believed less than 20% would.
According to Linus, this is due to the transactional mentality towards networking, which is common among Singaporeans.
"It's not just about exchanging information or getting favours; it's about what you can do for others first", Linus said.
2. Looking for a job has evolved. The job search process is all about better resumes, LinkedIn profiles, and networking.
Linus shared how our careers are like an S-curve – we start out and make our way to the top, but as we get older, we forget our career value can drop, and by the time we realise it, someone else has taken our job.
3. Networking is a mentality, and opportunities can come from anywhere. He shared how at Ingeus, he had a jobseeker who needed assistance and used to work as a financial controller but was now in his 60s and found it tough to find a new job.
However, he networked aggressively and had a professional acquaintance who was working as a Grab driver.
Amazingly, this acquaintance was giving a ride to someone who was starting up a company and was having a conversation on the phone about needing a finance person to help them.
Interested in attending WSG events like this? Explore seminars and workshops about job-hunting, job-readiness, career planning, and more!
This ultimately led to the jobseeker being brought up in the car and, ultimately, a job offer being made!
4. Last but not least, if the conversation isn't working, just let it die. Most Singaporeans are a bit failure-averse, opined Linus, and this leads to them avoiding networking situations because they're worried about the conversation going bad. But really, so what if it doesn't work? You just need to know how to exit gracefully, he shared. Just say the following:
"Excuse me. I've got to head to the ladies/gents."
I need to connect with someone else, but thanks for the conversation."
Linus shared: "In fact, I was once speaking to the then-chief executive officer of Keppel, and the conversation was so bad, I saw him signalling to his colleagues to come save him with a hand gesture behind his back!
"But the fact is I wanted an exit from that conversation just as badly; all we both needed was just a good reason and line to do so. So never feel bad about ending a bad networking conversation. It's part and parcel of how these things go!"