"I'm sorry, but you are overqualified for the role."
This reply, generic as it is, is what you're trying to avoid when applying for positions more junior than your previous job, or based on your education and experience. Potential employers may interpret your interest in their vacancy as Carpark Syndrome, where you consider the job somewhere to park temporarily until you find a more suitable and senior role.
In this piece, we'll teach you the following:
The 4Q technique to help employers see your value while assuring them of your interest in the role and organisation
How to use one or two aspects of 4Q techniques to answer interview questions without coming across as overqualified
Employers want to know if you are the best fit in terms of experience, personality and culture. Using 4Q Model can help you get started on this. The 4Q stands for:
Q1. Achievements
Achievements could be in the form of revenue growth, profits earned, cost savings, or managing high-value projects. For example, achieving 30% above annual targets despite an economic downturn.

Q2. Risks
Many employers value people who take risks. Share how you were flexible in mitigating risk factors, such as when you relocated overseas or joined a start-up.
Q3. Motivated skills
Your working experiences can be translated into transferrable skills that can apply to your next job. Applying our motivated skills is what makes us excited about going to work every day.
Q4. Industry network
Your market knowledge or network base with suppliers, customers, and vendors will springboard you to succeed in your new role.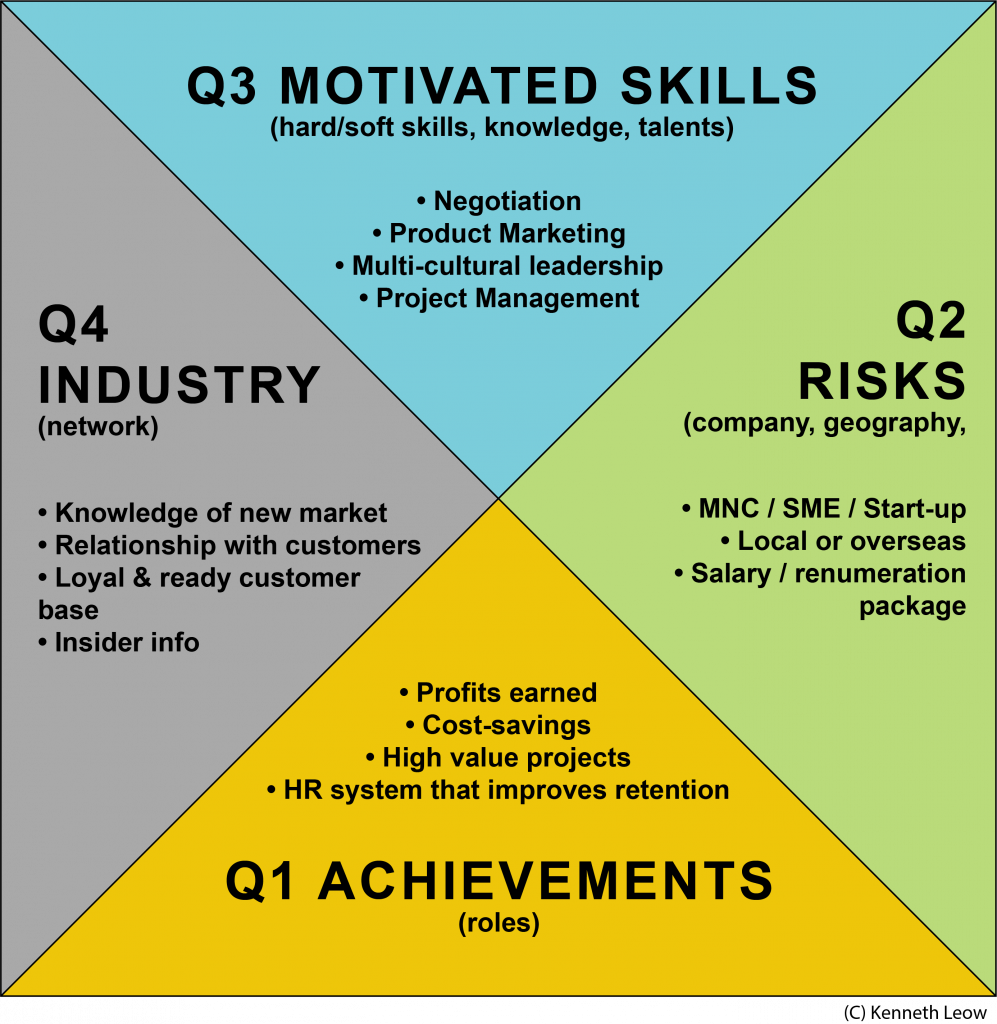 With your years of experience, you might be inclined to showcase all your experience and achievements. However, you run the risk of having the employer ask "what is in it for you?"
Bearing that in mind, here are some tips to help you convince your potential employer:
Highlight the skills and values you possess that contribute to the immediate success of the organisation
Bring up 1 to 2 aspects of the 4Q Model that the new role can provide, but avoid overselling. Covering all 4Qs will ensure you look like the expert, but you might come across as overqualified
Example 1:
With more than ten years of regional HR business partnering experience, I believe I have the proven ability to help your organisation achieve your goals. (Q1 & Q3)
At the same time, I believe this start-up opportunity will further hone my HR generalist role and sharpen my business acumen globally (Q2).
Example 2:
Armed with ten years of business development experience in the pharmaceutical industry and achieving more than USD50 million in revenue in a matured US market (Q1), I believe I can make significant contributions to your start-up in the growing Southeast Asia market (Q3).
Looking to improve your job interviewing skills? You could benefit from professional critique and third-party feedback from a certified Career Coach.
Register your interest in Career Coaching here or call 6883 5885.