Are you ready to move up the corporate ladder? Getting promoted not only comes with more authority and improved pay but also ensures you work on more meaningful challenges that directly influence business success. To make the step up, you must first ensure you're getting noticed in the office.
Fortunately, several promotion strategies strengthen your relationship with your boss and stake your claim as the perfect candidate when a more senior position becomes available. Here, we explore the best ways to stand out as the ideal candidate to secure the rewarding promotion you deserve.
Have a job but want to level up? Explore career events and resources designed to help you develop your skills and expand your knowledge with Career GRIT. Check it out now!
1. Prove you're a team player
It's easier to show that you're ready for a promotion when you prove your credentials as a team player. When you know your boss or a colleague is struggling with the amount of work on their plate, volunteering to give them a helping hand shows that you're willing to go above and beyond your current role.
However, it doesn't just have to be about taking on extra work tasks. You can also highlight that you're a positive force by completing important but sometimes overlooked jobs like cleaning the office kitchen, attending lunchtime events or organising social gatherings that bring the team closer together.
2. Communicate like a pro
Taking on more responsibility at work often means becoming increasingly focused on your communication skills. The higher you climb, the more likely you'll manage other team members, so knowing how to communicate effectively with colleagues and management is critical to getting picked for promotion.
For those working in a more senior position, knowing how to communicate productively with junior staffers can help forge positive relationships with people throughout the business. Meanwhile, showing that you appreciate the need for outstanding communication with clients and partners highlights your readiness for the next step.
3. Share the praise
You want to have the support of your colleagues when putting yourself in line for a promotion. By establishing a strong base within the organisation, you ensure colleagues at every level back you to secure the job. With an empathetic and respectful mindset, you can gain the team's trust and put yourself on the path to promotion.
One of the best ways to achieve this is by regularly praising your colleagues. Whether the team has just finished a project or has simply arrived at the end of a successful week, genuinely letting people know you appreciate their efforts goes a long way. Looking out for others also increases your promotion chances.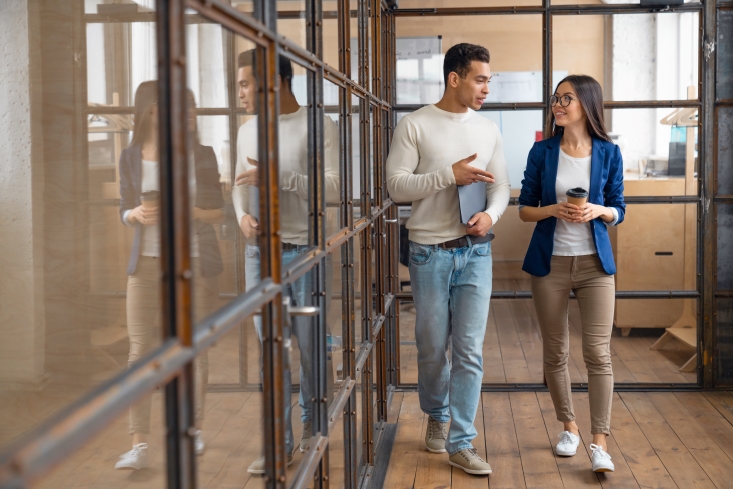 4. Ask for feedback
It's hard to recognise our weaknesses without someone letting us know. Therefore, it's always a good idea to make your boss aware that you're seeking a promotion by asking how you can take your work to the next level. After receiving their feedback, you know exactly what needs to be done to succeed.
For example, you might learn that your boss thinks you can communicate better with your team or take more initiative when collaborating with new clients. Take action on their constructive feedback to put yourself in line for a beneficial promotion.
Attend walk-in interviews, virtual career fairs, workshops and more! Explore Career GRIT and find events and other resources best suited to your career journey. Check it out now.
5. Become irreplaceable 
Are you the only person in the business with a particular skill set? Developing an exceptional array of talents that makes you indispensable ensures you stand out from other candidates when seeking a promotion. If the quality of your work is undeniable, you have a good chance of moving up the ranks.
Although it takes sincere dedication, it's possible to consistently show that your standards are higher than anyone else in the business. Meanwhile, you can strive to perform beyond expectations while becoming a powerhouse of knowledge that enables other workers to succeed.
6. Display leadership
Moving up in the business means more responsibility. By developing a reputation as a leader, it won't take long for your boss to recognise that your talents deserve a more influential position. But how can you prove that you're a reliable leader in the workplace?
Communicating thoughtfully and honestly helps people view you as a dependable person who has their best interests at heart. Plus, an unmistakable passion for your work and a desire to collaborate better with those around you ensures your superior work ethic and skills don't go unnoticed.