The Ministry of Manpower (MOM) released its 2022 labour market report recently, which reveals the type of jobs employers were hiring for last year, based on a comprehensive survey of Singapore's job market.
Singapore's job market has rebounded from the Covid-19 pandemic, with total employment growing by an unprecedented number – 227,000 – with local employer levels rising to 4.8% above pre-pandemic levels in 2019. Unemployment rates for Singapore have also stayed relatively low, at 2.8% for residents, 2.9% for citizens, and 0.6% for long-term unemployed residents.
Overall, it showed that employers have been facing less difficulty filling job vacancies, with the number of vacancies that were unfilled for at least six months dropping to 27% in 2022, compared to 35% in 2021.
Looking for a job? Explore a range of career opportunities with Career GRIT. Connect with hiring employers at various career events such as walk-in interviews, virtual job interviews, virtual career fairs, and many more!
Non-PMET roles are changing and evolving
This decline was more noticeable for non-PMET (Professionals, Managers, Executives and Technicians) job vacancies compared to PMET roles.
This could be a reflection that the continued efforts to redesign non-PMET jobs to make them more attractive to resident jobseekers could be helping, as indications show that over the longer term, employers are finding it less hard to fill non-PMET roles in industries such as accommodation & food services, administrative & support services and wholesale & retail.
At the same time, the Singapore government has also been looking at ensuring that non-executive and lower-wage workers are rewarded with wage increases or variable payments that are fair and sustainable. This aims to address concerns about inflation and the rising costs of living.
MOM has also been partnering with National Trades Union Congress (NTUC) to look into ways to redesign these jobs with higher starting salaries, a clearer skills ladder, and other ways to attract, retain, and reward workers in non-PMET jobs.
The PMET job market remains keen on tech-savvy workers
Conversely, PMET vacancies still formed the majority of available job roles in 2022, at 56%. There was more manpower demand for skilled workers in the following growth sectors:
Information and communications
Financial and insurance services
Professional Services
Health and social services
Ongoing digitalisation has also led to sustained demand for technologically savvy PMET workers, particularly for software, web and multimedia developers, and software and application managers.
In addition, in the aftermath of Covid-19, the growth in Singapore's healthcare needs and sector has led to stronger demand for healthcare professionals, such as registered nurses.
Lastly, the report noted that managers and executives in business development and sales have continued to remain in demand as well.
Looking for career guidance? If you are exploring career changes and need professional advice, register for a complimentary session with WSG's Career Coaching today.
Employers are creating new positions in new locations
Employers are innovating and restructuring to keep pace with rapid technological advancements. As such, new jobs were created for business expansion into new locations, restructuring, or the development of new business areas.
The pandemic also led to a shift towards hybrid work arrangements and online spending, which caused a substantial shift to spending from physical to online channels, and a redistribution of food and beverage spending towards the heartlands, with hiring trends adjusting.
The industries that had the highest proportion of vacancies in new positions in 2022 were:
Information and communications
Food and beverage services
Retail
Cleaning and Landscaping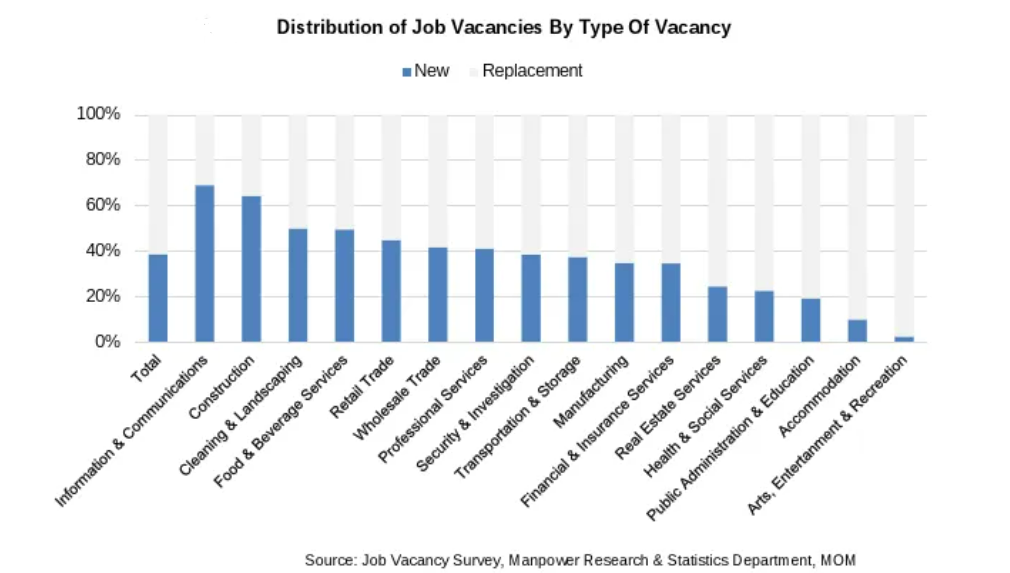 Industry matters
Speaking to Workipedia by MyCareersFuture on the MOM report, Associate Professor (Practice Track) Sarah Cheah from NUS Business School's Department of Management & Organisation shared:
"Despite retrenchments and hiring freezes, the tech sector is still actively looking for new growth opportunities in some industries that have been under mounting pressures to adopt technological innovation to improve the resilience of their business operations that were severely disrupted by the pandemic.
"These industries include construction and food & beverage services. Other industries such as financial services, energy, built environment and transportation that are impacted by the new regulations on climate change are obliged to digitise their business operations to enable sustainability reporting."
She believes several industries will likely continue hiring in 2023 as part of global and regional trends.
"First, the demand for professionals in the ICT industry has increased as companies accelerate their pace for digital transformation to address the issues of disruptions to supply chain and workforce arising from pandemic and regional conflicts in recent years.
"Second, there is a worldwide shortage of healthcare workers exacerbated by pandemic fatigue. In developed countries with ageing populations, the pressure on healthcare workers continues to rise."
Academic qualifications took a lesser priority for employers
Interestingly, the report also revealed that for 74% of job vacancies in 2022, academic qualifications were not the main criteria in hiring. This was an increase from 67% in 2017, primarily driven by PMET-hiring employers, showing a marketplace shift in expectations and hiring mentality.
For PMET roles, skills and work attitude were the key considerations. As long as jobseekers possessed the minimum-required qualifications, their skills and work attitude took precedence when being assessed for such roles.
For non-PMET jobs, academic qualifications were not a primary consideration. Employers were focused on relevant work experience and job-related skills while recruiting to fill vacancies.
Associate Professor Trevor Yu Kang Yang, from Nanyang Business School's Division of Leadership, Management & Organisation, shared with Workipedia by MyCareersFuture: "Generally speaking, academic education is evolving to maintain relevance by offering courses that are shorter and more flexible to meet the needs of both adult learners and their employers.
Seeking some quick career advisory? Connect with our officers virtually on your job search queries here.
"Due to their shorter length, such courses are more accessible to adult learners who often have to learn and upskill while they are employed.
"Such courses also provide instructors more flexibility to constantly update teaching material with insights from the latest trends in the workplace.
"Moreover, adult learners are now able to combine and stack such shorter courses to curate their own individual pathways of learning.
"Such a personalised approach to career management ensures that the individual is in the driver's seat when it comes to using academic education as a means to consistently upskill as their career progresses. "
Top Job Vacancies in Singapore 2022
So which jobs do Singapore employers need to be filled urgently, and what are the salary ranges for them?
The MOM report also revealed the top 10 jobs for both PMET and non-PMET positions that were in demand by employers, as well as the range of wages companies were offering for those roles below.
Top 10 PMET Job Vacancies, 2022
| | | |
| --- | --- | --- |
| Rank | Job Role | Salary Range |
| 1 | Management Executive | $2,200-5,300 |
| 2 | Software, Web and Multimedia Developer | $4,200-8,500 |
| 3 | Commercial & Marketing Sales Executive | $3,500-5,500 |
| 4 | Teaching and Training Professional | $3,200-7,800 |
| 5 | Administration Manager | $2,810-6,000 |
| 6 | Software and Applications Manager | $13,000-15,000 |
| 7 | Registered Nurse and other nursing professionals | $2,500-6,360 |
| 8 | Systems Analyst | $5,000-8,000 |
| 9 | Business Development Manager | $4,500-9,400 |
| 10 | Mechanical Engineer | $3,586-6,000 |
Top 10 Non-PMET Job Vacancies, 2022
| | | |
| --- | --- | --- |
| Rank | Job Role | Salary Range |
| 1 | Construction Labourer | $800-1,600 |
| 2 | General Office Clerk | $2,200-4,000 |
| 3 | Waiter | $1,700-2,400 |
| 4 | Shop Sales Assistant | $1,850-2,400 |
| 5 | Cleaner | $1,400-1,800 |
| 6 | Security Guard | $2,400-3,000 |
| 7 | Receptionist, Customer Service and Information Clerk | $2,000-3,000 |
| 8 | Bus Driver | $1,600-2,000 |
| 9 | Car, Taxi, Van and Light Goods Vehicle Driver | $2,500-3,200 |
| 10 | Heavy Truck and Lorry Driver | $2,600-3,500 |