Let's start with the big picture first- when it comes to income inequality between the sexes in Singapore, things are improving.
According to a study by the Ministry of Manpower, in 2018, our adjusted gender pay gap clocked in at 6%, marking a narrowing over time, compared to 8.8% in 2022.
However, the Ministry's report also noted that "women's propensity to play the primary role in caregiving and take time off work for parenting leads to lags in work experience, career progression and hence earnings."
But equal work should have equal pay. However, women do tend to ask less frequently for pay raises to match changing job roles or responsibilities.
Looking for career guidance? If you are exploring career changes and need professional advice, register for a complimentary session with WSG's Career Coaching today.
Some facts and stats
A survey by Workforce Singapore's (WSG) Telegram channel, WSG Jobs & Career Advice, found that 63% of Singaporean men are comfortable asking for a pay raise, and 73% of male jobseekers are willing to negotiate for the salary that they want.
However, in comparison, only 46% of female employees are comfortable asking for a pay increase, and 49% female jobseekers are uncomfortable to push for the salary they expect!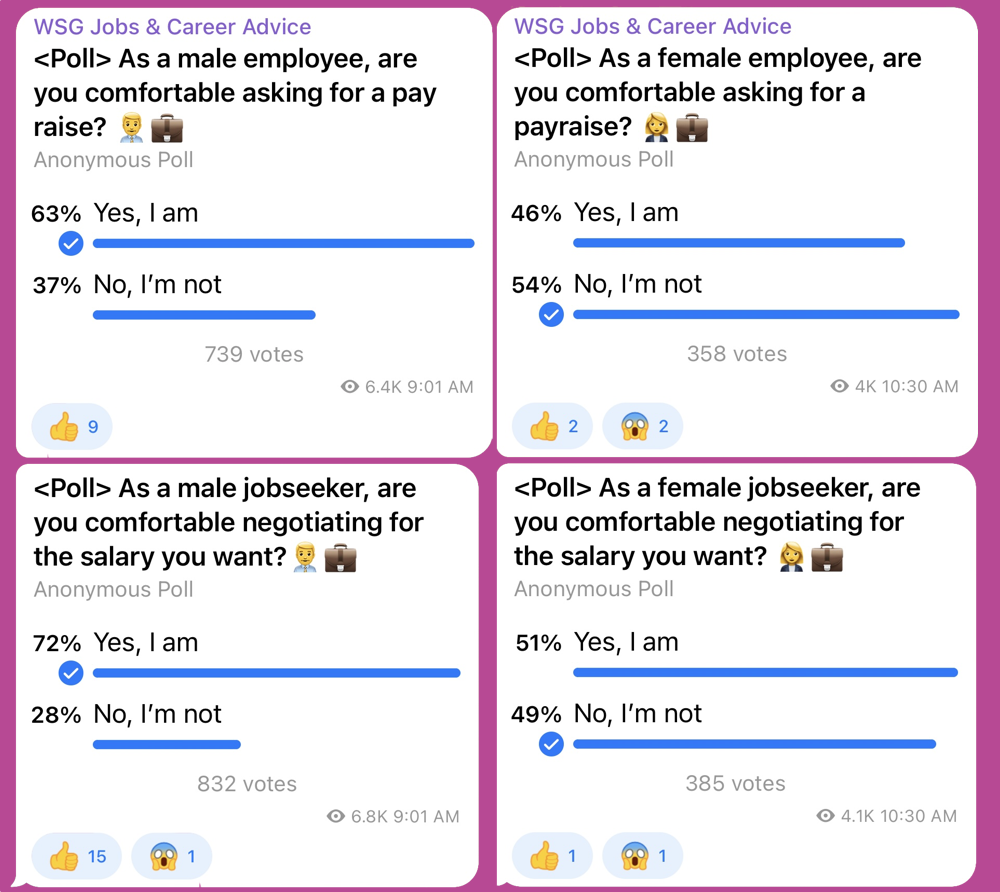 In addition, according to US human resources management software and services company ADP, 46% of women in Singapore said they received a pay raise or bonus for taking on new roles and extra responsibilities during the Covid-19 pandemic, compared to 51% of men.
Another recent report by international professional services firm PricewaterhouseCoopers (PwC), also revealed that female employees surveyed across 44 countries are less likely to say that:
They are fairly rewarded financially (women surveyed who said this: 38%; vs men: 45%)
They planned to ask for a raise (women: 31%; men: 38%) or promotion (women: 26%; men: 34%)
They feel their manager listens to them (women: 39%; men:47%)
Don't shy, just ask!
Researchers have found that men are four times more likely than women to ask for a raise- and when they do ask, they typically request 30% less than what men would!
According to Carnegie Mellon University economics professor Linda Babcock, co-author of Women Don't Ask, she also found that just 12.5% of women negotiated for their starting salary, compared to 52% of men.
In her study of 78 master's degree graduates, she estimated this could lead to as much as $1.5M in lost income over a woman's career!
Of course, asking isn't the only factor- ultimately pushing through to get the raise is another. However, Australian studies of 4,600 employees found that while women were as likely as men to ask for raises, they were 25% less likely to receive them.
Attend walk-in interviews, virtual career fairs, workshops and more! Explore Career GRIT and find events and other resources best suited to your career journey. Check it out now.
Professor Babcock believes that one key reason women earn less, is that employers expect women to work for less, and even if a woman does negotiate for higher pay, she often gets resistance, given that studies show culturally there is a negative reaction to assertive women.
The art of negotiation
Of course, one would have read the many usual cookie-cutter advice when it comes to asking for more money — research to know what your job is worth, show your skills and your value to the company. But an alternative approach for women looking to level the salary gap is to negotiate differently from their male counterparts.
One suggestion by negotiation experts is to create a relationship with the person negotiating for the employer, by being friendly and showing concern for them, rather than just seeing the pay raise request as another negotiation to get through.
This would make you more likeable and influential in negotiations while framing your request for pay raises as more legitimate and increasing the odds of success.
In addition, keeping body language expansive during the discussions helps; be more expressive, keep your palms or wrists turned up, hold or stretch your arms out across the table, and don't cross your arms or legs.
According to a report by Today, an academic analysis of 64 studies that evaluated individual behaviour found people reacted more negatively to women who used explicit behaviours, such as strong verbal demands and very assertive body language, than they do to men who made the same expressions.
So how does a woman figure out if she is being paid fairly?
Chris Woo, a rewards leader (Tax and People and Organisation) at PwC Singapore suggests using the following three data points below:
Firstly, it is important to first appreciate your employer's basis of determining salaries, for example, if it is based on qualifications, years of experience, experience, and more
Secondly, do consider what is your employer's public position on gender diversity and find out if they include such data in their reports. Greater transparency on such matters would provide a strong indication of your employer's commitment to gender equality in rewarding and recognising its employees.
Finally, research if there is public information showing that your employer has been improving or has achieved greater gender diversity in its senior management and its board.
Martijn Schouten, a workforce transformation leader (People and Organisation) at PwC Southeast Asia Consulting added: "In addition to referring to public sources of information for assessing one's compensation, it is also important for both employer and employees to consider other factors.
"This includes the fulfilment of the job, upskilling opportunities, the culture around transparency, health and wellbeing, being able to bring one's true self to work and more.
"As employees seek fairer financial rewards along with greater transparency in employers, job fulfilment and hybrid working arrangements, what we've learnt from PwC's Workforce Hopes & Fears Survey 2022 is that fair pay is necessary, but it doesn't mean that it alone is sufficient."
Get bite-sized career tips and stay updated on the latest job listings and career events via our Telegram channel!
But ultimately, Singapore companies need to do better for their female employees
In addition, Chris believes that fair pay should not happen by chance, and that equity needs to be embedded systematically in organisations through policy, practice and culture, which includes commitment from the leadership and management teams.
He shared with Workipedia by MyCareersFuture: "Absolute pay is only one part of the solution; however it's not just about adjusting salaries.
"Employers can also take action to ensure unconscious bias behaviour does not disproportionately impact any one gender or employee group across the entire employee lifecycle.
"This can start with reassessing their hiring practices, performance and promotion frameworks, employee benefits and total rewards programmes, access to learning and development opportunities, and other practices throughout the organisation's culture and ways of working.
"Transparency around pay, progression, where the employee stands in terms of performance and development, and how decisions are made can also play a large role in moving the needle. This can also drive much-needed trust in leadership. "
Empowering female employees beyond just pay matters is also important, of course.
Martijn added that if Singaporean employers have recognised the gender pay gap, they also need to take constructive actions and introduce new measures for women employees, such as:
Putting in place inclusive policies to help women and other under-represented groups
Increasing women's participation in their organisation's ESG transformation and transition to net zero through targeted interventions including helping and ensuring that their female workers have access to upskilling and reskilling to be future ready
Offering flexible work arrangement options and child-care policies such as equal-paid parental leave
Ultimately, Chris concludes: "For Singapore companies that have not begun making their workplaces fairer for female employees, taking the first step to understand the situation within their organisations and work culture through quantitative and qualitative analysis is a good place to start.
"This will be a key building block for driving robust conversations, meaningful change, informed decision making and sustained outcomes for both employers and employees!"