Networking events can be intimidating, even for those who are more extroverted. But, networking is an important part of professional development and career growth. Just because you're shy or not sure how to network effectively doesn't mean you have to miss out.
Here are some tips and tricks that will help you network confidently even when you initially feel uncomfortable. Here's how to get started!
1. Prepare questions and answers beforehand
Before attending a professional networking event, take some time to prepare questions and answers about yourself. This will give you more confidence in the conversation and make it easier for both parties to engage in meaningful dialogue.
Knowing what topics may come up during the conversation can also help take the pressure off when meeting new people.
Have a job but want to level up? Achieve career excellence, develop your skills, and expand your knowledge with resources from Career GRIT. Check it out now!
2. Be aware of verbal & non-verbal cues
Pay close attention to both verbal and non-verbal cues when engaging in conversations at a networking event. This includes body language and facial expressions, which can give valuable insight into how an individual feels during the conversation.
It may be helpful to practice these skills beforehand so you can better read other people's reactions. Additionally, if someone seems uninterested or uncomfortable with the conversation, don't be afraid to move on to another individual or group of people politely.
3. Take breaks
Networking events can be overwhelming, especially if many people attend. Don't forget to take breaks throughout the event—a few minutes here and there can help recharge your batteries!
Taking a break also gives you a chance to reflect on what went well during conversations and think of possible follow-up questions or topics for future discussions.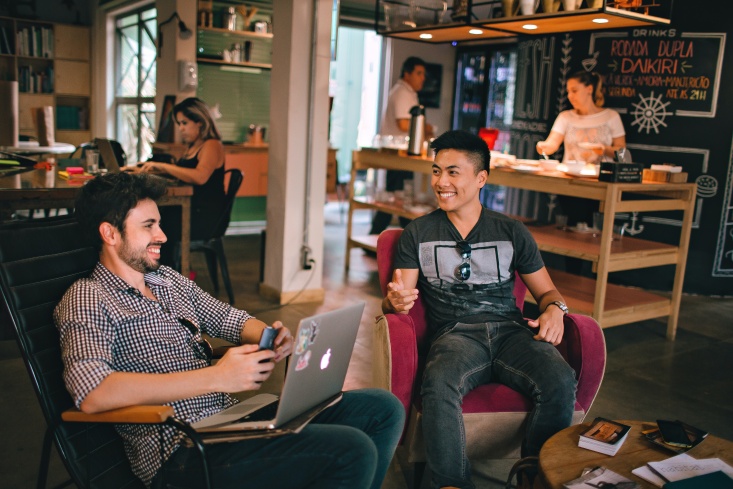 4. Start with a friend
If it's your first time attending a networking event, it can be helpful to start by having a conversation with friends or colleagues who already know you well.
This way, you'll have a chance to warm up before talking with strangers—and it'll also give you a confidence boost. Plus, having friends around is always fun!
5. Research who's attending beforehand
Having an idea of who will be there will give you a better sense of confidence when walking into the room. You can research an online list of attendees or peruse LinkedIn for people who have RSVP-ed.
You can also use this research time to identify people you're particularly interested in meeting and coming up with conversation starter ideas about topics related to their work or interests.
6. Make connections and exchange contact details
During your conversations with other attendees, try to establish a connection if there is potential for further collaboration or discussion down the line. That way, you will have an avenue to pursue that connection further.
If you meet someone interesting during the event and seem like someone you would like to connect with further, ask if they would like to exchange contact details or link up on social media afterwards.
This not only shows them that you value their time but also gives both parties more opportunities for communication in the future. Plus, if they happen to reach out first, it could lead directly into another conversation down the line!
Follow-through after the event
The follow-through is key after any networking event; this means following up with any new contacts within 48 hours of meeting them (if not sooner).
Make sure your follow-up message or email includes something specific from your conversation—such as advice they gave or an article they recommended—so it stands out and reminds them of who you are and why they should stay connected.
Networking isn't just about making new contacts; staying in touch with those people after the event allows relationships to build over time. The more meaningful connections you build through networking, the more confident you'll become at these events.
How do you network if you are shy
Networking can be intimidating for an introvert or someone who is shy, but it doesn't have to be. By preparing and proactively making an effort, you can open up countless opportunities for yourself.
The best way to start on the right foot is to set realistic goals with achievable expectations that benefit both parties involved. Focus on making conversations that are meaningful and get straight to the point. Be bold enough to ask questions, but don't forget to listen carefully to the response.
While it might take a little bit of practice in the beginning, successful networking will become much easier once you've established a good rapport with other like-minded individuals in your industry.
Attend walk-in interviews, virtual career fairs, workshops and more! Explore Career GRIT and find events and other resources best suited to your career journey. Check it out now.
Build your professional network and make career progress
Networking isn't easy, but by preparing and practising these tips, even the most timid among us can have meaningful interactions at networking events.
Whether your goal is finding new job opportunities or simply expanding your professional network, these tips will help ensure a boost in your networking skills and no opportunity is missed due to lack of confidence!