Today's working professionals don't get a choice between being a stay-at-home parent or an employed member of the workforce.
With bills to pay, mortgages to maintain, and an endless collection of the latest Disney merchandise to buy, they need to do both.
If this sounds familiar (perhaps replace the Disney plushies with whatever your child's favourite toy might be), fret not.
We are here to help with simple-to-implement advice to balance between happy family life with a fulfilling career.
Don't feel guilty, get motivated!
Many parents, especially new mothers, feel guilty about leaving their child alone or with a caretaker – but the old adage of "staying home and taking care of the family" no longer applies in today.
Rather, it's important to recognise how success in your career brings greater financial freedom and more opportunities for your family.

When your child grows up, you'll be in a better position to advise them on excelling at their studies and later, in their career.
Your success is your family's success.
Work stays in the office
According to Parkinson's Law, "work expands to fill the time available for its completion". This is why it's crucial to keep work exclusively to the office (as much as possible).
This is evidenced by the fact that many professionals who feel that work "can be done late into the night at home", usually end up taking that much longer to get work done.
Instead, stay hyper-focused in the office and set a "shutdown" deadline for your day – let's say, 7 pm. Once 7 pm strikes, turn off the computer and plan on continuing the next day.
You may be surprised at how much more efficient you are at work because of these self-imposed deadlines – but you won't be surprised at how much happier you (and your family) will be at home!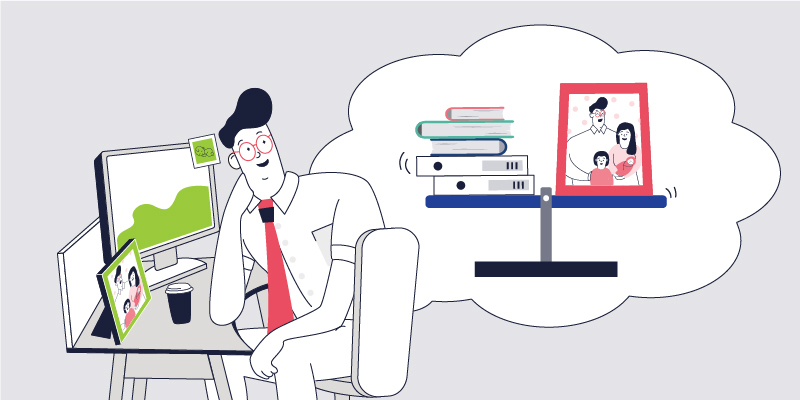 Set time aside for your partner
While your parental instincts may convince you to spend every moment of your "at home time" with the kids, remember that your partner is an incredibly important member of the family too, and deserves their share of "alone time" with you.
Keeping the spark and excitement alive in your marriage will also help you feel rejuvenated at work – and remind you that life is about a balance of your spouse, kids, career, and your interests.
Be open with your employer
Having trouble balancing your family life with responsibilities at work?
Before looking for a new job, give your existing employer a chance to make things better by talking about your issues with them.
If necessary, try to work out an alternative working arrangement. Whether this means working from home on certain days or taking on a different portfolio, the change could be in the best interest of both you and your company.
After all, your employer will certainly appreciate having you motivated and performing at your very best!
Want more career tips like this? Join our Telegram group for useful articles, latest job listings, career-related events, and more! 
Connect with the Career Pros
Often, the most efficient path to supercharging your career (and improving your family's quality of life) is with a little help from career experts.
At Careers Connect, our career coaches provide jobseekers from all walks of life with the skills, knowledge and mindset needed to set themselves up for success, in their (current and future) careers.
We also have the connections to improve your chances of getting hired in a role and company that's an ideal match, for your skills and aspirations.