Here are some tips on how you can improve your chances of securing an interview on LinkedIn. Hopefully, these pointers will help you grow more resilient in your job search!
1. Remember to upload your resume in LinkedIn
LinkedIn may function like an online resume with some companies even allowing you to apply directly for their job postings with your LinkedIn profile. That being said, don't forget to include your actual resume in your job application.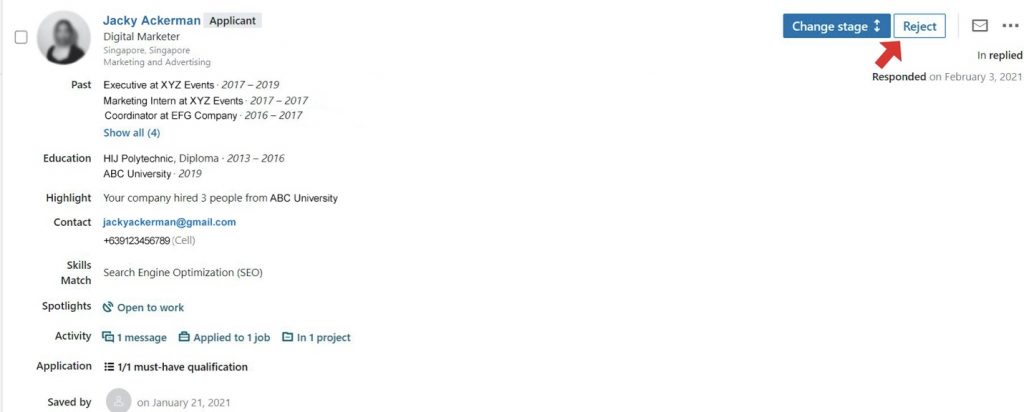 Recruiters get hundreds of resumes daily. If you miss out on attaching your resume in your job application, they will simply look for the next person who did. It may sound like common sense, but it is a crucial part of your job application that shouldn't be overlooked. If someone applies with an updated resume and LinkedIn profile, there's a high chance that recruiters will select them over you. Send in your application with your updated resume together with your LinkedIn profile. Your resume should be kept to one page maximum for easy skimming. Summarise your best highlights and relevant skills tailored to the role you are applying for. Quality triumphs over quantity.
Want to increase your chances of nailing the job interview? Learn effective job search strategies, enhance your personal brand, and more with Career GRIT. Register for our Virtual Seminars today!
Bonus tip: Attach your resume in PDF format (instead of Microsoft Word) so that your formatting stays consistent across all screens.
2.
 

Upload a professional photograph in your profile 

 

LinkedIn members with a profile picture are 14 times more likely to receive page views. Having a professional profile picture is imperative to your job application success. After all, you only have one chance to make a good first impression. With the huge numbers of eager candidates on LinkedIn, those without a photo are easily pushed aside. Plus, it might insinuate to employers that you couldn't be bothered to take a picture, you're too shy or you have something to hide. 

As such, it is highly recommended that you upload a profile picture; not of your company logo, but a professional headshot of yourself. Be creative if that fits with your industry or personality but remember that this is the first impression you will give to prospective employers that visit your page. It's time to invest in having your professional headshot if you haven't already. 

Think of it like having your passport picture taken. These guidelines might come in handy:
Use a white/neutral background
Be appropriately dressed and wear presentable attire
Make sure you look neat and tidy
Look friendly/smile!
3. Be quick with your replies
Managers using LinkedIn can easily reach out to you via message to schedule an interview to know more about you. This is because LinkedIn has a built-in function that allows recruiters to easily reach out to you with a click of a button.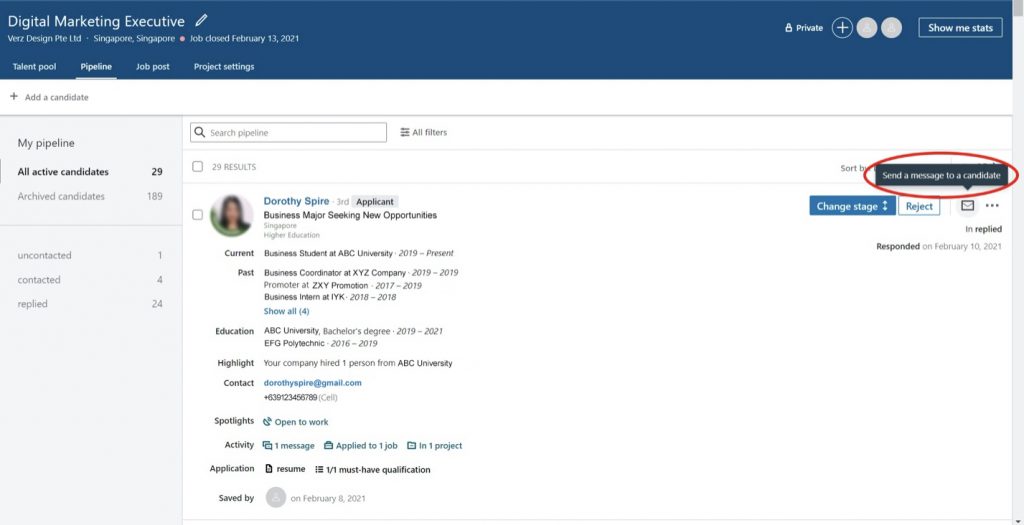 Time is of the essence. You have to be conscientious about checking and responding quickly to your messages on LinkedIn. Check your LinkedIn inbox and your email linked to your LinkedIn account for notifications. This is even more important for candidates looking for a role in digital marketing. If you can't respond with a fast turnaround time, employers might question your ability to adapt quickly to the industry. 
As such, you have to be active and contactable on LinkedIn. Apart from responding to messages on LinkedIn, reacting quickly to phone calls and Whatsapp messages from hiring managers is also a bonus. 
With the right pointers and a resilient mindset, you will be able to land your desired job in the future to come!
This article is contributed by Verz Design.