Juggling work and family is no easy feat. If you're a working parent or a caregiver making a career move, it is important that you reflect on your working experience and identify your career challenges.
Once you're clear of priorities and what you need in a job to be at your best in both the personal and professional domains, you can start to do some research on the companies to apply for. 
To help you with your job search, Workipedia by MyCareersFuture spoke to five family-friendly companies hiring on the MyCareersFuture portal to give you some useful insights. 
1. HP  
A company at the forefront of technology, HP believes that its employees are the foundation of its success. Talleah Teo, HP's Talent Acquisition Director, Asia Markets shared with Workipedia by MyCareersFuture:
"It's always been a priority at HP to provide employees with the tools and flexibility they need to maximise their work-life balance – or work-life integration. This is important because we know this leads to stronger engagement, a significant sense of fulfilment and, along with that, stronger business results." 
More away time for life's priorities
HP recognises the challenges of working parents and is committed to helping their employees cope better. This can be seen in the kind of benefits it dishes out, which include child and infant care leave, adoption leave, shared parental leave, examination leave, unpaid leave of absence and extended medical leave of absence for critical illness.
More than just giving parent-employees time away from work,  HP is dedicated to making it easier for them to work with these perks:
Flexible work arrangement

: HP employees can request for hybrid work arrangement, flexi-time, telecommuting, compressed work schedules

Flexible benefits:

HP employees have the flexibility to choose the combination of company benefits according to their desire and lifestyle.

Job sharing:

Two employees share the duties of a full-time position which allows the work to be accomplished at a lower intensity, and to spend more time with family.
Job hunting? Remember to set your MyCareersFuture profile to 'Open to Opportunities' to ensure employers can reach you directly. Log into MyCareersFuture now!
Enhancing employee holistic wellness
HP ensures that its employees are always at the top of their game by keeping their wellness in check. Some key programmes include:
Paid volunteering time per month

: A psychosocial resource, contributing to work-life balance and health.

Work-life coaching program

: To support HP employees undergoing change to power through different milestones in their career journey.

Wellness program: To provide holistic resources and benefits within the five pillars of well-being to support employees emotional, physical and financial well-being.
Employee assistance programs: HP employees and family members have access to support for personal and professional challenges at no cost. The service is managed by an external vendor to ensure anonymity and confidentiality. 
Check out jobs at HP here.
2. KPMG
A global organisation, KPMG in Singapore employs 3,200 employees. Despite the large headcount, KPMG never takes its employees' welfare for granted, especially those who are parents.
Janice Foo, Head of People, KPMG in Singapore, shared with Workipedia by MyCareersFuture:
"KPMG promotes a diverse and inclusive workforce, and our employees often wear multiple hats at work and at home. Hence, we want to ensure that employees who have various needs as working mums and dads or parents-to-be have a platform where their concerns can be heard and addressed. This will ensure that we continue to tailor our workplace structure and policies to remain relevant to their needs."
Read More: Are You a Caregiver at Home? Here Are 4 Perks to Consider in Your Next Job
Employees for employees 
Rather than having a top-down approach to deploying support for parents, KPMG Singapore has a committee of employees, KPMG Network of Women (KNOW) which is focused on creating a supportive workplace for parents, including making recommendations to promote work-life integration and organising family-based activities and events. 
KPMG Recharge

: Annual firm-wide break for all employees to wind down during the year-end

Virtual weekly classes on yoga, Pilates, K-Pop fitness classes, kickboxing and HIIT

Flexible working hours under the 'Take Charge' initiative

Facilities for breastfeeding mothers
The committee organises events such as parenting talks and workshops throughout the year.
Work arrangement autonomy
Micromanagement has no place in KPMG. The company launched its hybrid work model in December 2021 to provide employees with greater flexibility and autonomy as they re-adapted to a new way of working. 
Under this model, employees are able to:
Come into the office for a minimum of two days a week, with at least one of those days being a 'team day' where the entire team gets to interact physically 

Choose to work in the office for up to four days a week, while working from a location of their choice for one day. 
To help employees navigate this new environment, KPMG also created a hybrid work toolkit and continues to collect feedback and conduct pulse surveys to calibrate our policies accordingly.
Monday blues out. Blue Sky Fridays in. 
Wouldn't it be wonderful to have more time for yourself other than just the weekends? For KPMG employees, this is not a question that they will ask themselves anymore because the firm launched its Blue Sky Fridays programme in February 2022. 
On every last Friday of the month, employees are allowed to knock off work to spend quality time with their family members or colleagues, such as strengthening their physical well-being through exercise or attending courses at the KPMG Business School, a learning and development platform offered by the company. 
Check out jobs at KPMG here.
3. EY
In line with the organisation's purpose of Building a Better Working World, EY is walking the talk in the way it takes care of its employees' welfare. 
EY exists to build a better working world, helping create long-term value for clients, people and society and build trust in the capital markets. Enabled by data and technology, diverse EY teams in over 150 countries provide trust through assurance and help clients grow, transform and operate.
Working across assurance, consulting, law, strategy, tax and transactions, EY teams ask better questions to find new answers to the complex issues facing our world today. With this, EY sets the tone internally by transforming the way its employees are managed.
Alvin Ang, Singapore talent leader at Ernst & Young Solutions LLP, shared with Workipedia by MyCareersFuture:
"At EY, we are committed to engaging and empowering our people in understanding and managing their own wellbeing in a holistic manner. We trust that efforts in helping our people achieve the best version of themselves, coupled with flexible work arrangement options, will allow them to balance their work and personal responsibilities and achieve their career aspirations." 
Empowering employee self-management 
EY provides resources, tools, and wellness benefits to help our employees understand and manage their personal well-being in a holistic manner. This covers various dimensions ranging from physical, mental, connection and financial to support them in being the best version of the varied roles they undertake, for example, be it a parent, child or sibling in their families.
Some key initiatives introduced:
Flexible working arrangement (EY FlexPro):

Flexible working programme that enables employees to work anywhere, which allows them to better juggle work and personal commitments based on different stages of their careers. 

Annual year-end office closure:

Frees up time for employees to rejuvenate and enjoy the festive season with their family and loved ones.

EY Singapore Employee Assistance Program (EAP)

: A confidential counselling service for employees experiencing personal or work-related challenges; and use of paid medical leave for employees' parents, spouses, or children.
Check out jobs at EY  here.
Supporting Employees: SMEs also doing their part
If you're thinking that only large companies and MNCs have perks and benefits that support family life, it's time to change the perception. Two homegrown SMEs that we spoke to, Absolute Kinetics and Coinhako, stressed that supporting the work and personal life of their employees ranks highly in the company's ethos.
For Absolute Kinetics, a company specialising in ISO Systems and safety consultancy services, taking care of its employees is a win-win situation for the business.
Alvin Yap, Absolute Kinetics' Head of HR, shared with Workipedia by MyCareersFuture:
"With work-life balance, employees are able to juggle their respective work life and be able to perform their work duties better knowing that their personal lives are also looked after by the company. Companies will also benefit with less employee turnover."
Some family-friendly policies and perks that Absolute Kinetic provides include extra company-paid childcare leave on top of statutory leave entitlement, parental care leave, leaving work early for family time monthly, paid company meal with family activity and flexible work timing.
Check out jobs at Absolute Kinetics here.
In addition, crypto company Coinhako believes that employees should be given more flexibility in the way they work. The company's spokesperson explained:
"We believe in flexibility and have adopted a hybrid work arrangement. We recognise that individuals have their work preferences, and we want to empower our members with options. This means that various team functions can truly choose between operating remotely or working in the office."
Read More: How Singapore Employers Are Building a Hybrid Workforce
On top of the hybrid work arrangement, Coinhako also frequently organises various activities and outings where employees can bring their family members to join in the fun.
Check out jobs at Coinhako here.
Open to new opportunities?
When job hunting on the MyCareersFuture job portal, remember to set your profile to 'Open to Opportunities' to ensure employers can contact you directly!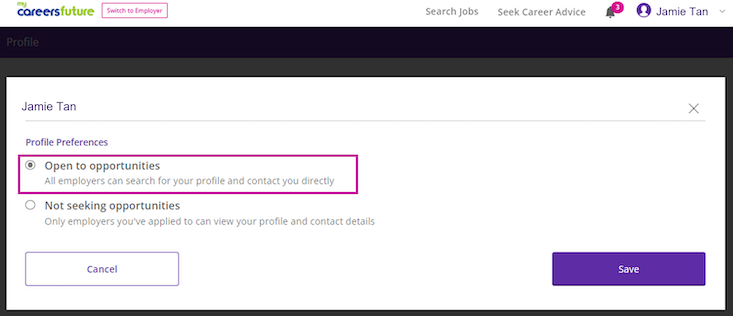 Log into MyCareersFuture to change your settings and start applying now!