Managing up is all about establishing a positive working relationship with your supervisor, as well as helping to make things easier for them. You can be happy at work and succeed in your career if you excel at your job and become an indispensable team member; but for the most part, developing the right soft skills to deal with bosses can go a long way in enjoying our jobs.
Have a job but want to level up? Explore career events and resources designed to help you develop your skills and expand your knowledge with Career GRIT. Check it out now!
Keep in mind that having a good relationship with your boss doesn't mean sucking up to them or manipulating them to do your bidding. It's about building mutual respect, trust and collaboration.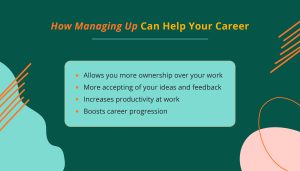 Fine-tune your communication skills
Let's face it – given a choice, we might generally prefer to avoid our bosses. From being afraid of saying something wrong to making mistakes in their presence, it's easy to feel like you're being judged whenever you're being questioned, and struggling to find the right responses on the spot.
While this feeling is normal, not every conversation with your boss has to be such a dreaded moment. Instead, view each interaction as an opportunity to learn, show your skills and build rapport.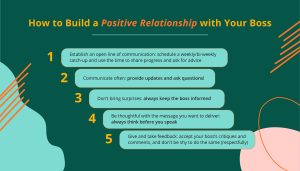 Show initiative in your work
When you're in school, you might do extra credit on top of the required schoolwork to stand out from your peers or to graduate earlier. Similarly, as a working adult, you're encouraged to do more than just the bare minimum to level up in your career. By showing your initiative and drive, your boss will recognise that you're giving your best in your job, making them more likely to reward your efforts with the upcoming bonus or even promotion.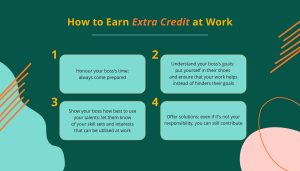 Consider what more you can bring to the table
There's more to work than just clearing your daily tasks and taking your leave the moment the clock hits 6pm. You should also seize the opportunity to not just manage your current goals, but develop your long-term ones as well. This means building up your current skill sets, while also looking into other competencies you wish to develop.
This is where your boss can come in. Chances are, your boss has more experience and more wisdom, and can be an excellent mentor to offer guidance as you start the first leg of your career.
Need personalised guidance for your career? Register to speak to a WSG Career Coach for support now!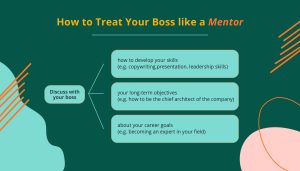 Don't just try to please your boss
Once again, managing up isn't about being your boss's pet. Rather than bending over backwards and working overtime daily, you should instead be proactively making an effort to develop a positive relationship.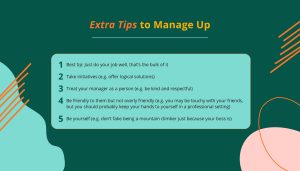 Knowing how to manage up can be beneficial for both parties. However, it may not be possible for every type of environment. If you find that your workplace is toxic with poor management, managing up isn't going to do you any favours in the long run (rather, just walk away if you can).
On the other hand, if you plan on staying with a company for the long haul, setting your relationship with your higher-ups on the right foot can be a major benefit. Essentially, the best way to show your sincerity is simply by treating everyone with respect and kindness.
This article is contributed by gradsingapore.