Know the different resume components and formats and apply them to your job search content
Understand employer's requirements by analysing the job descriptions using the Knowledge, Skills, Attributes (KSA) framework
Learn and apply the three levels of customisation to your job search
---
You should always make sure that job descriptions, and roles and responsibilities you've included in your resume are optimised such that potential employers can easily discover them on job portals and your resume.
Here's a quick guide below on how the KSA framework can help!
What is the purpose of a resume?
Ultimately, a resume is a way for you to introduce yourself to an employer, and showcase your knowledge, skills, personal and professional attributes, and demonstrate that you're the best fit for their job vacancy.
But what does it do for an employer, you ask? Resumes help them filter and shortlist through all the many applicants for their role, to select the best candidate, based on whom is also a good organisational fit for their company.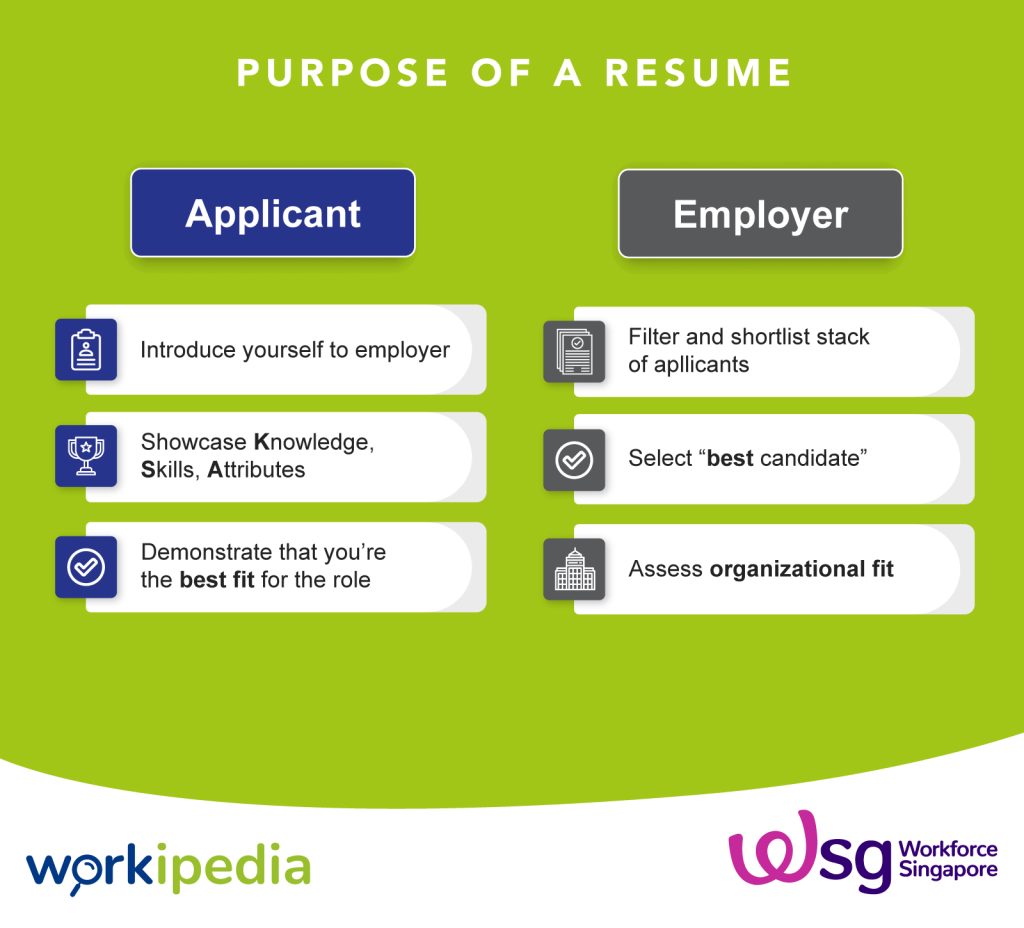 How a resume can help you get a job
Your resume is like a key to entry- the right one will unlock the right job. What it needs to do for you is:
make it easy for the reader to find what they are looking for
list your relevant work experiences
highlight concrete accomplishments
showcase people skills or technical competencies through the use of keywords
What makes up a resume?
Here's some of the key facets of a good resume:
header
career summary
relevant core competencies
achievements
professional experiences
volunteer experiences
education qualifications
certifications
professional membership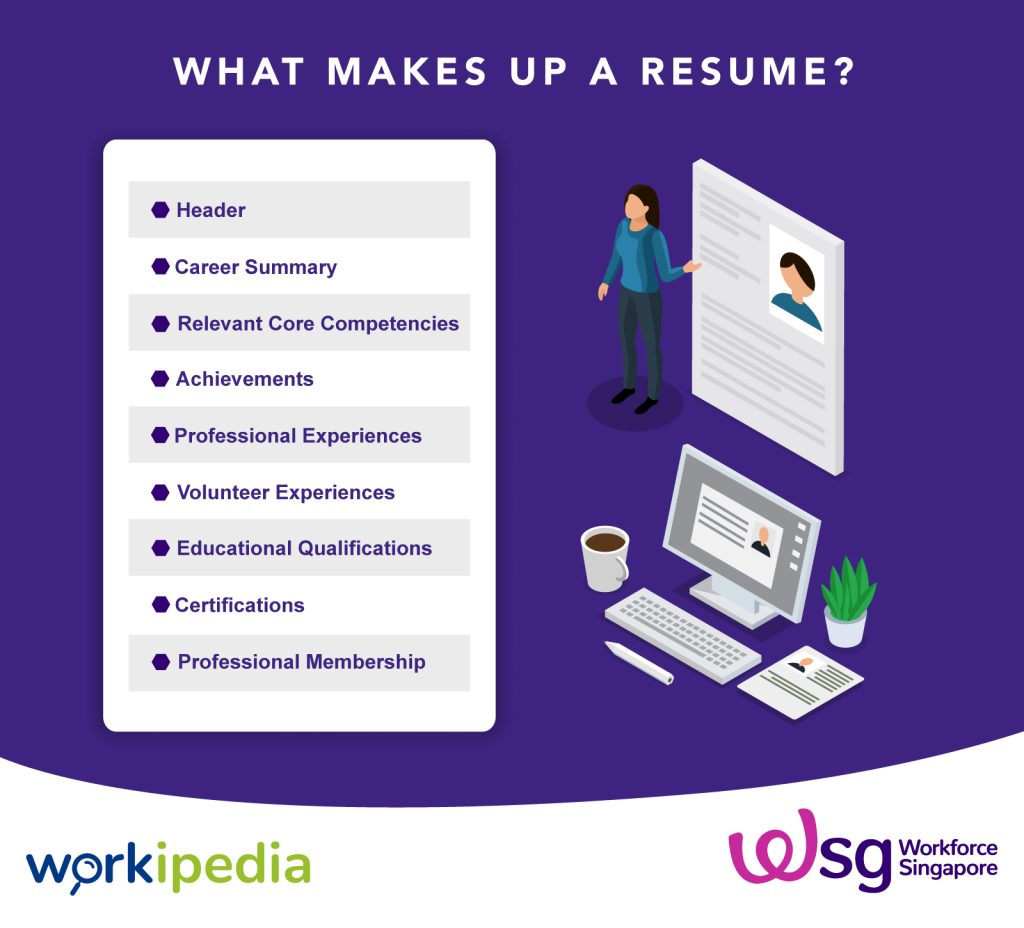 Choosing the right resume format matters
Here's a quick guide on how to choose between different resume formats below.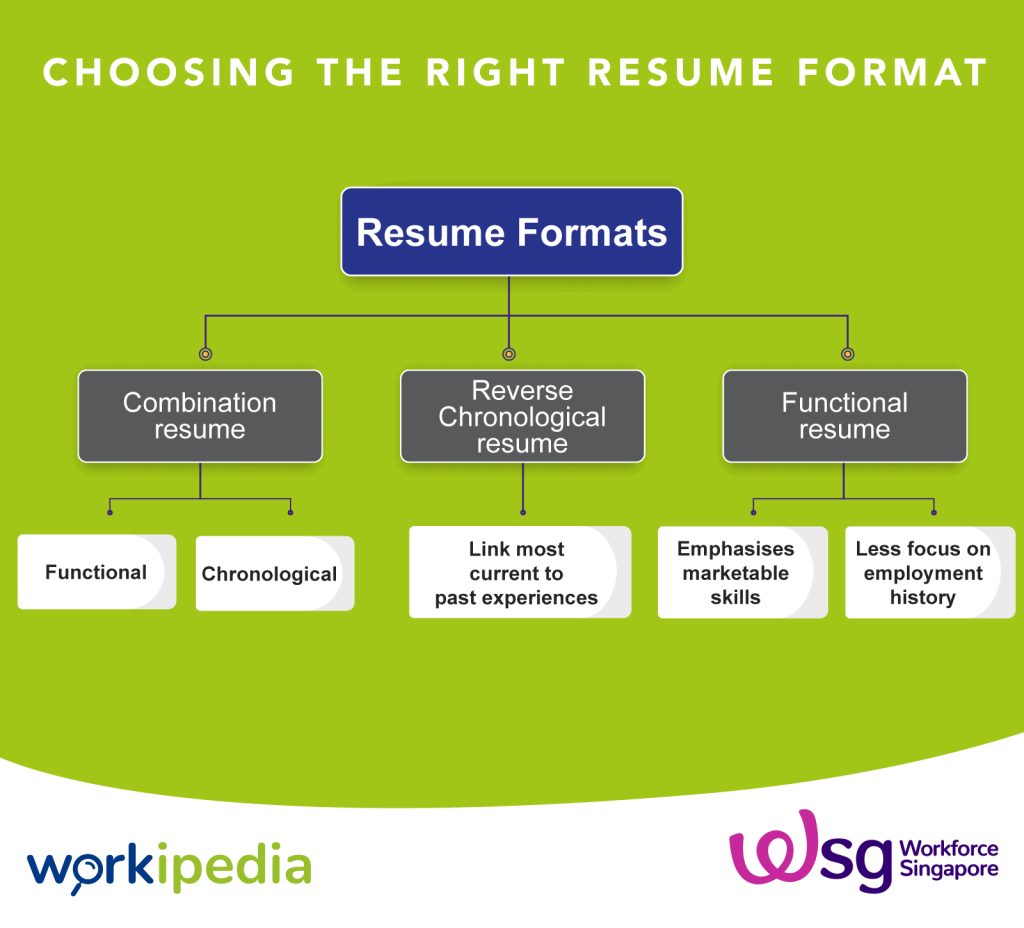 What is a functional resume?
Functional resumes are recommended if:
you have been changing jobs in the past few years
you are re-entering the workforce after a few years
you are in the midst of a significant career switch
you have been working in the same company for a long period of time
Different approaches to resume writing
Here's three different formats you can take to resume writing, and how they work.
Content-based resumes focus on descriptive elements, and targets matches via keywords and competencies.
Visual-focused resumes focus on visual elements, and attract interest via illustrations of your work and experience
Portfolio resumes are aimed to showcase your work by representations them.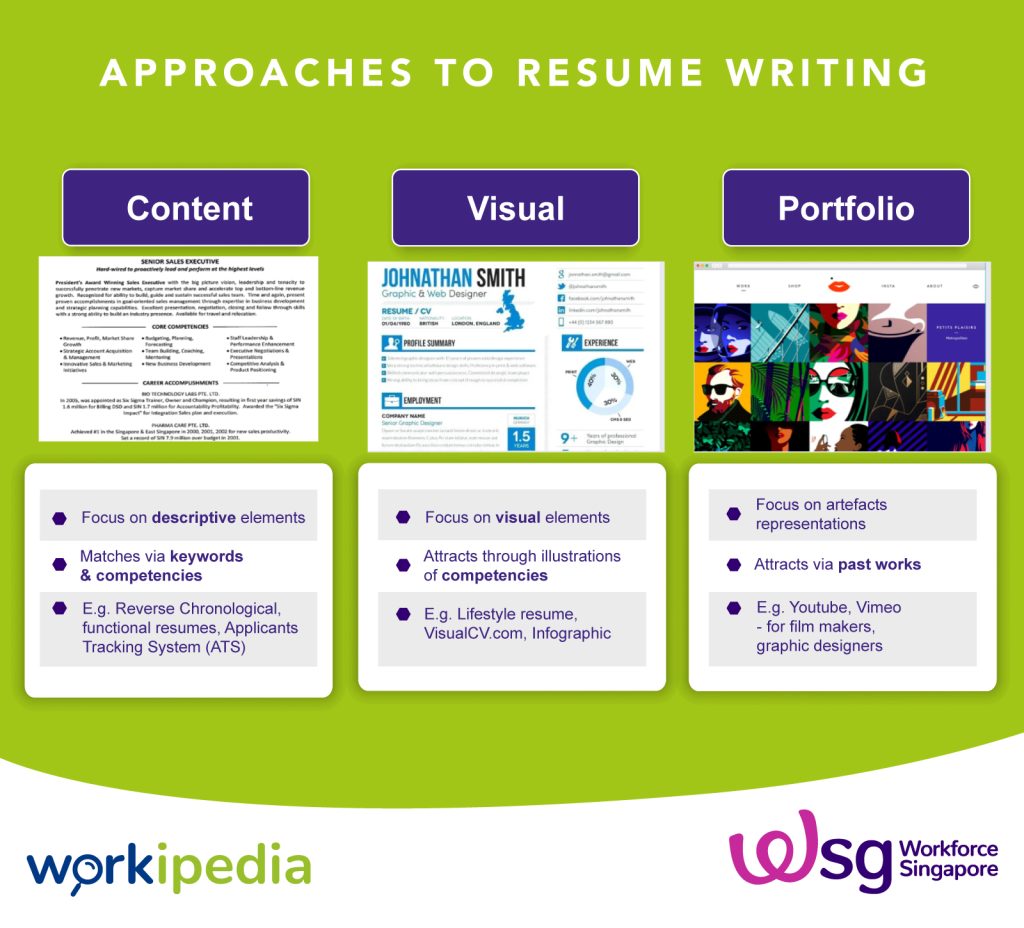 The 3 Levels of Resume customisation
How customised do you want your resume to be depends how many levels you delve into.
At the first level, you create several resumes for yourself based on the job roles you are targeting, ensuring that each of them has the required knowledge an skills in the targeted job function.
At a second level, you customise your resumes by keyword matching, targeting words that will attract the company's human resource applicant tracking system (ATS).
At the final and third level, you rewrite the whole resume to match a job description/requirements of the particular job listing.
So what tools can you use to identify the right keywords for ATS?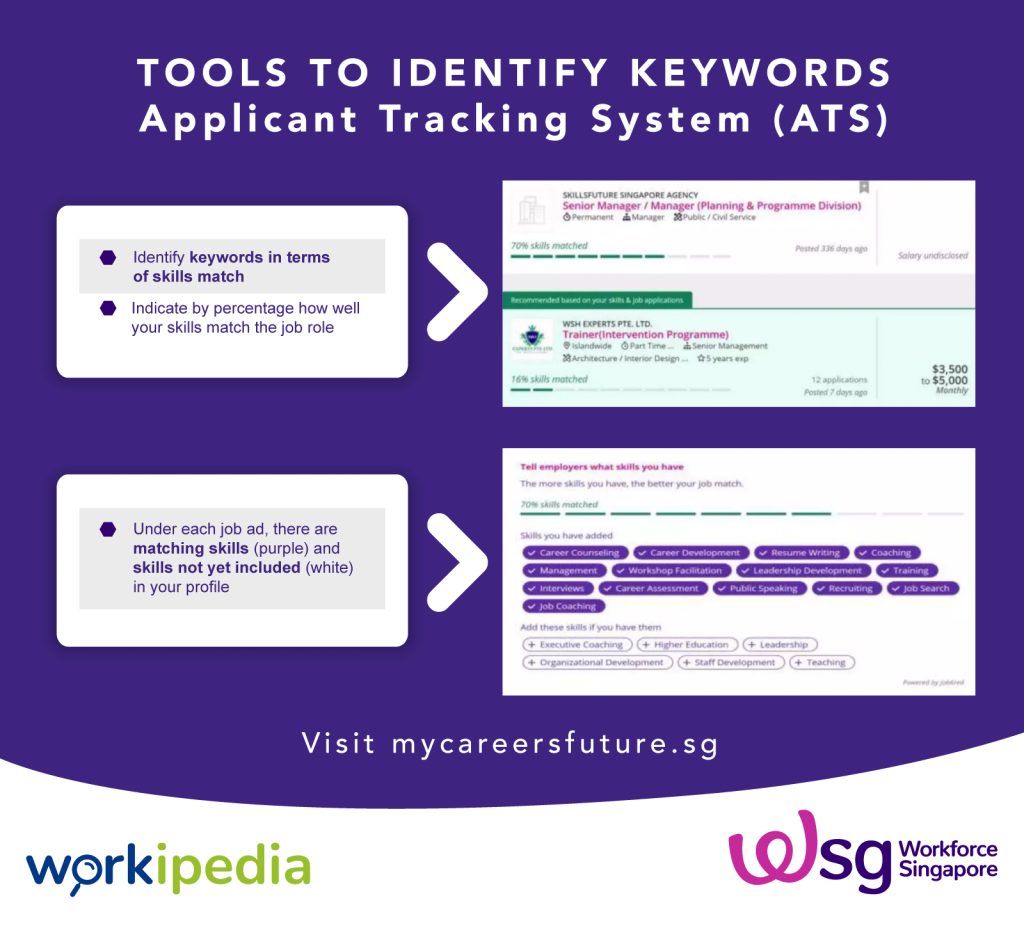 How you can analyse job postings using the KSA framework
Here's how to extract keywords using the knowledge, skills and attributes (KSA) framework! We've underlined the various keywords to take note of from a sample job posting below:
Knowledge
possess

business systems knowledge

for

hybrid IT infrastructure, cloud, security, predictive analytics and ops

have understanding of

software solutions implementation

familiar with existing and emerging IT-

digital transformations and business operations
Skills
hands-on skills in

Agile development

testing,

open source tools

in

Jenkins/Bambo/TeamCity/Jira/ Exclipse/Rally/Atlasian

proficiency in

technical sales and business solutions implementation

plan and deliver

PoCs
Attributes
strong and

interpersonal skills and initiatives

conceptualising and

project managment skills

analytical acumen and

critical thinking

skills