Opinions are still fiercely divided on whether it is appropriate to use emojis in work emails or chats. Some approve of emojis, saying that it makes workplace communication fun and friendly, while others disapprove, calling it unprofessional.
SurveyMonkey conducted a survey asking respondents what they thought about the use of emojis at work. The results revealed that 46% of young adults think emojis are work-appropriate, whereas 28% think they are not. On the other hand, older professionals are more likely to frown upon it.
Why use emojis?

1. Convey nuance that words cannot
In conversations that do not take place face to face, we are unable to see the other party's facial expressions and body language. This makes it difficult to gauge their feelings, hence their message could be interpreted in different ways. By attaching a simple emoji to your message, you can effectively convey your tone to the other party and reduce misunderstandings.
Have a job but want to level up? Explore career events and resources designed to help you expand your knowledge with Career GRIT. Check it out now!
2. Makes conversations fun and friendly
According to SurveyMonkey, amongst young professionals, 50% find a colleague to be more fun, 43% see them as more approachable, and 35% deem the colleague to be kinder if they use emojis. How you are perceived by others may go a long way in influencing your relationships at work, so you can consider adding those emojis to be seen in a more positive light by your colleagues!
Why not use emojis?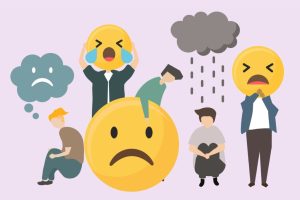 1. May be seen as unprofessional in some workplaces
In a workplace, professionalism is important. Some might associate emojis with more casual settings such as chat groups with friends and find them less suitable for professional settings. The key is to read the room when joining a new organisation, as every workplace could have different unspoken rules on the extent of formalities to be used in work emails or conversations.
2. Not everyone gets what you mean
While most emojis are self-explanatory, certain emojis can be a little harder to understand if you and the other party are not on the same page. The emojis you use with your friends in your private jokes may not take on the same meaning when you use it with a colleague. Instead of helping to convey nuance and clear up misunderstandings, emojis may then achieve the opposite effect and create confusion for the other party.
Looking for career guidance? If you are exploring career changes and need professional advice, register for a complimentary session with WSG's Career Coaching today.
When to use emojis?
At the end of the day, whether the use of emojis in workplace conversations is appropriate or not is still an ongoing debate. As modern workplaces move towards relaxing formality and promoting camaraderie between fellow colleagues, there seems to be a growing acceptance with using emojis in workplace conversations.
If you are thinking of using emojis at work, here are some tips:
Wait and see. If the colleague you are talking to uses emojis, it is probably safe to do the same. Just make sure to stick to the appropriate ones.
Know the right place to use emojis. In work chats on Slack, WhatsApp, or Google Hangouts, it may be all right to throw in an emoji or two every now and then. In email blasts, emojis can help to convey a fun and friendly tone. However, in a formal email to a colleague or client, you might want to hold back on the emojis.
Never use emojis with clients or prospects. Maybe not with your boss too, just to be safe.
Stick to the safe emojis. A smiley face is fairly common, but emojis have evolved and now come in a colourful range. Steer clear of offensive emojis and anything you think can be misinterpreted negatively, such as kissy faces or eggplants .
This article is contributed by JobStreet.