Singapore's updated ITM aims to create 3,000 to 4,000 net jobs annually and achieve an average growth of 4-5% annually between 2021 and 2025.
This will help nurture more Singaporean specialists and leaders in finance and ensure that Singaporeans can take up good jobs that the financial sector will continue to generate.
Jobs in sustainable finance, fintech, data and traditional finance sectors will be on the rise, but upskilling will be needed.
---
As it stands, Singapore's financial sector had a pretty decent year, with an expected 2022 new permanent roles created.
Momentum in the sector is expected to accelerate, especially after Singapore's Deputy Prime Minister (DPM) Lawrence Wong shared updates to Singapore's industry transformation map (ITM) in September 2022.
In a nutshell, the ITM aims to create 3,000 to 4,000 net jobs annually and achieve average growth of 4-5% on average annually between 2021 to 2025.
There are over 100,000 jobs available on MyCareersFuture. Apply for your next job role here!
DPM Wong shared: "Amidst all this (referring to the Covid-19 pandemic and digital disruption), Asia remains a region with high growth potential in the global economy, and we should contribute to its growth.
"As such, we are updating the ITM: looking at ways to seize new opportunities while staying resilient against emerging risks; and updating our plans, strategies and targets for the next five years."
"This will help nurture more Singaporean specialists and leaders in finance and ensure that Singaporeans are able to take up good jobs that the financial sector will continue to generate in the years to come."
Singapore's financial professionals will get upskilling opportunities
DPM Wong, who is also the deputy chairman of the Monetary Authority of Singapore (MAS), also revealed a new S$400 million grant to develop local talent for financial services in Singapore.
"We want to build a skilled and adaptable Singaporean workforce in finance. That means investing significantly in our finance professionals throughout their careers," Mr Wong said.
The grant will support the ITM's next steps:
To enhance Singapore's asset class strengths
Digitalise our financial infrastructure
Help catalyse Asia's transition to net-zero green goals
Shape the future of our financial networks
Foster a skilled and adaptable Singapore Workforce
And it's not just rank and file workers who will need to upgrade their skills, according to Arturo Bris, Professor of Finance and Director of the IMD World Competitiveness Centre Switzerland, who shared with Workipedia by MyCareersFuture: "(The ITM) is an extraordinary initiative! Until recently, we considered that financial executives needed functional training (on credit risk, compliance, or banking regulation).
"This is not enough. Financial leaders need to incorporate new skills such as technology, change management, customer centricity and sustainability.
"It is paramount that Singapore's financial services executives excel in AI, blockchain applications, and big data analytics. And because these technologies are constantly changing, such education has to be lifelong."
What kind of financial roles will be on the rise in Singapore, and what skills will they need? Read on below to find out.
Looking for career guidance? If you are exploring career changes and need professional advice, register for a complimentary session with WSG's Career Coaching today.
Sustainable finance jobs in Singapore
MAS has revealed aims to work with the financial industry to develop innovative solutions to scale up sustainable and transition financing and will provide S$100 million in grant funding over the next five years to promote areas such as capability building and financial technology (fintech).
Associate Professor Zhang Weina, Academic Director of the MSc in Sustainable and Green Finance (MSGF) programme at NUS Business School, said to Workipedia by MyCareersFuture: "As Singapore has recently made the net-zero pledge by 2050 and more companies are stepping up in their own pledges to net-zero, we expect more demand for specialised green finance experts.
"They can help the companies to transit into more sustainable business models and innovate new and relevant financial products/services to support the net-zero transition by the companies across different sectors in the nation and beyond."
Speaking to Workipedia by MyCareersFuture, Associate Professor Angie Low, from NTU, Nanyang Business School's Division of Banking and Finance concurred: "As Singapore and Asia move towards a net zero future, there is a need for talents in sustainable finance with knowledge and expertise in climate change.
"Recently, IBF and MAS have mapped out the sustainable finance technical skills and competencies. That is a good starting point. Some of the required skillsets listed can be easily met with a retooling of old skillsets."
Prof. Low believes other skill sets will also need more time to develop, such as sustainability risk management, sustainability measurement and assurance, given these fields are still evolving.
As the leading financial hub in the world, Singapore is also in a strategic position to attract the listing and issuances of green securities, such as green bonds, sustainability bonds, sustainability-linked bonds, social impact bonds, transition bonds, and carbon offsetting credits and related derivatives, added Prof. Zhang.
Fintech jobs in Singapore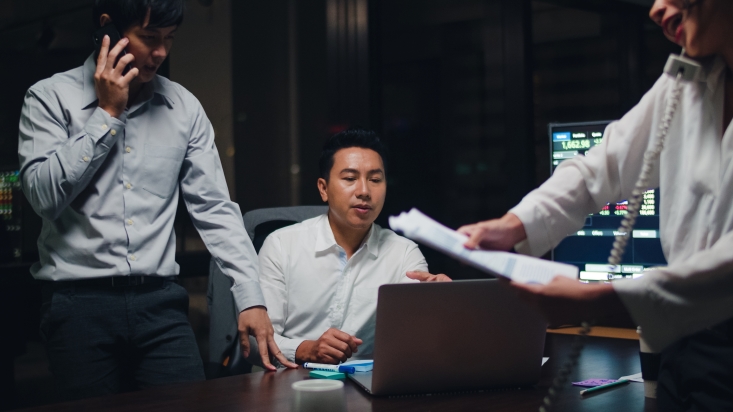 Fintech is also an area with a huge demand for talent in Singapore, both among financial institutions and start-ups.
Looking beyond software engineers, Prof. Low also believes we will need workers who have business intuition and understand how technology works and how programming languages work in tandem.
"These people can act as the bridge between end consumers and the tech folks", she shared. "This need in the financial services industry has been recognised for some time, and the business schools in Singapore, such as Nanyang Business School, have been equipping students with relevant tech skills."
Associate Professor Ru Hong from NTU, Nanyang Business School's Banking and Finance division, believes those in the field need to remain adaptable.
"Singapore's finance industry is very dynamic, and we have consistently faced new challenges, so everyone in this industry needs to keep learning. In my opinion, the local market will focus more on interdisciplinary training, such as the nexus of finance and environment and the connections between finance and technology."
Looking for a new job in the finance or tech industry? There are over 100,000 jobs available on MyCareersFuture across several industries. Apply for your next job role here!
Data processing and analyst jobs in Singapore
With more and more data accumulating in servers, businesses can harness the power of data to understand their end consumers and key stakeholders.
This doesn't just apply to Singapore's financial services industry but broadly to most businesses here. However, to harness the power of data, the local scene will need people who know how to analyse them.
There will be local demand for highly technical jobs such as prominent data engineers and data scientists. Prof. Low added: "Broadly speaking, we need people who can make use of the many available analytical tools to manipulate, use and interpret the data, understand what the data and statistical output means for their end consumers and key stakeholders and translate these into actionables for Singapore's financial services."
This also has links to Asia's pivot towards green finance, with research and education still greatly needed in the region for better problem assessments and proposals for viable transition paths.
Hence, collecting relevant data, conducting in-depth analyses of investment-worthy opportunities, computing trade-offs, and correctly contracting and pricing new financial instruments of green securities and green financing instruments are all essential skills.
According to Prof. Zhang, these are why the NUS Business School decided to launch a Master's Programme in Sustainable and Green Finance with the support and collaboration of the Sustainable and Green Finance Institute (SGFIN) at NUS in February 2022.
Wealth and asset management jobs in Singapore
While these new growth sectors in Singapore's financial services might be interesting to watch, that's not saying that the more traditional sectors, such as wealth management and asset management, won't still matter.
The trends mentioned so far will drive the direction of traditional sectors. According to Prof. Low, private wealth is increasingly looking to make an impact and see how their investment can have climate and social impacts. In addition, fintech is also changing how wealth management services are being offered to, not just the ultra-affluent, but the masses.
DPM Wong also shared plans to develop Singapore into a philanthropy hub in Asia, given trends are showing high-net-worth individuals and family offices are looking to do more in the sector.
Think a career in banking and finance might be your calling? Take this quiz to find out!
"We will work with them to set up philanthropic foundations here, identify deserving causes in the region, and enable them to better track the impact of their giving," he said, adding that this can add to Singapore's role as a "dynamic and purposeful" financial centre.
He concluded: "This updated ITM, or ITM 2025, is an ambitious one and delivering it will not be easy.
"The road ahead will be a bumpy one that throws up both risks and opportunities. But we can draw confidence from what we have achieved so far together.
"Even in a complex and volatile world, Singapore can remain a bastion of stability, opportunity and innovation.
"At the centre of all this is people. We will be relentless in upskilling our people, developing expertise and creating more opportunities for Singaporeans.
"If we do this right, our financial centre will continue to stay relevant and competitive, and be a key global financial node that connects global markets, supports Asia's development, and serves Singapore's economy.
"We must build on what we have achieved in finance and set our sights high. We can go further together!"