As Singapore has become one of Asia's leading hubs for FinTech careers, the rapidly growing blockchain industry offers jobseekers an incredible array of paths that make the most of this exciting innovation. With this trending space set to grow even bigger in the years ahead, getting in now can set you up for a rewarding future.
Whether you're looking to become a blockchain developer, a blockchain UX designer or even a legal consultant specialising in this niche technology, there's no shortage of roles available. Here we explore the emerging blockchain sector, what skills you need to succeed and how you can land a job at a forward-thinking organisation.
Considering a Mid-Career Switch? Register for a complimentary session with WSG's Career Matching Services for some helpful guidance today.
What is blockchain?
Blockchain functions as a decentralised ledger that records transactions using peer-to-peer networks rather than needing a central authority to enable processing, such as a bank. Although blockchain is most commonly associated with cryptocurrency, it can also verify contracts, records and other types of information.
So, what's the benefit of blockchain? By streamlining how finances and information flows between individuals and companies, blockchain can reduce the time and effort needed to process and verify information. As the blockchain is immutable, meaning it can't be altered once data is added, this system promotes transparency and tracking to benefit each party in a transaction.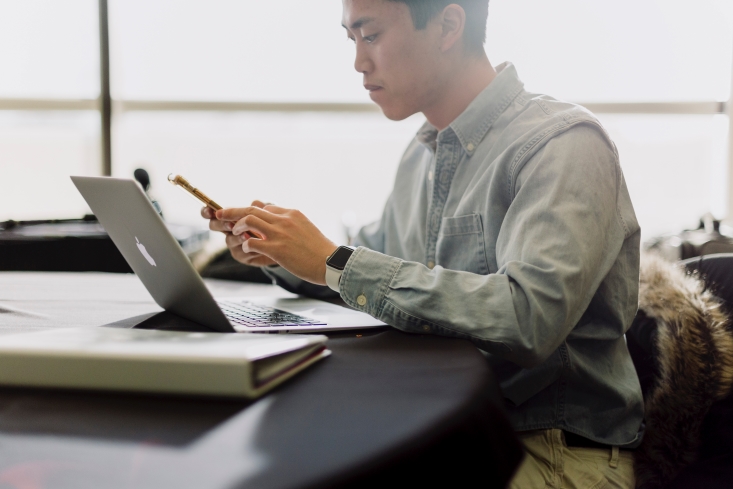 What skills are needed in the blockchain industry?
Experience with programming languages, cryptography and data structures is crucial to becoming a blockchain developer, but jobseekers with well-rounded soft skills can also find their place in the industry. Check out these essential skills to build a future in blockchain.
1. Technical knowledge
Part of the appeal of blockchain is that it provides exceptional data protection. In-depth knowledge of cryptography and related security principles is required to fully appreciate how blockchain protects senders and recipients from having their information intercepted or stolen.
Likewise, expert-level knowledge of numerous programming languages makes you an attractive candidate in the blockchain space. The likes of Solidity, Haskell, C++ and JavaScript are all popular choices, while experience with Python, Ruby, and Java is also highly beneficial.
Looking for a job? Explore a range of career opportunities with Career GRIT. Connect with hiring employers at various career events such as walk-in interviews, virtual job interviews, virtual career fairs, and many more!
2. Web application development
Blockchain is an exciting technology because it has the power to make interactions between distant parties even more convenient. However, most everyday people aren't interested in how the technology works – they simply want to leverage its advantages. A user-friendly web application enables their needs.
Levelling your web application development skills ensures you help your organisation produce solutions for web-based transactions. By helping to streamline how someone accesses the blockchain, they also benefit from robust security and usability features that can outperform existing options.
3. Communication
Whether you're working in a highly technical blockchain developer role or on the design side of things, maintaining excellent communication with your colleagues is vital. Adopt a fluid and collaborative relationship with your team to deliver end users the best product.
Communication is also crucial for dealing with numerous stakeholders involved in product development. For example, you may need to engage with management or investors to understand their needs, while staying in touch with users also helps foster an outstanding blockchain solution.
How to prepare yourself for a blockchain job?
Excited to move into blockchain? Here are some ways to learn about this technology to prepare for a satisfying career.
1. Take a course
Numerous educational institutions across Singapore offer innovative short courses on blockchain that heighten your knowledge. Nanyang Technological University's Enterprise Blockchain certificate is a one-day virtual class.
Alternatively, the Advanced Certificate in Blockchain for Business Professionals at Singapore Management University offers a detailed course on designing and deploying blockchain applications that achieve your goals.
Get bite-sized career tips and stay updated on the latest job listings and career events via our Telegram channel! 
2. Find an internship
Internships are a great way to increase your knowledge of blockchain technology. By gaining hands-on experience alongside seasoned industry professionals, you can better understand your preferred direction and enter the workforce with an established network.
But where do you find an internship? If you admire a specific blockchain or cryptocurrency business, don't be afraid to make contact directly to see if they accept interns. Meanwhile, check job listing websites like MyCareersFuture to find fresh opportunities.
3. Self-learn at home
The beauty of programming and web development is that you can learn many skills at home through various online platforms and tutorials. If you're ready to learn the basics of blockchain, there's a variety of resources on Udemy and Coursera dedicated to the most essential skills.
You should also get involved with online communities that discuss the latest innovations in blockchain to keep up with important news. This will help you decide whether the blockchain industry is the ideal fit for your skills and passions.
Your first steps toward entering the blockchain industry may not always be easy. Learn more about upskilling and reskilling to boost your career resilience on your journey towards building a career in this industry.