When dealing with a large volume of job applications, companies will generally shortlist a group of candidates for the interview stage. This can be done in a variety of ways, with phone interviews (also known as screenings) being one common method.
Unlike a face-to-face or video interview, these calls are usually brief, lasting no longer than 30 minutes. Its main goal is to determine if you're a good match for the job role.
Want to increase your chances of nailing the job interview? Learn effective job search strategies, enhance your personal brand, and more with Career GRIT. Register for our Virtual Seminars today!
Moreover, because they don't require an in-person meeting, they have become an increasingly viable option due to their convenience.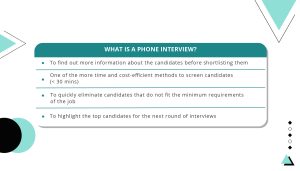 While call-backs from companies are usually welcome, they can sometimes spring up when you least expect them. Some companies may contact you in advance to schedule these calls, but others might skip that step and ring you up without a heads-up.
When faced with an impromptu call, it can be tough to decide how best to proceed from there, especially with the slight state of panic you're likely in. So, what should you do?
Ask yourself if this is a good time
The first step is to hit pause on what you're doing, and take a deep breath to focus on the call. The important question at hand is – do you say yes to the interview or not?
You might be tempted to just agree to it right there and then. After all, you don't know if they'll even get back to you again if you turn them down now, right? But before you make any rash decisions, assess your surroundings and your own state of mind first. In most cases, being caught off-guard and hastily agreeing to the interview tends not to go in your favour. You might be too flustered to answer the questions properly, and sounding unprepared is the last thing you want to show potential employers!
There are over 80,000 jobs available on MyCareersFuture. Apply for your next job role here!
If you've been caught at a bad time, there's nothing wrong with asking to reschedule. As long as you do it politely and offer a reasonable timing, the employer will usually be understanding and willing to do so. Making this request will give you time to gather your thoughts and be more composed to answer their queries.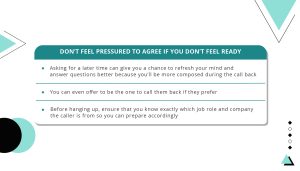 Pick a time that suits you instead
If you're asking to reschedule, pick a time where you can be in a quiet, private place with no disruptions. When suggesting alternate timings, the general rule is to not set it too far into the future – ideally, you should arrange the call to be within the same day. Once you agree to a timing, be sure to stick to it. Confirm all the details with the recruiter, including who you will be talking to, and whether you should expect the call or if you need to make it yourself.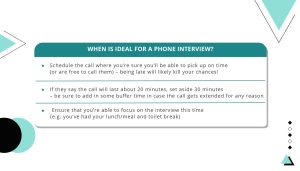 Use the time to prepare yourself
Apart from making sure that your environment is conducive for the interview, there are other things that you should prepare beforehand. If you know who will be interviewing you during the call, tailor your answers accordingly. If it's your potential supervisor, the discussion might be more focused on the job scope. If it's a recruiter, they'll likely ask for your salary expectation. Additionally, re-read the job description carefully and formulate some questions to ask at the end.
During the interview, you should keep a copy of your resume and job description within reach to guide your answers, without needing to fumble around for your notes. You can even compile all the information you need onto one word document to use as a cheat sheet.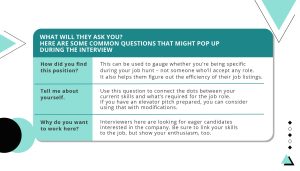 Phone interviews are just the first step in the interview process, for companies to sift out qualified candidates. They may be less formal than a video interview or a physical one, but doing well here is crucial if you want to be considered for the next stage of interviews. As with other forms of interviews, show up prepared and have confidence in yourself. You can view it as a chat with someone who wants to know if you're suitable for the job. After all, if the role is not suitable for you, then you've just avoided wasting time in the wrong job.
This article is contributed by gradsingapore.