It can sing, wink, joke and even rap.
But its main job is scrubbing the floors of Jewel at Changi Airport and MRT stations.
Standing at around 1.16m, this "new breed" of cleaners is the brainchild of LionsBot, a local company that makes professional cleaning robots that are rented to cleaning companies and building owners for a monthly fee between S$1,800 and S$2,350.
 

Helping companies to increase productivity

LionsBot has created a family of robots called 'LeoBots' that do different tasks such as scrubbing, mopping and vacuuming the floor. Each robot is controlled by an app that shares real-time updates on the cleaning progress and allows the operator to operate the robots remotely.  

According to LionsBot's CEO and founder Mr Dylan Ng Terntzer, their robots benefit companies as their clients' staff can be redeployed for higher-value tasks.

Giving an example, Mr Ng said: "Floor cleaning is a repetitive task that is perfect for cleaning robots while humans can do what humans do best: complicated tasks like wiping tables and high touch point areas." 

On average, each LionsBot cleaning robot can free up one human operator to do other tasks. This will mean a 100% increase in productivity since the same human is doing 2 tasks at the same time now.

The robots also lessen the workload and strain on the cleaning operators, while improving productivity.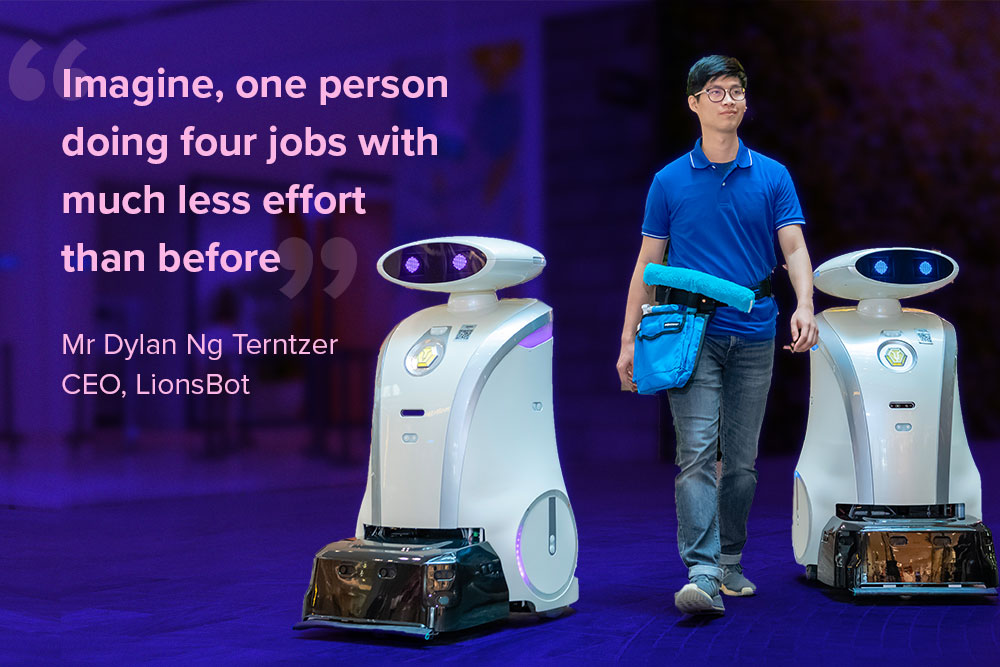 "Imagine, one person doing four jobs with much less effort than before," added Mr Ng.
Beyond that, Mr Ng notes that the advantages of AI outstrip its costs in the long run.
A traditional cleaning machine such as a ride-on autoscrubber costs around $16,000, shares Mr Ng. However, the machine depreciates over three years and it also requires maintenance cost and staff to operate it. All these add up to a cost of around $28,633 per year. 
In contrast, a robot costs around $70,000 and requires staff to spend minimal time to operate it. The depreciation over five years inclusive of servicing is around $14,000. This means that a company saves $14,633 a year if it chooses to use a robot over a traditional cleaning machine. 
Over the years, Mr Ng has noticed a growing demand for AI solutions in daily life ranging from robotic baristas and food delivery robots to security patrolling robots.                                
With MyCareersFuture's Applicant Listing feature, employers can now not only have an overview of all prospective candidates, but sort and filter to find relevant candidates. Take advantage by posting your job on the portal today!
The Singapore government is also pushing for the country to adopt AI technologies on a larger scale. In 2019, the government unveiled a "National AI Strategy" with specific initiatives such as machine learning and computer vision, to use AI to transform the economy and improve lives. Additionally, the government also pledged more than S$500 million to fund AI activities under the Research, Innovation and Enterprise 2020 (RIE2020) plan.
The government also has a slew of initiatives that help to support businesses that want to tap on new technology or AI. 
Using AI for marketing
Another company banking on AI solutions is Kobe Global Technologies. 
Kobe helps companies to find the right influencers through their patented artificial intelligence influencer marketing platform. 
According to Ms Evangeline Leong, the company's CEO and founder, relevancy is the most important criterion for selecting influencers for business. 
"The relevancy of an influencer can come in various categories such as interests, demographic profile, brand sentiment, content strength, stage of life, or even medical condition," explained Ms Leong.
"In a nutshell, the more we understand our influencers, the better we can pair them relevantly with advertisers. To do this scientifically, objectively and at scale, artificial intelligence (AI) is the only answer." 
To do that, the company uses AI's image recognition feature to identify and understand the images that influencers share so that they can match them to the relevant advertisers more accurately. 
"We also make use of natural language understanding in AI to extract insight such as keywords, categories and concepts from contextual content — even if they are not explicitly being mentioned," Ms Leong shares. 
"For example, a millennial may not explicitly say that he or she is a millennial but will express him/herself using words such as -YOLO', 'Study Hard Play Hard' etc, and we are able to learn from these concepts that the person is likely to be a millennial."
Kickstarting the AI journey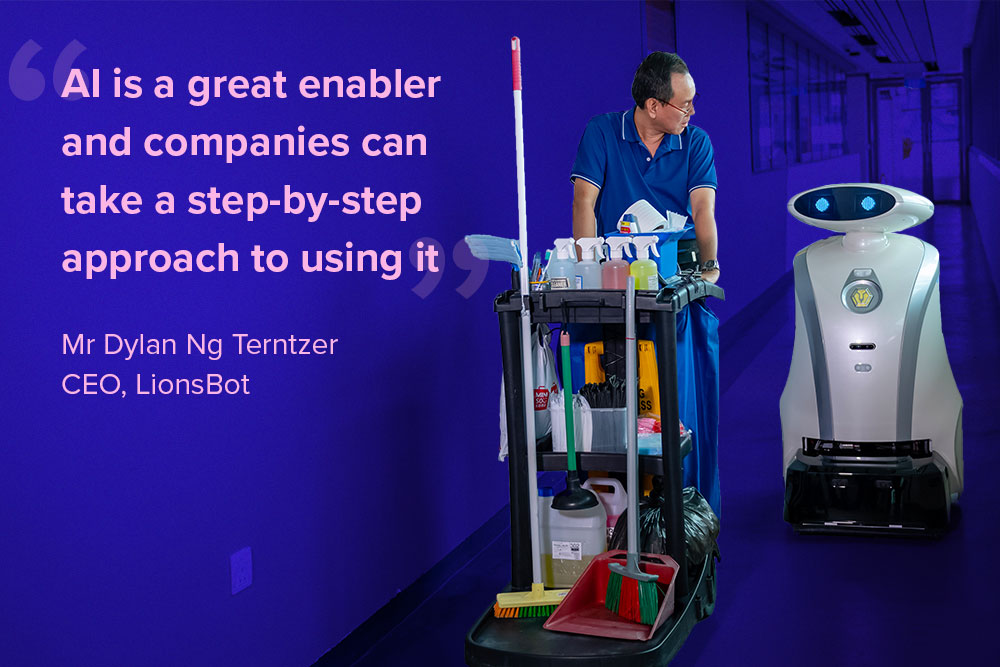 In Mr Ng's view, AI is a great enabler and companies can take a step-by-step approach to use it. He encourages companies that are keen to tap on AI to think of areas where it can help the business then conduct a validation project.
"Once the project has shown success, the business can then scale up the AI efforts. Never plunge fully in without doing the validation trials as you can learn a lot from a trial," he shared. 
He suggests that companies start with one robot first before scaling up when they have more confidence. Companies can also consider renting AI solutions to save costs. 
Mr Ng explains that leasing a robot monthly falls under a company's monthly operational expenditure, which is lower than investing in a fixed asset such as purchasing a robot, thus making it easier on a company's cash flow. A typical monthly lease costs around $1,800 monthly or $21,600 a year and it covers service maintenance and warranty so customers do not need to worry about these issues. 
As seen from LionsBot and Kobe's cases, adopting artificial intelligence is not an insurmountable challenge. Moreover, it is also aligned with the government's push for a smart nation. In today's competitive business environment, the ability to tap on AI effectively can determine whether companies can carve out a niche.