Keeping Singapore's buildings and complexes secure is not an easy task, especially in a dense urban environment like ours. And it is only getting more challenging – especially with a younger generation of employees who prioritise job satisfaction and remuneration when deciding whether to join, and remain in, the industry. What's more, our nation's security industry is a highly competitive space, with many companies jousting for a small pool of talents.
With these challenges nipping at their heels, Henderson knew that change was imperative – and that it had to happen, now.
Redesigning jobs, reimagining security
We spoke with Henderson's Managing Director, Daniel Marc Chow, who told us what security professionals look for in a career. "Salary, work-life balance and job satisfaction are very important to security officers," he said. "These play a huge part in retaining staff."
With these factors in mind, the company recognised that they needed to redesign their security officer position. Their goal was for the redesigned job scope to give security officers more fulfilling roles, a greater sense of job satisfaction, and better remuneration.
Looking for career guidance? If you are exploring career changes and need professional advice, register for a complimentary session with WSG's Career Coaching today.
The question was, how?
To find the answers, Henderson took up WSG's support for Job Redesign under the Productivity Solutions Grant (PSG-JR). Leveraging the grant, the organisation worked with HR professionals from Mercer to gain clarity on Singapore's job market in its entirety. This understanding of the HR industry, alongside a tech-driven job redesign plan that the company has since implemented, has given Henderson an edge in attracting the talent they want.
Better security, empowered by tech
Technology has been a significant enabler in Henderson's efforts to redesign their security officer role. One of the most notable implementations so far has been a Virtual Guard Tour that takes officers out of a traditional "security guard" role and gives them more varied responsibilities.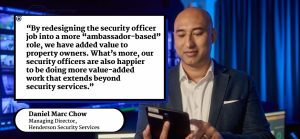 Daniel explains, "We want our security officers to be engaged in meaningful and fulfilling work. So, rather than having officers doing the same patrols every day, or guarding a single gate throughout an entire 12-hour shift, we use CCTV cameras with Artificial Intelligence (AI) to perform surveillance in multiple areas of the compound. Both officers and the AI will monitor surveillance feeds and spot potential issues. When this happens, security officers can analyse the situation and respond accordingly."
Elaborating on the benefits of this new way of doing things, Daniel says, "From a safety and resource allocation perspective, it's much more effective. Officers don't need to walk everywhere, and they can react to situations very quickly. Also, this technology allows officers to have their eyes on more areas at once – so we can reduce manpower allocation, which helps us to ease the manpower crunch and lower costs for our clients."
Want to increase your chances of nailing the job interview? Our virtual seminars can teach you effective job search strategies, enhance your personal brand, and more. Explore Career GRIT to learn more!
Security personnel also appreciate the newfound growth and career progression opportunities that their redesigned jobs offer. For the organisation's security officers, this opens up new career paths within the company – and industry – that simply never existed before. These new possibilities inspire security officers to pursue further professional development opportunities, which Shankaran S/O Jaya Seelan, a Senior Security Supervisor at Henderson, is currently doing as he studies for his Diploma in Fire Safety Management.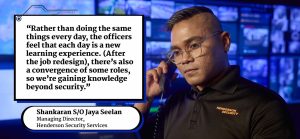 Even better, the aforementioned cost savings aren't only enjoyed by Henderson and their clients. Part of these savings get passed on to their security officers in the form of better salaries to recognise the higher value work that security officers now perform.
A whole new (secure) world
The Virtual Guard Tour is just one of the many solutions Henderson has adopted to improve their security services. Daniel told us about other tech-enabled solutions that are making security better for Henderson's clients, and expanding the capabilities of their security team.
These include AI-powered forensic search tools that security officers can use to quickly find lost children in malls, parking guidance systems that make it easy for officers to guide shoppers towards their cars, as well as security cameras with analytics that officers can use to spot smoke, fires, unidentified objects, and much more.
Seeking some quick career advisory? Connect with our officers virtually on your job search queries here.
Gaining a competitive edge with job redesign and technology
With technology driving massive change in their operations, will technology eventually solve Henderson's staffing challenges by entirely replacing human security officers? Daniel tells us that this is never going to happen as tech will always play a complementary role in the security industry. However, he does encourage others to be proactive with their adoption of tech to avoid falling behind the curve.
"Technology and job redesign are essential for improving processes and staying competitive. It's inevitable. The good news is that we're all in a period of transition. So, catch the tech adoption wave now to maximise the value you'll gain from being an early adopter, and get your employees on board through job redesign. Act now, or you may pay the price later on with higher costs and lower efficiencies."
Daniel also shares some advice on making the transition to tech smoother for older or less tech-savvy employees. "Some employees may see the introduction of tech as a culture shock. It's important that we don't make their jobs more complicated. Instead, we choose tech that's easy to use and makes their jobs easier. We also get hands-on with them and motivate them, which allows them to learn quickly and welcome tech into their work."
Interested in learning more about WSG's lineup of Manpower and Productivity Solutions for Enterprises, including job redesign programmes? Read more here.