Jonathan Quek, at 26 years of age, in the thick of a pandemic, walked in to Breadtalk Group Pte Ltd unfazed in September 2020. He saw it as an opportunity. He saw it as a great teaching moment. He saw it as a means of becoming a better leader.
"I thought to myself it's a once-in-a-lifetime opportunity and it isn't every time that businesses face such a crisis. The fact that I started work at such a time meant I could learn from my mentors, my parents, and coworkers. While it is daunting, it is also motivational and inspiring, seeing how everyone was so committed and determined to help the company push up its revenue whilst tightening our expenditure in such times." 
In many ways, Jonathan has been preparing for this very moment from the time he was seven or eight-years-old.  "I followed my parents to the stores, listened to them sharing their expertise and knowledge with the team, or even discussing improvements on operational efficiency or working with the designers and looking through the blueprints of the store design." 
There are two other siblings working at BreadTalk Group, 28-year-old Joselle, his elder sister, who heads the Research and Development (R&D) team, while his younger brother, 25-year-old Matthew, helms the branding arm of the Bakery Division.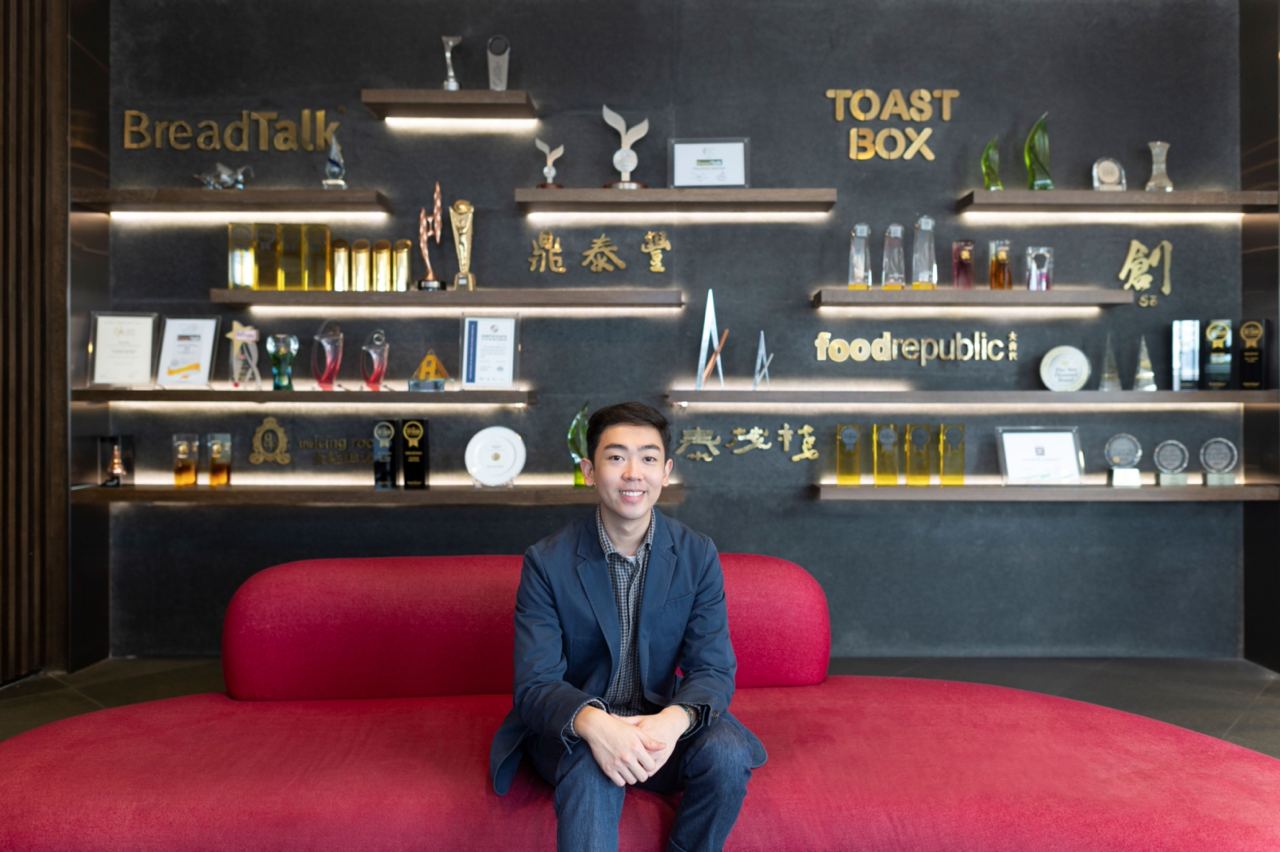 Bread speaks to us
BreadTalk's first outlet was at Bugis Junction back in 2000. In time, the Group grew by leaps and bounds with the addition and building of concepts like Toast Box, Din Tai Fung, Thye Moh Chan, Food Republic, Food Junction, to name just a handful. Recently, BreadTalk Group entered the Halal market for the first time with Butter Bean. The company caters to the younger demographics, as well with their bubble tea cafe concept known as Charlie Tea.
There are a total of 180 outlets in Singapore. Due to the pandemic though, the Group has had to close four outlets mainly in the tourist and business districts like Orchard Road and the Central Business District. BreadTalk's focus for the next two years will shift to newly identified areas of growth. Jonathan plans on exploring different models of reconfiguration of outlets, like the sizes of the stores and how labour intensive they might be. 
For Jonathan, keeping the brand fun and imaginative is key. "For us, it is how bread speaks to the consumers. And my parent's philosophy was that bread can talk from the way the ingredients dance together in a mixing bowl to the way the dough rises. And the way bread takes on colour and different flavours and emits a range of aromas in the oven. It is in these different ways that bread can speak to us."
The company founders were inspired to turn around what was a sunset industry back then, after their travels and years working in Taiwan and Japan, where the patisserie shops were amazing places to drop in at. Those humble beginnings have led to the international outfit of today.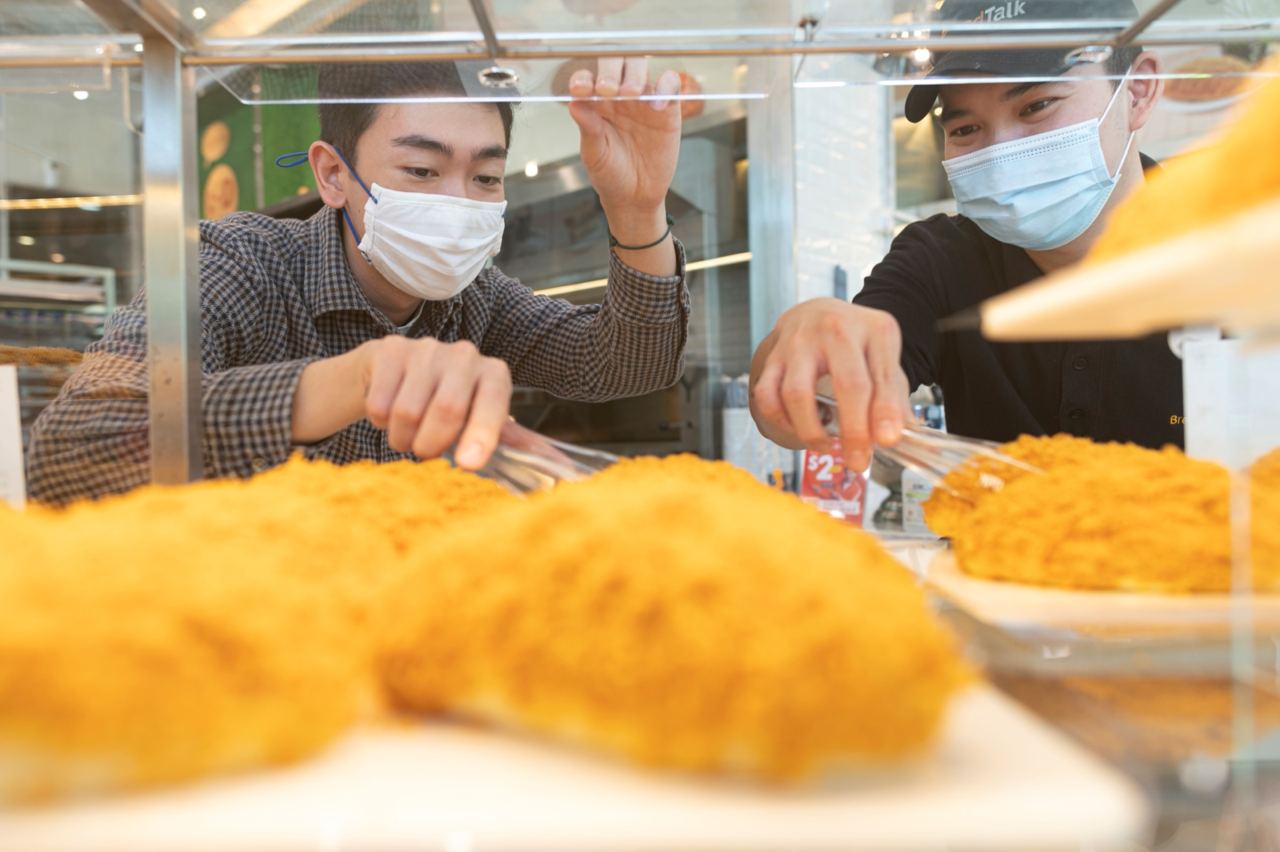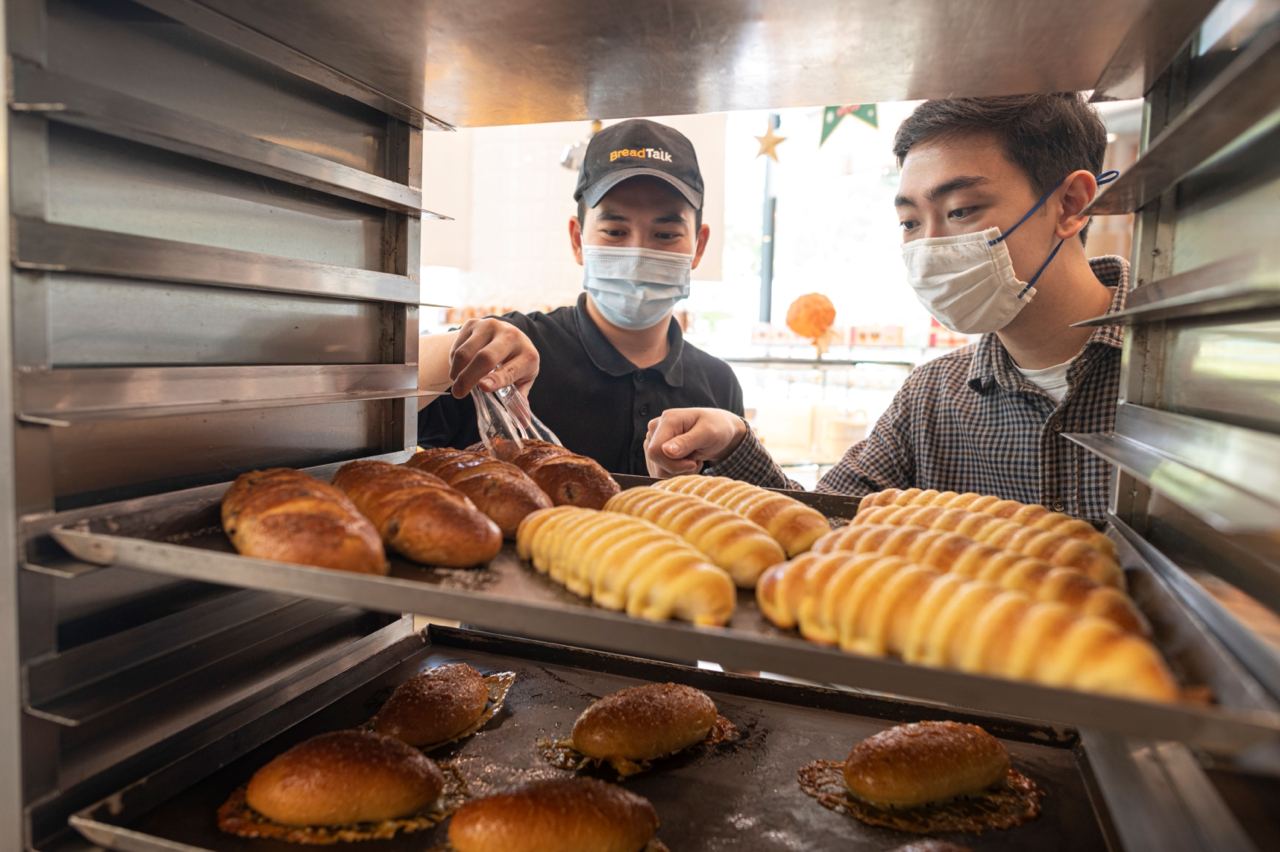 Facing the future together with Workforce Singapore
As Jonathan leads the company through unchartered territories, he emphasises that his leadership style is about empathy and looks to Jeff Weiner, CEO of LinkedIn, as a leader to emulate. "When you lead with empathy, you get to engage your employees more and know your employees better. You listen to them and in turn, you will also give and see how you can align certain policies to match your organisation's needs."
The downtime during the pandemic provided the perfect opportunity to retrain and reskill the workforce. Having worked closely with Workforce Singapore (WSG) for over a decade, BreadTalk embarked on the Job Redesign and Reskilling Programme (JRR) to further streamline existing processes. For employees, it provided the chance to learn new skills. Over 190 staff within the Group came forward to be retrained. 
The retraining and reskilling translated into various experiences for the staff of the differently themed restaurants and outlets. Several staff were trained and skilled in being able to manage and follow standard operating procedures and rotations of the beverage, lobby, cashier counter and food stations. Once staff can successfully manage the rotations, they also receive financial incentives. In some of the outlets and restaurants, staff had a wage increase ranging from 3 to 15%. Staff could also undertake cross training in cooking skills and learn how to use the various equipment in the kitchen. Another area of cross training was in the back and front of kitchen roles and skills. 
In terms of digitalisation, staff developed knowledge of sales analysis and how to draw up each store's marketing plan. The sales analysis would help them in menu preparations and determining, which are the high sales products. The collation of all this data helps Jonathan move forward and plan and read the trends and patterns emerging in the F&B sector. The data helps not only the Singapore-based outlets but also the many that BreadTalk runs in the region. The main strategy he needed in place was to have a future-ready business. 
The impact of Covid-19 hit BreadTalk's regional business in countries like Indonesia, Thailand, and China. In Singapore alone, there was a significant drop in revenue for their bakery brand during the circuit breaker. Just before the pandemic hit, BreadTalk Group posted approximately $600 million in revenue. 
The way forward
As the future remains in flux with the continuing changes to border closures and safe distancing, for BreadTalk, much depends on how it will be safe and comfortable for patrons to dine at their various outlets. Staff are trained to work at different stations at the front kitchen as well as at the various preparation counters. These are skills they have learnt and progressed in as part of the reskilling and retraining programme. This is particularly relevant for the restaurants serving Dim Sum. 
In general, Jonathan sees many trends emerging even as the staff in the various outlets are seeing job enlargements and retraining. In the bread side of the house, there is greater demand for frozen foods. "We are starting to see a huge, rising trend in frozen foods. So, in China, we have a few plants exploring frozen breads, baguettes and croissants." 
Simultaneously as local outlets continue to work in a changing landscape, the overseas expansion plans continue, such as in the Oceania region. In 2018, Din Tai Fung entered London, and today, bouncing back strongly from the pandemic, they are expecting their second and third outlets at Selfridges and Centrepoint in 2022. 
Jonathan has his hands full, given how the situation is compounded with the emergence of a new variant and the impact it could possibly have on economies. It has been a baptism of fire for him as he begins a long journey. During this situation, the natural question to ask is about the future of his personal life. Is there time to find a life partner?  With a laugh, he answers, "I am dating BreadTalk. It's a full-time job!"