The future for homegrown Flo-Line Hydraulics Pte Ltd centres around growing into a regional hydraulics technology centre. Before Covid-19 came along, Flo-Line looked at several government schemes available to help make this possible. They were in talks with a consulting firm as well, looking at markets like Vietnam, Indonesia and the Philippines. If you ask Executive Director Chia Kok Liang (also affectionately known as KL to friends and family) what Flo-Line's unique selling position is — both now and in the future — is the company's willingness to take on jobs. 
"What the big boys find as too small a job and don't want to do, we will do it." And that has been Flo-Line's edge in the market. It is their willingness to customise, provide services and grow in the smallest of jobs that they might take on but to always do it to the best of the client's needs. It is a competitive marketplace. The company abides by its philosophy as articulated by KL, "Singapore is unique. Singapore is very much performance-based. Our policy has always been to scale up, improve ourselves, and to evolve and survive." 
To date, the company has made strong inroads into both Malaysia and Thailand, something that KL attributes to his role as "coach" and someone who is good at grooming people and ties. "I am a coach and I groom people to be leaders. This is why when we go into joint ventures in Malaysia and Thailand, all of them did well because I could work with them well."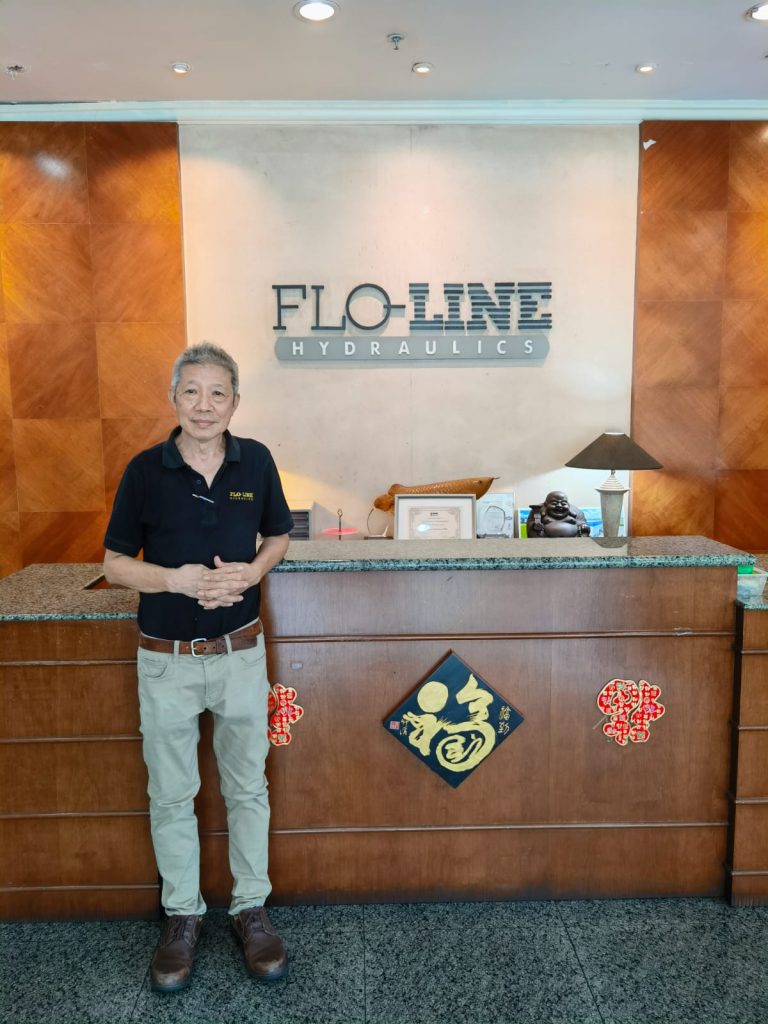 Turning adversity to advantage
The company started out with a healthy two to four million-dollar family capital back in 1987. Along the way, they have learnt their lessons very much by getting their fingers burnt, but never forgetting what that sensation feels like.
In true colloquial terms, KL outlines what running a business like his is like, "Our business competitors are the principals. Prior to the downturn in the oil and gas industry in 2016, it was all about the MNCs. They were the giants and we were the "lalang" (Malay word referring to grass). So when they fight, we were always stepped on. Our main job was NOT to get stepped on. We always evolve to do the things they don't want to do, that's how we grow." 
WATCH: Looking to pickup new digital skills? Here's how to make the learning curve easier!
When the Asian financial crisis came along in 1997, 10 years after the company started, it knocked the air out of Flo-Line. But they picked themselves up and learnt their lessons well. In the run-up to the crisis, they had overspent — there were outstanding loans, factories they built and they felt they had grown too far, too fast. Balance became the operative word. Expand but always within their means. In time, they prioritised clearing their books and building a reserve. They changed from being a family business to one of profit sharing. Each crisis taught them invaluable lessons including the oil price downturn.
As KL says, "Crisis will come and go but you must build the will to evolve and survive. Don't just grow for the sake of growing and then get hit by a crisis and then you are out of the game. Instead, steady yourself as the ship sails, clear the loans, build the cash reserves and prepare for war." He is quick to note that Flo-Line learns from the way Singapore itself is governed. The reserves are important. 
The triangle of land, labour, capital
The differentiating point for any business and in competition with others is the people you hire. That's why KL embraced and went into the Industry 4.0 Human Capital Initiative (IHCI) programme. (See Fact Box below for details). He had already started his manpower on a performance-based reward system. If the staff were willing to multitask and become more productive, they were rewarded for it.
With IHCI and the digitalisation process, he clearly saw a way of refining this even further. The data collected would tell him how and where to deploy his people. As a seasoned businessman, KL says the challenge is always this triangle and managing the shifting parts of Land, Labour and Capital. In engineering, he calls them stress points. 
"Data is the new oil," according to KL who views the collection of data and digitalisation that IHCI introduced and helped the company with as a good way to skill up his manpower. He points out that he has, over the years, run a lean workforce. He is acutely aware of how important it is to have a productive workforce and one prepared for the new normal.
In many ways, KL has been ahead of his time. "When we started, we steered workers towards a performance-based system, based on how he or she could multitask. By paying these staff better, we were able to retain them."
An SME with a vision to grow in ASEAN
Flo-Line Hydraulics Pte Ltd was started in 1987 as a breakaway from another hydraulic company. The four siblings (all sons of which KL is the youngest) refused to allow other family members like their wives, children and cousins to work in the company because of the historical knowledge of how family businesses could run into problems. Instead by having a performance-based system, they could allow capable staff to lead the teams.
At age 24, in 1979, KL left Singapore for Milwaukee School Of Engineering (MSOE), near Chicago in the United States to study Fluid Power Technology. 
He spent two years in the US, both studying and working part-time there. It was an eye-opener for him. His businessman father's decision to send him to study a subject related to the family enterprise, even though he already had a diploma in Marine Engineering from Singapore Polytechnic, may have planted the seeds for today's Flo-Line.
The company is Asia's leading distributor of mobile and industrial hydraulic components. "Family businesses have their strengths and weaknesses. More than that, it is how you grow it with the family people who might not be as capable to lead the company, but by hierarchy, they tend to be there."
Armed with this historical knowledge, and evolving and growing within the manufacturing sector, Flo-Line has very much powered ahead keeping its eye always on the future, however uncertain that remains today. It keeps its eye on the ball — a regional hydraulics technology centre within ASEAN.