What's the best way to use LinkedIn for networking or finding your next job?
As one of the world's largest professional networks online, LinkedIn can be used to look for jobs or internships, connect and strengthen professional relationships, or connect with opportunities by showcasing yourself through your experience, skills and education.
But how much of YOU should be showing on your profile? Should it be your best professional self, in your best professional moments, with your best professional thoughts?
Or should it be more about you as a person, similar to what goes up on social media accounts such as Facebook or Instagram, where your hobbies, interests, and day-to-day life are showcased?
Attend walk-in interviews, virtual career fairs, workshops and more! Explore Career GRIT and find events and other resources best suited to your career journey. Check it out now.
Being professional vs personal on LinkedIn
In Singapore, its safe to say our Asian sensibilities not to seem too loud or proud tend to mean our LinkedIn profiles lean on the side of conservative – the usual professional picture, career mission statements, work experiences, and positive testimonials from colleagues we've had enough kopi with, matters most when we curate our pages.
But as with all things, conventional wisdom changes with time. According to Luis Lee, the regional HR Director for Singapore-based restaurant company Paradise Group, personalised and interesting content trumps professional content when it comes to quality networking on LinkedIn.
Even celebrities such as Ryan Reynolds, star of the Marvel anti-hero movie Deadpool, are on LinkedIn, listing skills and attributes such as "writing, re-writing, tweeting, mixing cocktails, backend engineering software platforms and watching lower-tier Welsh football matches. Proficiency ranges from excellent to absolutely awful."
Of course, while Ryan's profile might be a tad more tongue-in-cheek, yours might not be as flippant. Nonetheless, it's becoming clear that there's no need to be so straight-laced on LinkedIn anymore.
Luis said to Workipedia by MyCareersFuture at Workforce Singapore's (WSG) Take Charge of your Career at Suntec July 2023 event: "This is a clear sign of more and more personalised content on LinkedIn."
He did a straw poll with the participants at the WSG's event, asking how many would prefer to click on a picture of a cute kitten or child playing, versus some sophisticated and professional-looking pie chart, with most respondents voting for the former.
Looking for career guidance? If you are exploring career changes and need professional advice, register for a complimentary session with WSG's Career Coaching today.
"This proves something: we are all human beings, and we respond to personalised and humanised content, which ultimately garners more views and engagement."
"Ultimately, there are tons of other platforms or places to get infographics and generic work-speak or industrial information. The question your LinkedIn profile really needs to answer isn't so much what you can do, but who you are as a person."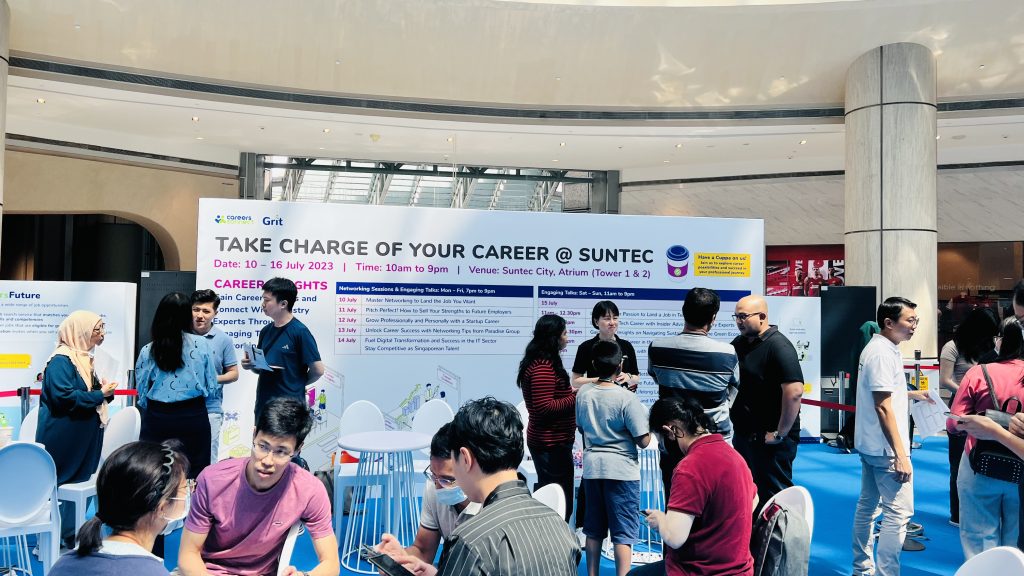 Hiring managers hire people, not information
Luis shared how he tried a personal experiment on his own LinkedIn profile, posting pictures of his daughter, and found it garnered more engagement and views, as opposed to generic human resource topics.
"I would respectfully disagree with the school of thought that one should segment their professional LinkedIn page differently from their social pages such as Facebook or Instagram", he shared.
"Whatever platform you're on, it's about people. And at the end of the day, people hire people, people don't hire information."
"The key thing if I want to know you better to find out if we can be professionally partnered is to figure out if I can relate to you first, after all."
He suggests thinking of your LinkedIn page as a mini-movie about yourself, making it a reflection of your personal and professional life and aspirations.
"But of course, do it sincerely," he added, "If its contrived, people can sense these things."
Luis concluded: "You could be a coffee drinker, a parent, or simply love travelling. If you start posting about these topics, and then occasionally posting a professional-looking post that's more work-heavy, someone looking at your LinkedIn profile will get a more well-balanced view of you!"
Read More: Networking Singaporeans: We May Not Be Naturally Gifted, but Here's How We Can Improve