We get it. There are times when you just don't feel like you can be productive at work. You can't wait for the workday to end and make a rush out of the door.
The question is, why do you feel this way? Are you so overworked that you no longer have the will to work, or you're just being lazy?
Burnout or laziness, how to tell the difference?
Technically, it shouldn't be difficult to tell the difference between burnout and being lazy. Generally, burnout refers to a reaction to prolonged or chronic job-related stress and is typically accompanied by a few defining characteristics, such as exhaustion, cynicism, and feelings of reduced professional ability.
Looking for career guidance? If you are exploring career changes and need professional advice, register for a complimentary session with WSG's Career Coaching today.
In contrast, being lazy is a negative trait, an unwillingness to work or put in any effort to do something. To sum it up, burnout isn't a choice – it is a result of being overworked. Laziness, on the other hand, is a choice. 
But why do we even ask ourselves this question?
"Culturally, Singaporeans tend to be hard on themselves, and have expectations that they are meant to be consistent, productive and psychologically resilient at all times," said Dr Tracie Lazaroo, a clinical psychologist at Inner Light, a centre that provides clinical psychology and therapy services in Singapore.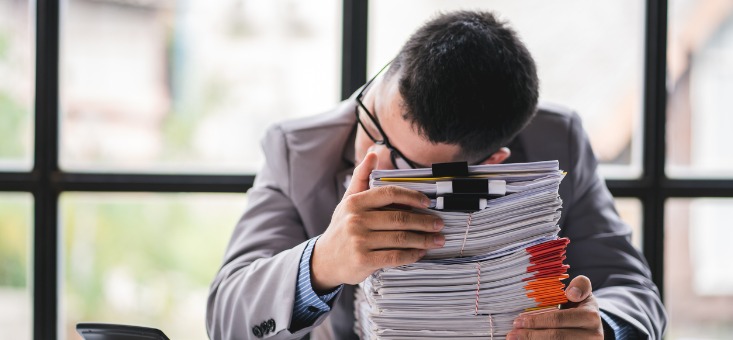 As a result, many may try to suppress or ignore the signs of burnout they're experiencing, or worse, they do not realise that they're experiencing burnout.
"People often do notice stress symptoms, such as having difficulty winding down after a long workday, sleep issues, gut inflammation, tension, and so forth. However, they may not necessarily attribute this to work, which has detrimental effects on their health," she adds.
So, how do you tell? Workipedia by MyCareersFuture has prepared a simplified version of a burnout test to let you gauge for yourself. Try it out!
Take the test: Are you burned out or just lazy?
How it works
Pick the response that resonates most with you based on the scenarios given. Each response has a number tagged to it. Simply add all the numbers to your answers and compare them to the results chart at the end of the questionnaire!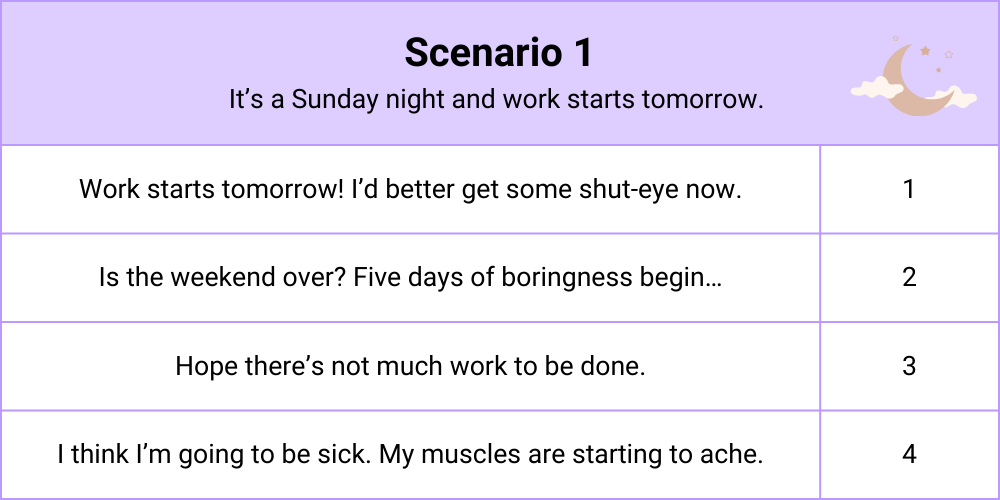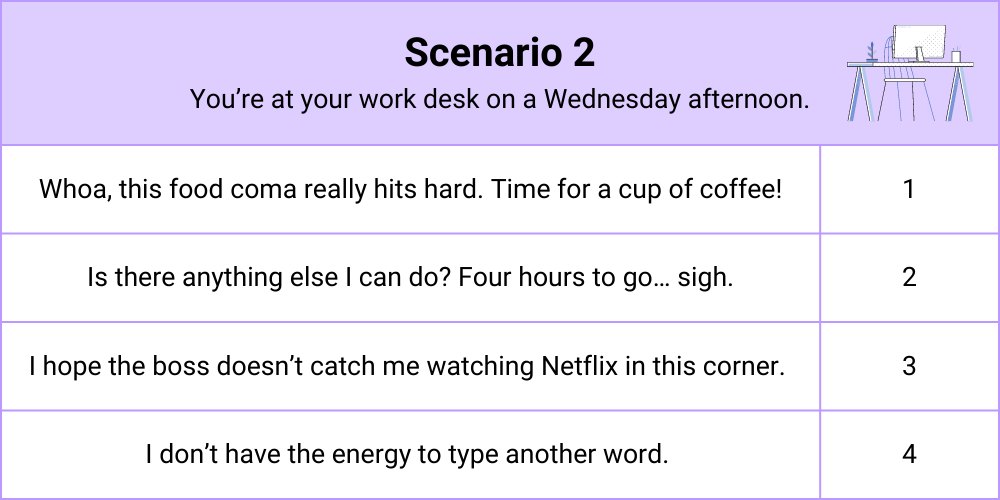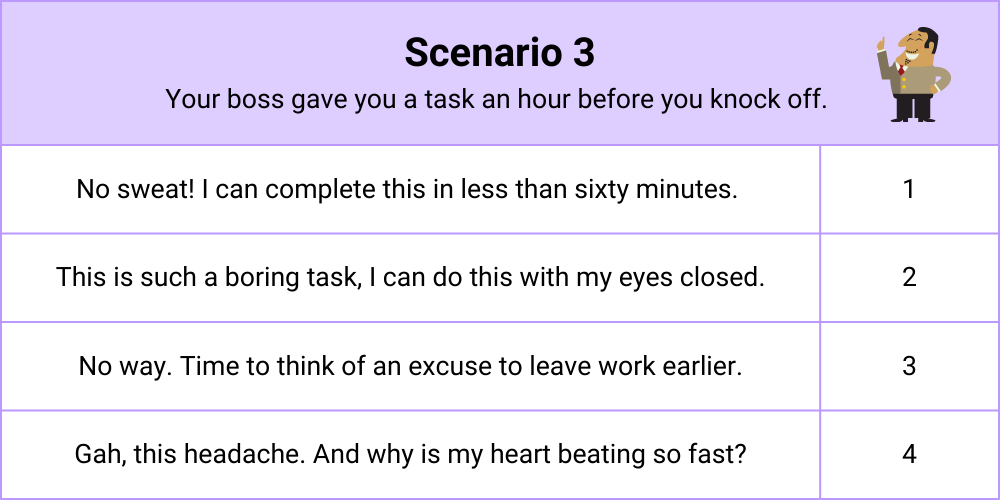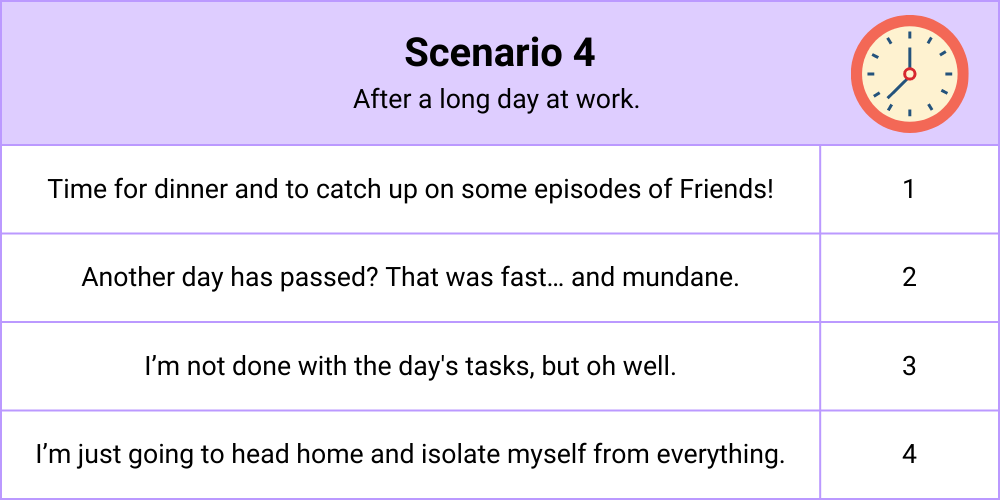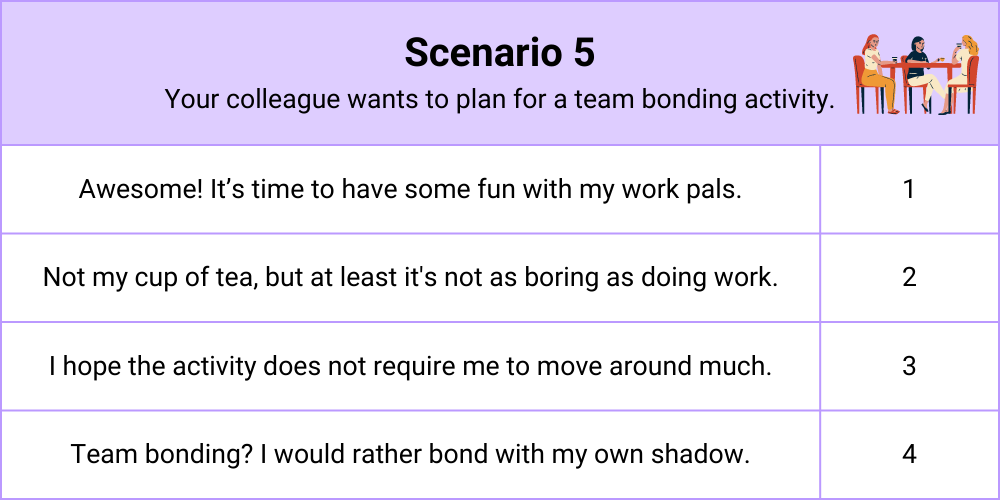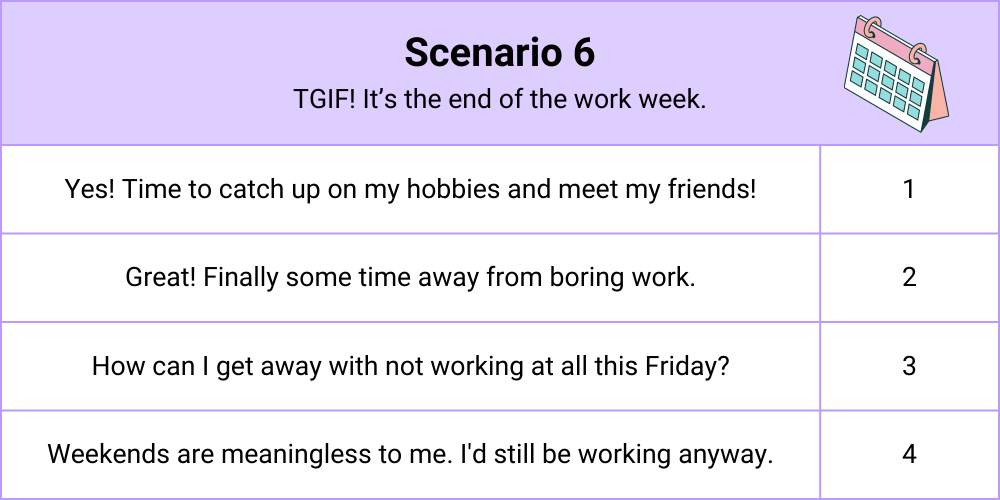 Not sure if you're burnt out from work or just having one of those lazy days? Take our quiz to find out.

You're doing great! Far from being burnt out, you're on top of your game and have a positive attitude towards work. Perhaps time for you to level up professionally. Check out more than 100,000 job opportunities across various industries at MyCareersFuture here! 
Read More: Want a New Job in the New Year? 3 Ways MyCareersFuture Helps Your Search Be More Productive

You're not overworked, but rather "underworked". Perhaps you're stagnating in your current job leading to career dissatisfaction. If you're thinking of making a career switch, get supported with WSG's Career Conversion Programme here. 
Read More: Ask a Career Coach: Is it OK to Take a Long Career Break?

Wow, you're really unmotivated! The creative ways and means you cook up to wriggle your way out of every work situation may be an indication that you're feeling disengaged at work. Take some time to reassess your career goals with resources from Career GRIT.
Time for a change! Take your career forward by looking for a job that really interests you. Choose from over 100,000 jobs on MyCareersFuture now!

Whoa, sounds like you're really stressed out. What you're experiencing could be symptoms of burnout due to work. Do not ignore them! Perhaps it's a good time to take a break or seek professional career advice from a career coach.