According to a study by HireVue, a technological company specialising in digital recruitment processes, 41% of hiring leaders from the United States, Australia and the United Kingdom plan to combine both in-person and virtual interviews in their hiring strategy. It will come as no surprise that such hybridity may be commonplace in Singapore too, especially when virtual hiring methods have increased since January 2020 amid social distancing requirements. Recruiters have seen the benefits of enforced adoption of virtual interviews, with hiring processes streamlined and reduced by up to 70% as reported by Alvin Ang, talent acquisition director of Quantum Leap Career Consultancy.
Indeed, the benefits of online interviews are plenty. For one, the number of interviews conducted can be increased as lesser time is spent switching from one call to another.
"Once a call is over, the call is over," shares Colleen Garret, a US-based clinical recruiter at Expressable. "When interviewing in person, you have to account for the potential for someone to be late and other interruptions or obstacles that happen in the office."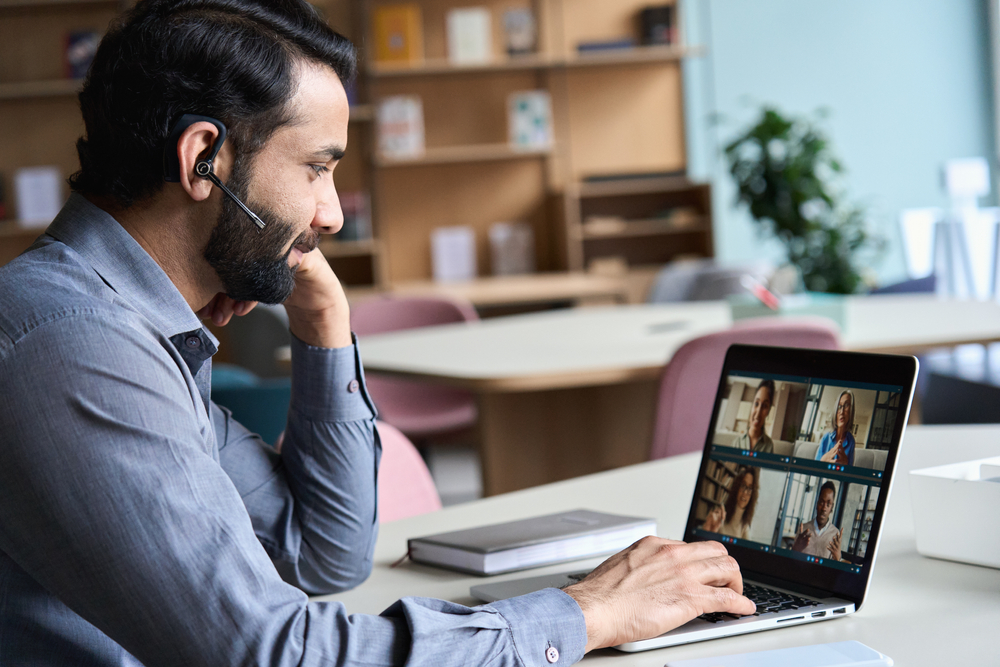 In addition, video interviews make it possible for both recruiters and interviewees to call in wherever they are based. This reduces the time and travel cost required to typically attend traditional interviews, and opens up a global pool of candidates to tap on. Plus, with the ability to record the interview (with permission), hiring managers can tune back to the clips to aid their decision-making.
However, the genuine connection recruiters make with job candidates in person cannot be replaced by video conferencing interviews. Should the application requirements for the role in question require a strong display of social skills for instance, a face-to-face conversation to ascertain the candidate's ability is all the more important.
Virtual interview options are here to stay, while in-person interviews will remain viable in situations that demand them. How do you decide the right circumstances for each?

When to conduct virtual job interviews
Typically, virtual interviews are applicable to all types of roles, from the entry-level candidate to the C-suite aspirant.
However, they will be more suitable when:
You have multiple potential candidates and need to narrow them down to a handful before meeting them in person
You are hiring remote workers beyond geographical boundaries
Your interviewee(s) is unavailable to travel down for a face-to-face chat
Your recruitment team is working remotely or their role has an online focus
You do not have time to conduct multiple in-person job interviews in a given time
How to arrange virtual job interviews
As a hiring manager, you must also display basic etiquette and closely follow your organisation's interview code of conduct when arranging virtual interviews for job candidates. These tips will give you a good head start:
Mutually set a date and time for the interview
Email the teleconference link to the candidate at least one day before the interview
Tune in at least 15 minutes before the interview
Test your camera and microphone ahead of time to minimise technical difficulties
Ensure your internet connection is stable and you're in a quiet space
Have all materials ready to screen-share during the interview, if required.
Evidently, virtual interviews are the most convenient way for recruitment teams to connect with candidates, but it is vital that you consider in-person interviews when there is an opportunity.
When to conduct in-person job interviews
As mentioned, in-person interviews are the best if you want to genuinely engage with your candidates. For example, you can better observe a candidate's overall demeanour, disposition and facial expressions if these are pertinent to the role. However, it is not always possible to conduct such job interviews when time and resources are scarce. That said, there are a few situations where you should opt for a face-to-face conversation with the candidate:
1. You are recruiting a senior manager or C-suite personnel
Candidates vying for leadership positions are often expected to exhibit strong communication and people skills. While you may be able to pick up some hints during the virtual interview, inviting the person for a traditional interview lets you gather cues based on their body language. Moreover, recruiters will need to spend more time conversing with the candidate and asking follow-up questions to ascertain whether his/her experience fits for a top-level role. So eliminating distractions and disturbances such as internet glitches and background noises during virtual interviews, ensures the interview stays focused on the subject and is productive.
2. You are recruiting for a client-facing role
While those working in client-facing roles may be expected to have a firm grasp of communication technologies today, there are some traits that hiring managers need to look out for that are necessary for this line of work. These include, among other aspects, having good eye contact and speaking coherently in private and group settings. Such skills are required by various customer-oriented positions such as retail sales associates, insurance agents, receptionists and the equivalent. As a recruiter, the assessment of a candidate's body language provides clues to their level of professionalism in a social context, one that is highly demanded as part of the role. Video interviews do not allow for this as the lack of physicality eliminates the need for virtual interviewees to display such behaviour.
While a face-to-face job interview makes it easier to screen such candidates, you may consider first scheduling video calls with a list of potential hires and then shortlisting those you want to move ahead with.
Making the right choice
Both virtual and in-person job interviews have their advantages and are suited for different circumstances. Therefore, there is never a right or wrong choice when it comes to planning your interview process. Combining the two to streamline your hiring will assist you in making the best recruitment decisions for your company.
Get started!
Speed up your hiring process by quickly identifying quality candidates. Add screening questions to your MyCareersFuture job postings to easily find applicants that meet your most important requirements.
To use Screening Questions:
When creating a job posting on MyCareersFuture, add up to three yes/no screening questions.
When reviewing applicants, filter them based on their responses.
Click here to learn more about how it works.