Career resilience. The new buzzword that has been making its rounds in the world of work. If you've heard of it but are unsure of what it means, we've got your back.
Career resilience generally refers to one's ability to adjust and adapt to career changes as they occur. Building career resilience entails taking control of your own career path and constantly learning new skills to stay in demand.
Why is career resilience important now?
As technological, social, and business model changes occur, your skills must change, too. More companies are looking for employees who can learn new skills and adapt quickly to change. 
Looking for career guidance? If you are exploring career changes and need professional advice, register for a complimentary session with WSG's Career Coaching today.
Developing career resilience means anticipating potential challenges and actively preparing for them. That way, you can strengthen your mental fortitude, and position yourself effectively for future opportunities. 
This enhances your job security and gives you an edge in the competitive job market.
To give you a better idea, Workipedia by MyCareersFuture speaks to Kelvin Tan, who made a mid-career switch to becoming an interior fit-out specialist after more than 30 years of working in sales.
Interview with Kelvin Tan
1. What made you decide to make a mid-career switch?
After three decades of working in sales, where I was a sales executive at a DIY store for the past six years, I had this strong urge to try out something different. 
I wanted to pick up new skills and enter a different trade. 
I know that I'm a handy person as I love putting things together and repairing stuff that is broken like furniture and upcycling wood pieces. I felt that it was the right time for me to pursue this passion career-wise. 
So, I decided to sign up for Workforce Singapore's Career Conversion Programme (CCP) for Interior Fit-Out Specialists in May 2022.
Are you looking for a change? Use the 'mid-career switchers' filter when searching for jobs on MyCareersFuture. Browse jobs now!
 2. What were some of your concerns about making the career switch?
There were many concerns running through my mind, but the main concern was my age. I'm in my 50s, so I was always questioning myself if it was the right decision to make the change now. 
Looking at how fast technology evolves with the digitalisation wave, I was worried if I would be able to keep up. I also wondered if I would be able to keep pace with younger peers in this industry.
Have a job but want to level up? Explore career events and resources designed to help you develop your skills and expand your knowledge with Career GRIT. Check it out now!
3. How did you learn about the Career Conversion Programme (CCP)?
I learnt about the CCP through a friend during a casual coffee chit-chat session. The programme appealed to me as I'm someone who likes fixing and repairing items at the workplace and at home. 
I was even intrigued by how wardrobes and kitchen cabinets of varying heights and sizes can be secured and assembled when my house was undergoing renovation!
Read More: Changing Careers? Reskill Your Way to Career Success with the Career Conversion Programme
4. Can you briefly share what you learnt in the six-month programme?
It was a comprehensive programme. I learnt a lot through the modules taught, such as materials studies, technical drawing, construction technology, and installation and assembly. 
During the course of the six-month programme, I also picked up hands-on skills such as designing and assembling cabinets.
5. Where are you working right now and what is your job like?
I currently work as an interior fit-out specialist at Moment Design Manufacturing, a local interior design company. I handle the assembly of furniture and installation at our client's premises.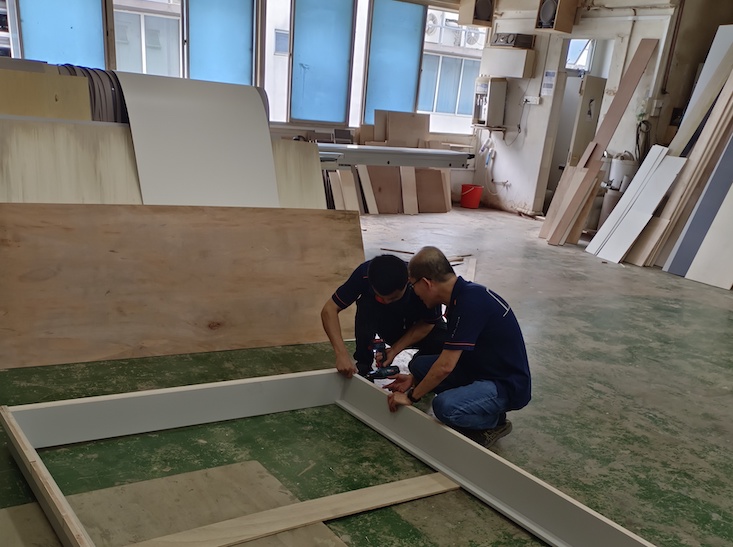 Apart from these duties, I'm also in charge of sourcing and procuring materials for the company, and working as a production scheduler, monitoring the production process.
The manufacturing industry is hiring with thousands of jobs available! View openings now.
6. Was making the industry switch the right decision? Why?
It was definitely the right decision as I'm able to tap on my experience in sales and as a buyer in a new role in a different industry. Despite my earlier apprehension due to my age, it was not an issue for me to pick up new skills.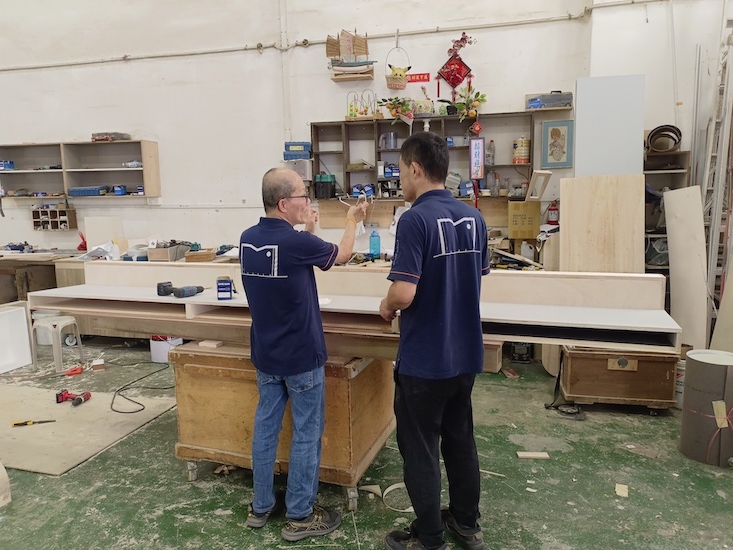 The knowledge I gained from the CCP gave me the confidence to do well in my current role and developed career resilience. The skills of an interior fit-out specialist are very much in-demand. 
It's just a matter of keeping an open mind to things.
7. What is your advice to people who are looking to make an industry switch
Don't hold yourself back from making a positive change in your career because of your age. It is just a number. Ultimately, if you think the time is right for you to make a change in your career, just go for it!
Read More: Career Change: How and Why I Did it After 40
Thinking of making a mid-career switch like Kelvin?
If you're thinking of making a mid-career switch to a different role in a new industry, check out WSG's Career Conversion Programmes (CCPs) with On-the-Job Training, to prepare you for the big change. WSG offers close to 100 CCPs across around 30 sectors to support your move into new occupations or sectors with good prospects and opportunities for progression.
If you need professional advice on navigating your career journey, register here to speak to a career coach!