When you've been in the same line of work for some time, it's natural to think about a career change, especially if you find out about an interesting new job role or growth sector that could offer better prospects. To help you make a successful switch, Career Conversion Programmes (CCPs) — previously called the Professional Conversion Programme — can help you reskill for a new career path. Besides generous training subsidies, you may also receive salary support or training allowance to ease your career transition.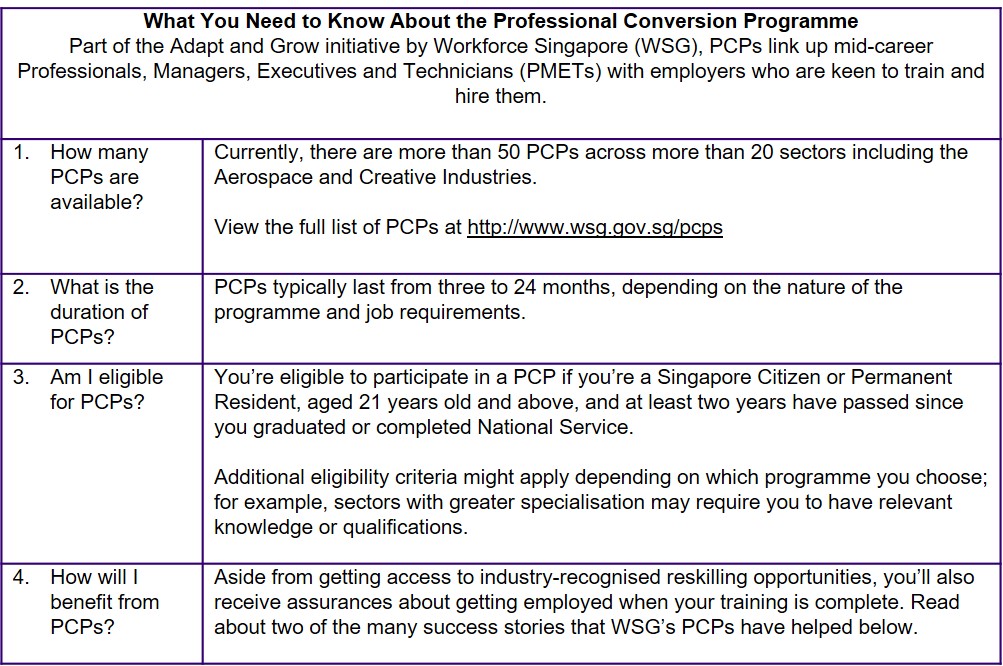 Ou Wee Yeh's Attach-and-Train Experience
When former engineer Wee Yeh wanted to pursue an all-new career track in diagnostic radiography, he first had to acquire the skills needed for this highly specialised field. However, that was during the 2009 economic downturn and money was a concern; Wee Yeh knew he needed financial assistance and a good chance of landing a job if he were to commit time to reskilling.
The good news came when Wee Yeh chanced upon WSG's Attach-and-Train PCPs, one of which was a three-year Diploma Programme in Diagnostic Radiography at Nanyang Polytechnic. Wee Yeh successfully applied and was assigned a host employer, National Heart Centre Singapore (NHCS), for the programme. The 42-year-old also received funding for the bulk of his course fees, as well as a training allowance that covered the majority of his living and academic expenses.
Find your next job role on MyCareersFuture. We have over 80,000 job opportunities daily for you.
As part of the course, Wee Yeh was posted to various healthcare institutions for hands-on work attachment. This was a huge boost. "Working with professional radiographers allowed me to gain insight, knowledge and experience that went beyond what the classroom could offer," he said.
Wee Yeh's efforts during his course soon paid off as NHC offered him a job as a radiographer on graduating and continued to support his learning journey. The following year, he obtained a degree in Radiographic Studies.
Regardless of your skillset or previous experience, WSG's PCPs can help you bridge the competency gap between different roles and sectors, and launch you towards a more promising future.
Faizal Omar's Place-and-Train Experience
For more hands-on work, WSG's Place-and-Train PCPs let participating companies offer direct employment followed by on-the-job training. This lets you land a job first before undergoing training, enabling you to earn a percentage of your agreed salary during the training period. WSG also ensures that participating companies offer remuneration that is aligned with market rates, which means you can get a competitive salary package even as you enter a new line of work.
Being able to jump straight into a new career path has been encouraging for Faizal. A Business Administration graduate of the Institute of Technical Education (ITE), Faizal wanted to embark on a career in the hotel industry but had no prior experience. Through WSG's Place-and-Train PCP, he was able to join the Park Hotel Group in 2014 as a Hotel Operations Specialist at Grand Park City Hall.
Read More: How to Positively Answer Weakness Questions During an Interview
At the hotel, Faizal underwent a comprehensive one-year training programme. From food and beverage to housekeeping, he regularly rotated among various areas of responsibilities while being mentored by senior staff. "I learnt very quickly how the various departments operate, so even when I was serving as a waiter at one of the F&B outlets and a guest asked to have his room made up, I knew the right channel to go to," he said.
Given the support to learn quickly, Faizal was quickly promoted to Assistant Concierge at Grand Park Orchard. Today, he oversees every aspect of the operations and training of the bell services team even though he is the youngest of the crew.
Like Wee Yeh and Faizal, you can also quickly reach new heights in a different job role or sector. Regardless of your skillset or previous experience, WSG's PCPs can help you bridge the competency gap between different roles and sectors, and launch you towards a more promising future.
Learn more about WSG's Career Conversion Programmes and explore the full list of available programmes today!