For those who are still unsure what Singapore's Progressive Wage Model (PWM) is supposed to achieve, Deputy Prime Minister (DPM) Lawrence Wong summed up the end goal at a workshop for the Alliance for Action for Lower-Wage Workers in September 2022.
He said: "With progressive wages (and Workfare*, also known as WIS) combined together, we want to see lower-wage workers in Singapore have higher starting salaries.
"But we also want to see them have continued career progression throughout their working lives. This means not just good starting salaries, but having the new wage increases tied to a skills ladder.
To do this, we support their continuous training too, and as they get better skills and they grow in their job responsibilities, they will have better career.
"Ultimately, what we want to achieve is a compression of wages in our workplace, not increasing wage gaps but wage compression taking place largely by uplifting of lower-wage workers in Singapore. That is what we hope to achieve."
Of course, some may ask why the Singapore government doesn't simply raise the minimum wage altogether.
DPM Wong, who is also Singapore's Finance Minister, cautioned that the move could lead to companies hiring fewer workers as a result. He also noted that some countries with the highest minimum wage structure have high-income gaps and high unemployment rates.
There are over 100,000 jobs available on MyCareersFuture. Apply for your next job role here!
"There is no silver bullet in solving this problem. We always have to be careful as we work through solutions. We have to be careful about unintended consequences," he said.
That said, DPM Wong shared that ultimately advancing the well-being of lower-wage workers is a crucial focus for the Government. This is why it is "co-funding a bit of the wage increases, and also spending more on Workfare, in order to uplift the wages of lower-wage workers."
Senior Minister of State for Manpower Zaqy Mohamad, who was also at the workshop, added that society needs to help uplift the lives of lower-wage workers in other aspects, such as "rest areas, working conditions, and making sure they get their rest hours."
(These) should be second nature to use as we think of them as employees who need rest and respect, and not be treated as second class citizens.
So what exactly are the PWM and Workfare models and programmes, and how will they help lower-wage workers? Read on more to find out.
What is Singapore's Progressive Wage Model (PWM)?
Developed by tripartite committees consisting of unions, employers and the government, the PWM helps to uplift lower-wage workers' wages.
The PWM is designed to uplift resident lower-wage workers through annual wage increases, opportunities to upskill and improve their productivity, and a clear career progression pathway.
Since being implemented, PWM sectors have raised wages at a sustainable and meaningful pace without hurting the livelihoods of the lower-wage workers.
At the same time, higher productivity improves business profits for employers. Service buyers also enjoy better service standards and quality!
Which Singaporean workers are currently covered by the PWM, and what industries will be included moving forward?
The PWM is currently implemented in the cleaning, security, landscape, lift & escalator, and retail sectors.
Including a new local qualifying salary requirement, 221,000 full-time resident lower-wage workers (Singapore Citizens, Permanent Residents (PRs)) currently benefit from the PWM.
Looking ahead, the PWM will be expanded to the food Services sector (from March 2023) and the waste management sectors (from July 2023).
For the latter, a new Bill tabled in Parliament in Jan 2023 also called for a new licencing scheme for cleaning businesses in waste collection and materials recovery, to be implemented on 1 January 2024.
It proposes that only businesses committed to investing in productivity measures, keeping up with upcoming wage climbs and ensuring workplace safety can qualify and renew their licences every two years.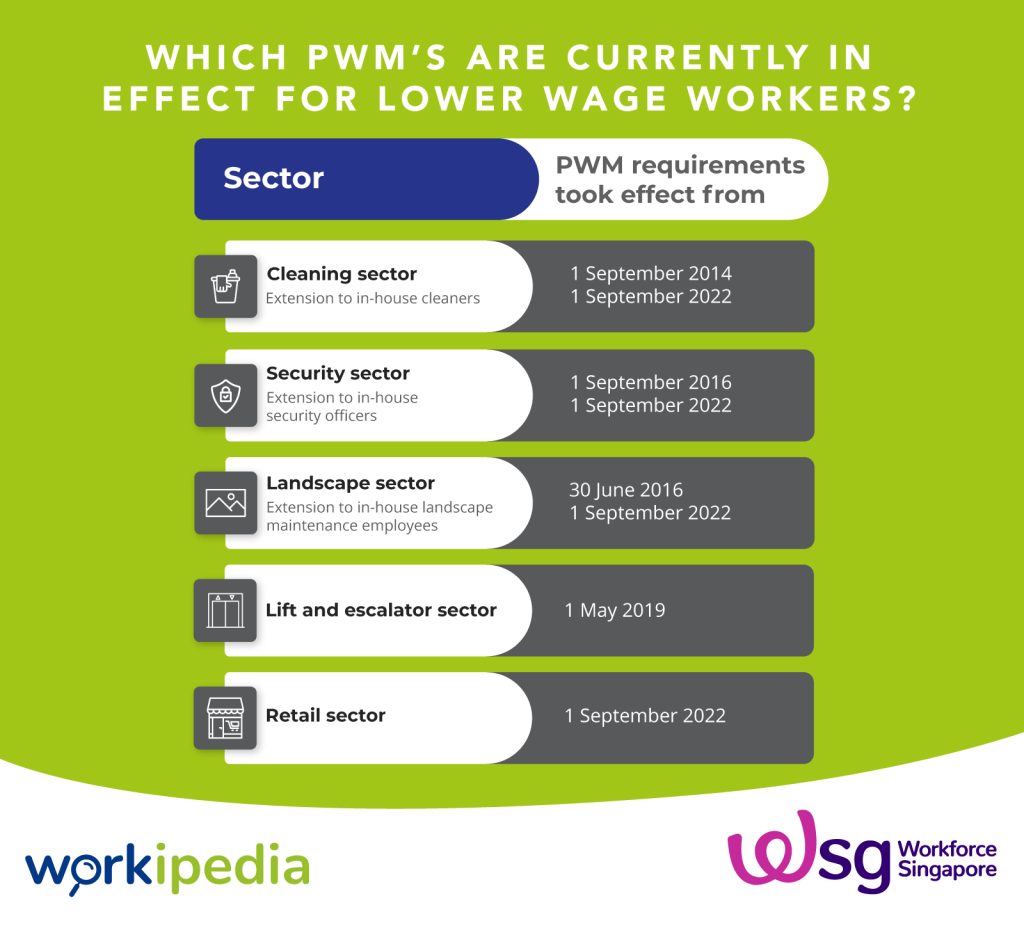 Singaporeans and PRs working in waste collection can expect their monthly gross wages to rise from at least S$2,210 in July 2023 to S$3,260 by 2028, with regular increases over six years.
Meanwhile, those working in materials recovery, such as sorters in recycling plants, could earn a monthly gross wage of at least S$3,160 come 2028, up from at least S$2,110 in July 2023.
The PWM will also be implemented for the administrator and driver occupations (from Mar 2023), regardless of the sector that the employers are in.
Looking for career guidance? If you are exploring career changes and need professional advice, register for a complimentary session with WSG's Career Coaching today.
Why were these sectors chosen to be included in the PWM?
Singapore's Ministry of Manpower shared with Workipedia by MyCareersFuture that in selecting the PWM sectors, they considered:
The number of resident lower-wage workers in the sector,
The suitability of PWM in the sector, including the ability for stakeholders to be represented effectively for meaningful tripartite discussions to take place,
The views of tripartite partners. The PWM was also extended to the administrator and driver occupations, in view that there were significant numbers of resident lower-wage workers in these occupations that exist across many sectors.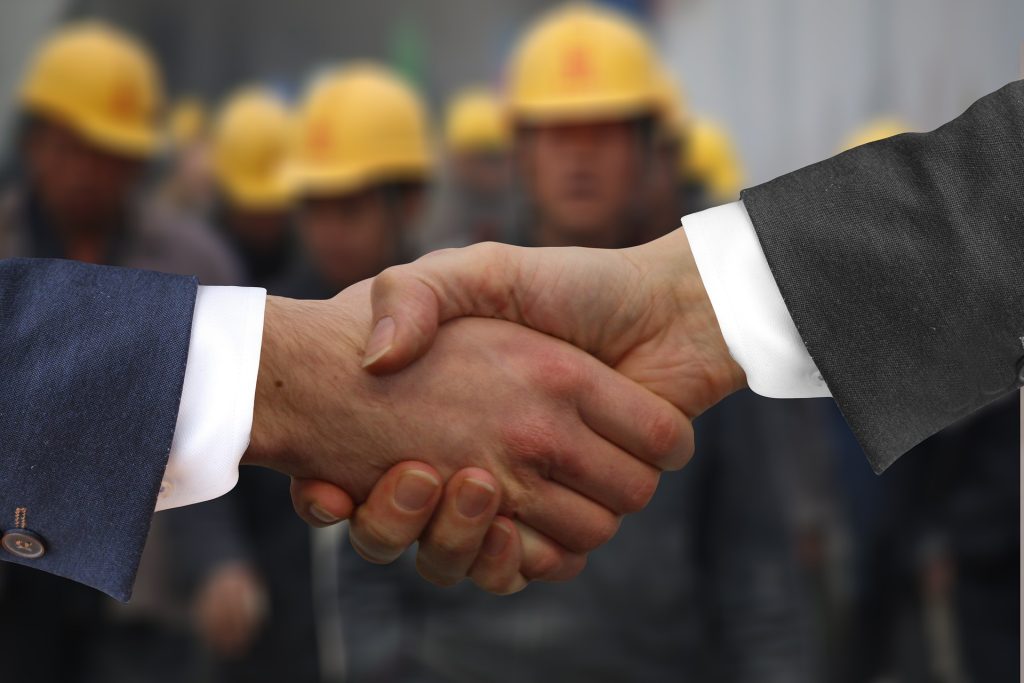 How can you tell if a company is paying a progressive wage?
Singapore's Ministry of Manpower launched a Progressive Wage Mark at the end of 2022 to recognise companies that pay progressive wages. It will enable workers, consumers and corporate buyers to identify and support such employers and firms easily.
It is administered by the Singapore Business Federation (SBF), and more information about it can be found here.
MOM also shared: "If your employer hires foreign workers, they will be required to pay at least the applicable Sectoral or Occupational PWM wage to all resident workers (Singaporean Citizens, Permanent Residents) who work in jobs covered by the respective PWMs whom these PWs apply, and at least the LQS to all other local workers.
"If your employer does not hire foreign workers but is covered by a licensing or registration requirement (applicable to Cleaning, Security, Landscape, Lift & Escalator), they will also be required to pay the applicable PWM wage to all resident workers."
If your employer is required to adhere to PWM requirements, and you are working in a job role that is covered by the PWM, you should have a salary that at least matches the wage requirements of the relevant job roles. For example, if you are a retail assistant or cashier, you should be paid a gross wage of at least S$1,850.
You may refer to the MOM website for the wage requirements for the respective Sectoral or Occupational PWs.
Get bite-sized career tips and stay updated on the latest job listings and career events via our Telegram channel! 
Will higher pay resulting from the PWM also result in more work duties or longer hours? Are there any protections for workers?
MOM also shared: "The PWM benefits workers by mapping out a clear career pathway for their wages to rise along with training, improvements in productivity, and increased job responsibilities.
"Hence, when a worker is promoted to a higher job rung and receives a higher wage, it is fair to expect additional work duties.
"At the same time, PWM also provides annual increments to workers who remain in the same job rung.
"For example, workers covered by the Retail PWM can expect to see wage increases of 8.4-8.5% p.a. from 2022 to 2024.
"The PWM wage levels are set in either basic or gross wage for regular contractual hours. "
For PWMs that are set in gross wages, employers are also required to meet additional gross wage requirements for each hour of overtime work.
In addition, the Employment Act's Part 4 provision for the overtime rate of pay of at least 1.5 times the rate of basic pay continues to apply. These provisions ensure that workers are paid fairly when working overtime.
* WIS supplements the income and retirement savings of eligible workers through cash and CPF top-ups to encourage them to work and build up their CPF savings for their retirement, housing and healthcare needs.