How big is the energy and chemicals sector in Singapore?
The energy and chemicals sector has significantly influenced Singapore's economic growth since the 1960s. Despite the fact that Singapore is not an oil-producing country, it has established itself as a significant player in the energy and chemicals sector. 
Jurong Island serves as a hub for refining, petrochemical, and specialty chemicals activities. The integrated infrastructure on Jurong Island creates production synergies and cost-saving measures for companies operating in the sector. Today, the island houses more than 100 energy, petrochemical and specialty chemicals, including global companies such as Shell, ExxonMobil, BP and Chevron.
Contributing around 3% of Singapore's gross domestic product (GDP) and one-fifth of the country's total manufacturing output in 2020, the energy and chemicals sector employs more than 27,000 people.

Find your next job on MyCareersFuture. We have over 100,000 job opportunities daily for you.
What is the outlook for Singapore's energy and chemicals sector?
As the world moves toward cleaner energy sources and embraces more sustainable practices, there may be reduced demand for traditional petrochemical products, such as plastics and synthetic chemicals, which are derived from fossil fuels. 
This could impact Singapore's petrochemical manufacturing industry, which is a major player in the global market.
To adapt to the changing landscape, the Singapore government has been proactive in supporting the energy and chemicals sector by implementing policies and initiatives to promote the sector's growth and development, including tax incentives, funding support, and infrastructure development. 
Attend walk-in interviews, virtual career fairs, workshops and more! Explore Career GRIT and find events and other resources best suited to your career journey. Check it out now.
Industry Transformation Map
Anticipating these shifts in the evolution of the energy and chemicals sector, the Singapore government launched the Energy & Chemicals Industry Transformation Map (ITM) 2025, a key strategy aimed at decarbonising the sector while seizing new growth opportunities. 
A two-pronged strategy, the roadmap is expected to generate $12.7 billion in value-add and 1,400 new jobs by 2025. The ITM will prioritise four clusters in speciality chemicals – nutrition and agriculture, cleanliness and health, smart materials and mobility, and sustainability – as it shifts its focus to high-value chemicals and specialty chemicals. 
This includes plans to transform the existing base of chemical manufacturing through the adoption of innovative technologies.
There are over 100,000 jobs available on MyCareersFuture. Apply for your next job role here!
Jurong Island Transformation
The transformation of Jurong Island in Singapore is aimed at supporting decarbonisation efforts while helping energy and chemicals companies transition to sustainable practices. The government has initiated the transformation of Jurong Island into a sustainable energy and chemicals park.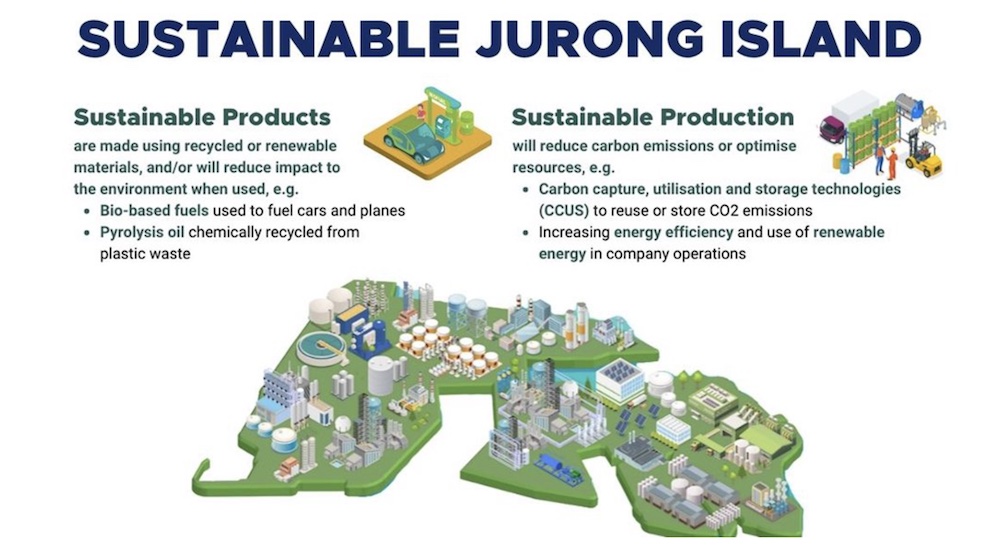 This transformation involves implementing various initiatives and strategies to promote the adoption of decarbonisation and sustainability solutions. One of the key initiatives is the Resource Efficiency Grant for Energy, which supports companies in adopting decarbonisation and sustainability solutions. 
Want to be in the know of the latest career tips, events and workshops organised by Workforce Singapore? Sign up for our e-newsletters now!
Singapore's energy and chemicals sector is actively hiring
As Singapore's energy and chemicals sector evolves to meet new global demands, there are plenty of job opportunities to be seized, particularly in sustainability roles. 
Read More: Singapore's Sustainability Sector: Job Opportunities and Career Conversion Programmes to Tap on for a Successful Industry Switch
As Singapore strives to achieve a greener future, there is a growing need for professionals in areas like renewable energy, clean technologies, and sustainable practices. So, if you're keen on joining the sector, there's no better time than now to hop aboard! 
Here are some useful readings to help you learn more. 
What's it Like to Work as a Chemical Engineer?
How to Prepare for a Lucrative Career in Advanced Manufacturing
Top 3 Reasons Why You Should Take Up a Lab Technician Job
The Ultimate Guide to Getting a Job as a Technician