Workforce Singapore (WSG) organises career events for local workers and jobseekers to aid their career journeys, especially with so much going on in the Singapore job market.
At WSG's recent "Take Charge Of Your Career at Suntec" Event, participants engaged in career talks, career advisors, and exhibits on how to use the latest digital career resources – all designed to help participants unlock their career potential.
There were also on-site job interviews with employers from the following industries:
Healthcare and community care
Logistics and engineering
Building, facilities management and transport
ICT and professional services
Tourism and hospitality
Here are some of the career insights that came out of the talks and networking sessions at the event for a quick flashback.
Need personalised guidance in your job search? Register for a complimentary session with WSG's Career Matching Services today and get the support you need.
Adjacent skills – what they are and how they affect your career
Dyal Krishnan, a senior talent developer and a professional certified coach, shared more on how the world of work has seen an acceleration of changes driven by technology, and social and environmental evolutions.
Routine, mundane, and process work have been taken over by machines resulting in the obsolescence of skills, job redesign, and organisational changes to keep businesses competitive and afloat.
The question is: how do Singaporean workers keep pace and stay competitive in this present world of work and prepare for the future of work?
Dyal believes that we need to continue bringing more to the work we do by increasing our productivity, being more effective in our roles, and being ready to pivot to new roles when needed.
He added: "In an era where certain jobs are disappearing, a good place to start will be to identify and develop adjacent skills, and determine how they can be a strong foundation to planning our career trajectory."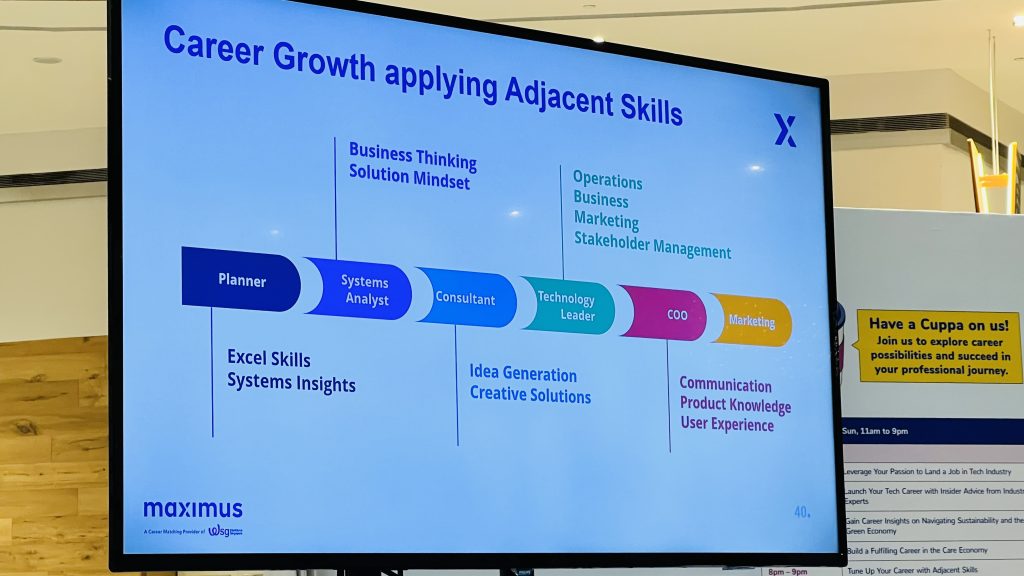 These refer to technical skills closely related to the ones you already have. They are not always mentioned in job descriptions, but workers who develop them expand their expertise and become more efficient and effective in the workplace.
Some examples include:
Scripting as an adjacent skill to financial analysis
People management as an adjacent skill to product management
User research as an adjacent skill to interface design
Project management as an adjacent skill to engineering
He also shared a nugget for those trying to figure out the difference between reskilling and upskilling.
"Reskilling is about versatility, but upskilling is about specialisation."
The idea is that reskilling is about expanding the broader scope of your skillsets, while, with upskilling, the goal is to get better at a particular skill-track.
Have a job but want to level up? Explore career events and resources designed to help you develop your skills and expand your knowledge with Career GRIT. Check it out now!
What are the important soft skills to focus on during a career transition or change?
Jessie Tay, a principal manager at the Lifelong Learning Institute, shared some skills, insights, and job roles in various economies for those looking at moving to other industries.
She believes soft skills also matter, sharing: "Thinking critically and staying relevant matters. This involves creative thinking, decision-making, problem-solving, sense-making and trans-disciplinary thinking.
"These are crucial in identifying the transferable and soft skills you'll need to make a career transition or change.
"You have to highlight the skills you already have at interviews to give yourself the best shot, to demonstrate how you have effective and acquired skills, which can help and contribute to your new employer."
Managing stress and emotions at work
Emotional intelligence skills can certainly impact our career progression, resilience and overall mental well-being, according to Gloria Er, a coach from EunoiaCoaches.
Understanding and effectively managing our emotions can aid us in our professional growth and make informed decisions about our career path, as well as manage stress better when under pressure or during challenging times, be adaptable, learn from mistakes, stay resilient and maintain a positive attitude.
For those currently employed, change is clearly coming, and the stress of needing to upskill and reskill to equip themselves and stay relevant in an evolving marketplace is real.
CareersFinder empowers you to discover your upskilling and career needs through personalised jobs and skills recommendations. Explore it now! 
Gloria shared: "Our rat race mentality has still never left, and Singapore workers are traditionally a bit "kiasu".
"The reality is there are a lot of challenges and changes. Continuous learning is what will make workers adaptable and stay in touch with trends and new skills.
"What's key is having a willingness and being open to learn. The good news is this can be learned. But workers need to be aware different backgrounds and culture doesn't mean that they can't learn new skills and mentalities."
She also considered whether local workers were emotionally adaptable compared to Western and regional counterparts, especially considering studies showing geography does affect sensibilities and sensitivities.
"What is crucial for Singaporean workers is to overcome our belief system, where we shouldn't express emotions or we fear appearing weak, which impedes the process of learning."
Lastly, career matters, but so does self-care in professional relationships
Eagles Mediation and Counselling Centre (EMCC) Singapore's assistant senior counsellor Spana Mathews shared that while you're trying to better your career, nurturing your emotional, social and spiritual well-being matters too.
She shared 3 key factors in bringing out better wellness in your professional life and relationships:
Can you communicate your thoughts with clarity and confidence?
Are you able to have deeper relationships with others, and stay connected?
Good conflict resolution: are you able to work out disagreements?
Ultimately, your career will be dependent on engaging others, so as to be mutually productive at the workplace. Managing these relationships is essential to maintaining your productivity over a long period of time as well, she concluded.