Most people want a career that is fulfilling and meaningful; something that makes a positive impact on the world or local communities. Some vocations fill this in obvious ways: doctors, volunteers, local government, and teaching. Business and corporate roles can be just as fulfilling, however.
The world of business and supply chain jobs in particular are going through a huge change at the moment. Increased concern for natural resources and humanity has led to a more conscious logistics management approach. And with the industry expanding with newly-opened borders, there are plenty of supply chain career opportunities for jobseekers that are challenging, connect people, and make positive changes in the world.
We look at fulfilling elements of supply chain jobs that many in this vocation are already benefiting from, as well as providing resources on how you can acquire a job in supply chain management. Read on to discover how this industry can offer you a meaningful career.
Looking for an exciting new job? There are over 80,000 jobs available on MyCareersFuture. Apply for your next job role here!
Logistics 4.0 – For Creative Solutions
Logistics 4.0 is a shorthand used to describe the shift towards digital solutions across supply chain management providers and clients. This shift is happening across many industries, but in supply chain management, it includes data analytics, automated sorting, picking and packing, and drones to inspect inventory. Companies use these to streamline their processes and predict disruptions. The digitalisation of the supply chain not only helps to reduce inefficiencies but reduces the logistics industry's impact on the environment.
For jobseekers who are concerned with technological innovation, reducing material impact, helping business owners build sustainable enterprises, and improving the efficiency of modern society, Logistics 4.0 is fantastic news. Many supply chain jobs are moving towards integrating these new technologies, opening up the rewarding opportunity to help organisations integrate digital solutions into their supply chain.
If you want to work in a supply chain job that emphasises Logistics 4.0 integration, look for growing companies and make sure to stay engaged with technological developments in this field. If you can demonstrate a passion for innovation and use this to drive profits with a logistics management company, you will find yourself in a progressive job that improves workflow and customer experience.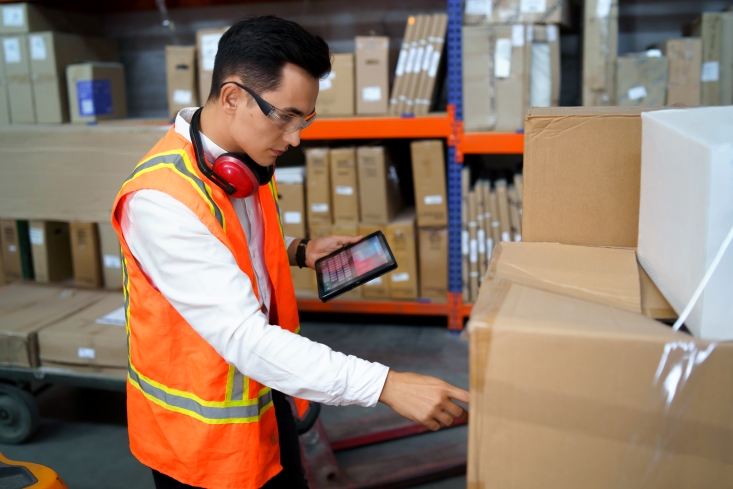 Green Logistics – For Sustainable Concerns
Some jobseekers are reluctant to work in commercial business due to the environmental impact. Supply chain management involves shipping goods between cities, states, and countries. This often results in large companies having a significant carbon footprint which can become an ethical problem.
Thankfully, some large companies have begun to lead the way when it comes to green logistics solutions. These are strategies employed by third-party logistics (3PL) providers that account for the environmental and humanitarian impact of their transport solutions.
Green logistics strategies can include ethical sourcing for packaging, or ensuring packaging supplied to customers is recyclable/reusable. Offsetting carbon impact with projects that reduce carbon emissions, or reducing petrol use altogether through electric transport vehicles is another solution employed by 3PL companies.
If the eco-ethics of supply chain management are a pain point when it comes to a career in logistics, there are options that don't have to compromise your morals. When applying for a supply chain job, look at the company you're applying with and read their reports to discover what their stance is on green logistics. This way, you can find a position that addresses an issue you care about.
Looking to transition to a new industry? Make an appointment now to see a career coach to help with your job search!
Inclusion and Diversity – For a Human Focus
Green logistics also encompasses human resource ethics. Many organisations in Singapore are already subject to regulations outlined in the human rights declaration which prevents human resources from being unethically exploited through child labour, overworking, unfair remuneration, and discrimination. Human resources in many organisations are constantly undergoing transformations that propel them towards better human-focused approaches.
Recently the pandemic has raised awareness of the importance of balance and compassion when it comes to mental health and the workplace. As a consequence, workplaces are integrating mental health awareness, increased time off, and positive action activities like volunteering and community engagement to help their employees feel better at work. And this makes a lot of sense; stress does not increase performance, so when employees are more satisfied and invested in their work, this will reflect in the general productivity and profits.
When interviewing for a supply chain management job, ask about any mental health services that the organisation offers to employees, or enquire whether they would be open to establishing a pro-mental health program. This will increase overall work satisfaction leading to more meaningful and productive work.
Embark on a Fulfilling Supply Chain Career
If you're looking to get into the supply chain sector and want to explore career opportunities in this industry, take a look at these logistics and supply chain management roles. Once you're starting on your job application journey, be sure to incorporate these tips on how to stand out from the crowd.