Singapore aims to grow its manufacturing sector by 50% in the next 10 years so that it continues to contribute one-fifth of the country's economic output for the medium term. Currently, the industry accounts for about 21% of the nation's gross domestic product, amounting to $106 billion.
In November 2021, manufacturing output still rose, although slower — at a pace of 14.6%.
According to Trade and Industry Minister Chan Chun Sing, the targeted growth in the sector will not only be based on numbers, but also on quality output.
Minister Chan adds, "We want to see a greater proportion of our manufacturing going into advanced manufacturing, where the competition is not based on cost but on the intellectual property that we can generate, the quality of the products and the precision that we can provide for the sector."
Moving in that direction requires some strategic implementation sector-wide — a shift towards more tech-driven and smart solutions is set to nurture this growth.
Lending insights from Deloitte on what the future of work in manufacturing will look like, here are some new manufacturing jobs to keep your eyes peeled for. Those seeking more creative roles in manufacturing will find this appealing.
1. Digital twin architect
Leveraging the power of artificial intelligence and machine learning, a digital twin architect designs a virtual representation of physical space. Using 3D design software, they are able to create digital models of products to test in real-world operating environments along the manufacturing value chain.
This allows manufacturers to understand how the product performs by running simulations in different environmental conditions, drawing insights to improve its performance and enhancing predictive maintenance. Automobile, energy generation and healthcare tech are some manufacturing domains that will benefit from a team of digital twin architects.
Skills and expertise: Strong capability in artificial intelligence systems, sensors, analytics and software development
Looking for advice on how to enter the manufacturing industry? Register for MCF Career Matching Services to get some insight and support today.
2. Robot teaming coordinator
The advancements in the manufacturing sector are seeing the increasing penetration of robots along production and distribution lines. Enabling them to work harmoniously with humans is important for any manufacturer.
Robot teaming coordinators oversee the functions of these robots that interact with humans and draft up processes to ensure that the strengths of both are optimised in any work environment. They will be suitable in manufacturing industries that require heavy use of robot technologies along production, assembly and distribution lines, such as consumer goods, computers, automobiles and agriculture.
Skills and expertise: A high level of understanding of robotic technologies and behavioural analysis.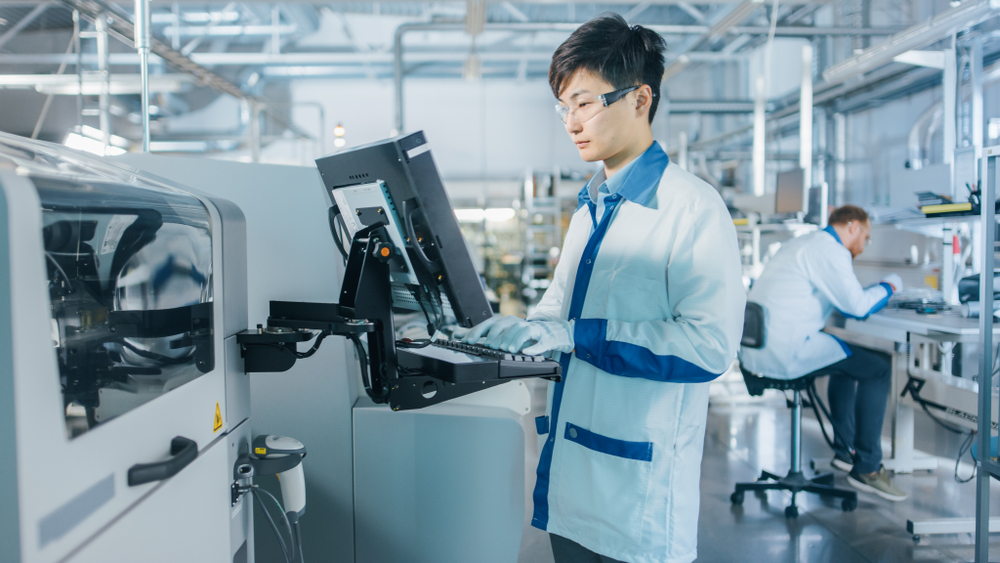 3. Predictive supply network analyst
Demand and supply are the blood of any manufacturing line — having visibility of future trends allows manufacturers to apply foresight to decision-making. Predictive supply network analysts leverage machine learning and artificial intelligence to identify opportunities across the supply chain.
For instance, they can predict demand and correspondingly scale material orders to make efficient use of resources. They may also recognise obstacles such as material shortages and propose recommendations to ensure customer-level agreements are fulfilled appropriately. Industries like electronics, engineering, fabrics and pharmaceuticals that supply products to companies need to study the market proactively to successfully meet the demand. As such, predictive supply network analysts have plenty of opportunities to consider here.
Skills and expertise: Skilled in big data modelling, network planning, analytics and artificial intelligence
Looking for a job? Explore a range of career opportunities with Career GRIT. Connect with hiring employers at various career events such as walk-in interviews, virtual job interviews, virtual career fairs, and many more!
4. Smart quality assurance manager
Automation reaches the quality inspection line in manufacturing, relying heavily on vision systems and real-time analytics. Just like a quality assurance manager, the responsibility of inspection remains.
However, a smart quality assurance manager works with an ecosystem of machines and sensors, AI-powered dashboards and virtual reality technologies. These allow them to conduct root cause analysis of products to identify and study issues, and find solutions.
Ultimately, the manager reduces manual inspection, eliminates disruption to the production schedule and ensures productivity is enhanced. Any manufacturing company requires efficient quality checks, which means those looking in this line of work can find a role in almost any industry.
Skills and expertise: Adept in automation, deep learning techniques and design innovation
Upgrading skillsets for the future
There are many avenues in the manufacturing industry to explore, such as the biopharmaceuticals sector or of additive manufacturing. Ensure you stay up to date with the industry trends, find out what recruiters in the field are looking for and plan your job search wisely.
If you're interested in making a career switch to the ever-growing manufacturing sector, these useful goal setting tips can help you kickstart the journey. Stay positive and you'll reach your goals in no time!