Managing a career and pregnancy isn't easy, but Singapore's maternity leave benefits provide some much-needed assistance. However, if you're planning on taking maternity leave following childbirth, it's helpful to consider the colleague(s) who will be taking over during your absence.
Conducting a proper handover of your daily responsibilities ensures the person filling your role during your time away has everything they need to maintain your high standards.
Below, we briefly cover the entitlements of maternity leave and offer the best way to make this transition as smooth as possible.
Attend walk-in interviews, virtual career fairs, workshops and more! Explore Career GRIT and find events and other resources best suited to your career journey. Check it out now.
How long is maternity leave in Singapore?
If you meet the full eligibility criteria for the Government-Paid Maternity Leave (GPML) scheme, you'll have 16 weeks of leave to bond with your baby and spend time with the family.
To receive the full 16-week entitlement, mothers must meet the following eligibility criteria:
The child is a Singaporean citizen.
You're legally married to the child's father.
You have worked for the same employer or been self-employed for at least three continuous months before your child's birth.
If your child is not a Singaporean citizen, you're still entitled to 12 weeks of maternity leave.
Your child's father may also utilise up to four weeks of your maternity leave as shared parental leave, which reduces the duration you'll be away.
You may use the Ministry of Manpower's maternity leave calculator to get the most accurate information on your entitlements.
This way, when informing your employer about maternity leave, you can offer them precise guidance.
How to hand over before leaving on maternity leave
Ready to hand over your work? Make sure you give your employer at least a month's notice before going on maternity leave. This will allow them the time to find suitable replacements you can train.
Check out these tips to help your team perform while you're caring for your new baby.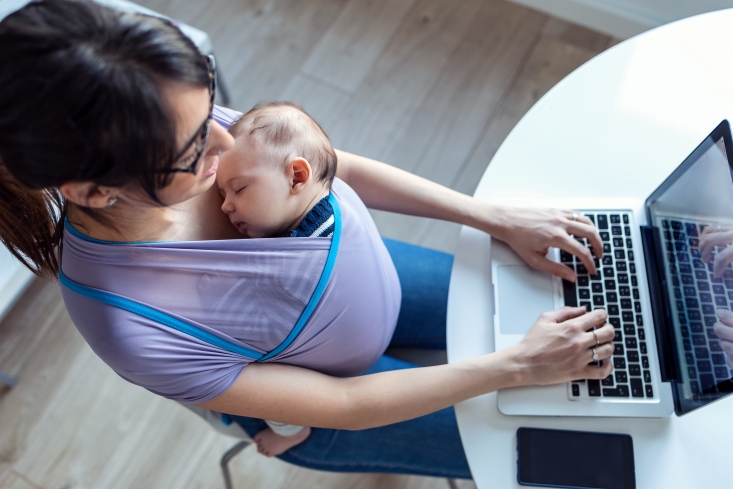 1. Discuss resources with management
In Singapore, maternity leave can be taken up to four weeks before delivery and 12 weeks post-birth. With this in mind, it's helpful to have honest communication with your supervisor to determine the ideal time for you to depart.
This can help avoid any problematic scheduling.
Meanwhile, if you agree on a mutually acceptable plan with your employer, the last eight weeks of your maternity leave can be taken flexibly over 12 months from your child's birth. This means you can return briefly if necessary and keep your leave for the near future.
2. Introduce your colleagues
Don't leave your colleagues, clients and partners confused about who they should communicate with. Once you know when you'll be taking maternity leave, inform crucial stakeholders so that you can introduce them to your cover for the upcoming weeks and months.
If you've established strong relationships with stakeholders that usually only deal with you, giving your team guidance about the best way to work with them can help overcome problems during your leave. By integrating a colleague with a warm introduction, you help them establish strong relationships and maintain business productivity.
Looking for career guidance? If you are exploring career changes and need professional advice, register for a complimentary session with WSG's Career Coaching today.
3. Create a document hub
Your maternity leave cover is bound to experience plenty of frustration if they can't find important documents while you're away. To avoid this, create a centralised document hub that provides the information they'll need during your absence.
This way, you prevent urgent concerns from being overlooked by colleagues who aren't aware of the problem. Meanwhile, providing access to protected documents on Google Docs or Dropbox ensures you won't have to deal with emails and phone calls during your leave.
4. Organise a time to catch up
If you're usually heavily involved in the day-to-day running of a business, you may find yourself worried about how your job is being looked after. If so, consider scheduling a date or two to catch up.
This allows you to feel involved in the business and its success while helping you prepare for when your maternity leave finishes.
By organising a low-key chat with your colleagues, you can gain oversight on essential work issues and socialise with those you're used to seeing all the time.
Being there for your newborn is important while you recuperate after childbirth. Leave worries of work aside with a proper handover so you can focus on your health and family.
When you're ready to return to the working world, you can think about refreshing your competencies or upskilling before your maternity leave ends.