Struggles with Upskilling During Maternity Leave
If you're becoming a mother for the first time or have already experienced this joy before, there are a few common anxieties that women face when beginning, and returning from, maternity leave.
For many women, there is a lot of worry about getting back into the swing of work and keeping up with industry trends. Being out of your industry for many months can mean the adjustment period back to work can be bumpy, especially if large changes have happened in your absence.
Attend walk-in interviews, virtual career fairs, workshops and more! Explore Career GRIT and find events and other resources best suited to your career journey. Check it out now.
One way to make the return process smoother is by attending industry events, reading up on new insights, and upskilling. This means that not only are you prepared to return to work, but you may experience career growth once you return.
That said, it can be difficult to balance work and a new baby. Sleeplessness, financial burdens, and other dependents will all draw on your energy, making it hard to study. Make sure that if you decide to upskill, it is not at the expense of recovery, bonding with your child, and your mental health. Balance is key when it comes to upskilling during maternity leave.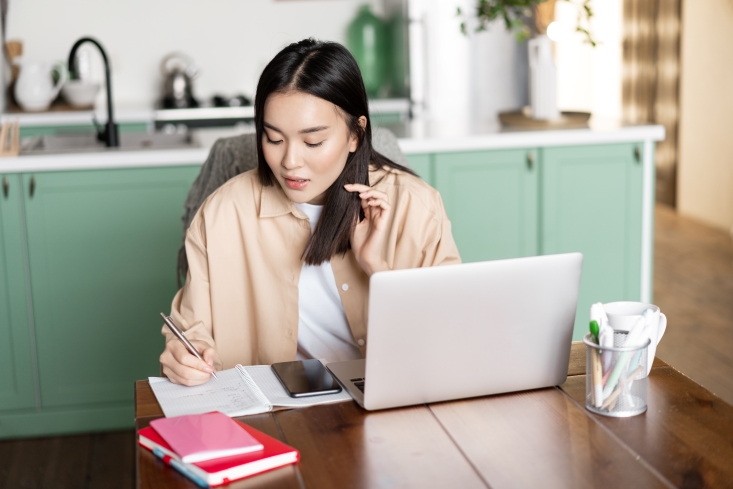 Put You and Your Baby First
There is a lot of pressure on new mums to do all the 'right' things. You'll hear so much contradicting information about what you should be doing to look after yourself and your child, but the reality is that you will have to figure out what works for you.
This stage can take some time and become exhausting. Don't fall into the trap of thinking you have to be a career mother from week one. Take some time to spend with your child, get to know them and bond with them. Enjoy the time off without responsibilities, and take this rare opportunity to focus on yourself and your family. Jobs may come and go, but your family is the most important thing.
If you decide to upskill, avoid putting too much pressure on yourself. Choose flexible study options that allow for sleepless nights, mental strain, and doctor visits. Selecting the right program can mean a world of difference when it comes to enjoying your maternity leave.
Looking for career guidance? If you are exploring career changes and need professional advice, register for a complimentary session with WSG's Career Coaching today.
Keep Up with Changes in the Industry
Many professionals are required to complete professional training or experience every year in order to maintain their registration in their present profession. This is especially true in fields where new innovations are constantly occurring, such as health, education, and law.
Others, such as IT, marketing, finance, and e-commerce, are not obligated to do so, but engagement with industry trends looks good on a resume and for your current employer. Anyone who has worked in the computer or social media industries knows how quickly things can change, so it's important to stay up to date.
Attending industry events, reading up on news articles and forums, or staying in touch with colleagues from work will all help with your return to the workplace. You may even have more time to dedicate to this task now that you're unencumbered by work responsibilities. This is a great opportunity to offer something fresh to your workplace and opens up avenues for career growth.
Get bite-sized career tips and stay updated on the latest job listings and career events via our Telegram channel!
Talk to Your Employer
Your boss should have the best idea of areas you can improve in during your time away. They may even be able to offer insights into developments happening in the near future that you can prepare yourself for.
Discuss your options with your company or HR representative. They could be willing to support some online training you can complete from home, or perhaps some paid employment you can perform while on leave. These will keep you in the loop of your business, and provide some stimulation aside from raising your child.
This zeal will impress, and you may be fit for a new opportunity that comes your way within the company when you return to the workplace.
Maternity leave is a great time to upskill and build a foundation for career growth. Make sure that you approach this in a healthy way and maintain an open dialogue with your employer and family members. This period can be both stressful and exciting, so make sure you understand what's best for you and your child as you approach upskilling during maternity leave.