Maternity leave is a great benefit for new mothers in Singapore. However, transitioning back to work is a challenging process for many reasons. Not only are you spending time apart from your child, but you also find yourself with professional problems that require thought and consideration. This can include anything, from getting accustomed to the work environment and hours to getting up to speed with new processes introduced while you were away.
So, when it's time to return to work, how can you ensure this shift goes as smoothly as possible? We've put together some helpful tips to overcome the physical and mental difficulties that emerge towards the end of your maternity leave and help you successfully get back to the office.
1. Stay up to date 
Before you complete your maternity leave, it's always a good idea to stay informed about the workplace from a distance. Although you have plenty to manage with your newborn child, checking in to get occasional updates from colleagues ensures you don't return to a rude surprise.
Once you've decided on a return date, contact your boss for an informal chat about schedule changes. By remaining in touch with your team about how the office has evolved during your absence, working mothers like yourself can slot back into professional roles effortlessly.
Need support in looking for your next job? Register to speak to our career guidance team and get help in your job hunt. 
2. Ask for a flexible schedule 
Even if you're looking forward to working in the office again, there's a good chance that you'll find your old schedule incredibly demanding. If this might be the case, consider asking whether a flexible arrangement is possible in your workplace.
As your work-life balance becomes more complicated than ever before, having the ability to work certain hours from home or arrive late on days you need to drop your baby off with a caretaker or childcare is incredibly helpful. Start this dialogue before you return to reach a mutual agreement. It will go a long way in maintaining a good relationship with your boss. 
3. Plan your childcare needs
After spending a few weeks at home, you've probably developed a solid routine with your child. However, this schedule comes under pressure when working mothers return to the office. To experience the fewest problems, you need a carefully considered childcare plan that makes sense alongside your career.
For example, having relatives commit to a certain amount of care each week gives your schedule more certainty. Meanwhile, putting your child into professional childcare can also ease your troubles. With a detailed childcare plan, you won't have to worry about who's looking after your child when you're away.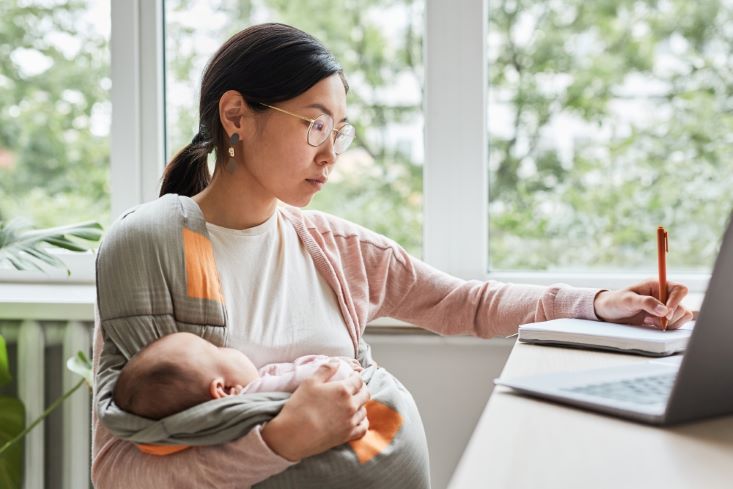 4. Don't over commit
Working mothers in fast-paced careers are often tempted to dive headfirst back into their professional commitments. However, don't underestimate the difficulty of transitioning into your working life following maternity leave. Instead, try to set proper boundaries and say no when needed.
Studies have found that women are 50% more likely to be asked to do 'invisible work' than men and are keener to volunteer for them. While essential, tasks like ad-hoc employee training or admin roles can go unrecognised. Maintaining your time away from work is key to providing childcare and supporting your mental health. Speak to your manager should you need more time, help or are unable to complete specific tasks, and offer a possible solution.
5. Create a routine
Every professional needs a routine, but it becomes even more critical when balancing your career alongside your child's health and wellbeing. By planning when specific tasks are performed, at work and at home, you can meet the needs of both sides of your life.
Using a weekly calendar, you might outline who handles meal preparation, bathing and bedtime stories. Then, you might have a similar outline for preparing breakfast, play time and transporting kids to childcare. Having a straightforward routine means you won't feel so rushed each day.
Looking for a job? Explore a range of career opportunities with Career GRIT. Connect with hiring employers at various career events such as walk-in interviews, virtual job interviews, virtual career fairs, and many more!
 6. Do a test run
Once you've decided on a routine, do a test run to see if it works for your daily activities. If you know you have to leave at 8am to arrive at work on time, make sure you can comfortably prepare your child for the day and look after yourself with a few minutes to spare.
The same goes for post-work hours. You might have to pick up your child from their nanny or spend an hour preparing their dinner. Factor all these considerations into your test run to ensure it provides a realistic outlook on what to expect following your maternity leave.
Ease your return to work
Figuring out how to manage your career and childcare needs takes work and planning. By following these tips and keeping tabs on your physical and mental health, you can prepare yourself for a strong return to the office without sacrificing family time. Why not hear from experienced working mothers and take away some valuable insights that'll help you navigate your transition?