Are you ready to embark on a wild and delicious adventure in the thrilling world of the Food and Beverage (F&B) sector in Singapore? Get ready to shake up your taste buds and ignite your passion for food and service! 
Workipedia by MyCareersfuture brings you five reasons to consider this dynamic career path—a rollercoaster ride of flavours, cultures, and culinary wizardry that will leave you craving for more.
Hungry for a new career? From baristas to chefs and marketeers to photographers, explore thousands of jobs in F&B on MyCareersFuture!
Five reasons why a career in F&B may be the right one for you
1. Diverse career paths
Contrary to popular belief, the F&B sector in Singapore offers a wide range of career paths beyond the traditional roles of chefs and servers. Here are some examples listed on the MyCareersFuture portal:
| | |
| --- | --- |
| Role | Salary Range |
| Admin Executive | $2,200 to $4,000 |
| Brand Manager | $4,500 to $7,000 |
| Customer Service Officer | $2,200 to $4,000 |
| Distribution Analyst | $4,000 to $6,000 |
| Logistics Coordinator | $$1,800 to $3,400 |
| Operations Manager | $4,800 to $8,000 |
| Regional Marketing Executive | $3,600 to $4,800 |
| Sales & Marketing Manager | $4,900 to $9,500 |
| Shop Supervisor | $2,200 to $3,600 |
| Store Manager | $3,500 to $5,000 |
Jobseekers, find jobs in F&B here!
With the rise of digital platforms and food delivery services, there is also a growing demand for professionals in food technology, food photography, and social media marketing, making this industry a hub of innovation and creativity.
2. Cultural immersion
Working in the F&B sector, you can explore and appreciate various cuisines, traditions, and customs from around the world. Whether you are working in a local hawker centre, a fine dining establishment, or a trendy café, you'll be exposed to a melting pot of flavours and cultures, broadening your horizons and providing a truly enriching experience.
3. Fast-paced and dynamic environment
The F&B sector is where every day is different, bringing new challenges and surprises. From managing busy shifts to ensuring impeccable service, F&B professionals are constantly on their toes, honing their multitasking, problem-solving, and teamwork skills.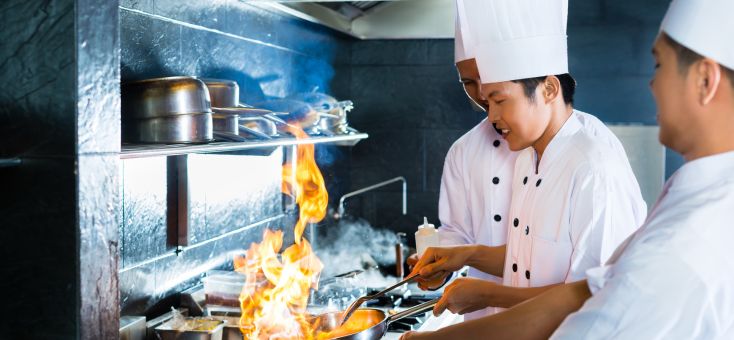 The adrenaline rush and sense of accomplishment that come with successfully navigating a busy service are unmatched.
Considering a Mid-Career Switch? Register for a complimentary session with WSG's Career Matching Services for helpful guidance today.
4. Opportunities for growth
The F&B sector allows individuals to challenge themselves, learn new skills, and carve out a fulfilling career path. Whether you are starting as a line cook or a barista, with the right attitude and willingness to learn, you can quickly climb the career ladder and take on more responsibilities. 
Many successful restaurateurs and chefs have started from humble beginnings and worked their way up through determination and passion.
Read More: Cooking Up a Winning Career: 7 Reasons Why Being a Chef Could Be the Right Fit for You
5. Personal fulfilment
For those who love food and a desire to create memorable experiences, the F&B sector offers unparalleled personal fulfilment.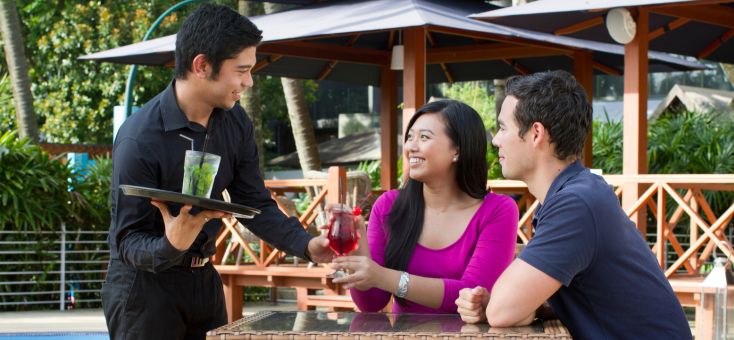 Whether you delight taste buds with innovative dishes or curate memorable dining experiences, there is a unique joy in seeing customers savouring your culinary creations or creating a warm and welcoming atmosphere for guests. 
Read More: F&B Industry: Why Now is the Right Time to Make the Switch
To F&B or not to F&B…
Have no experience or the right skills to join the F&B sector? Fret not. Enrol in WSG's Career Conversion Programme (CCP) with On-the-Job Training for the following job roles in  F&B:
If you need professional advice on navigating your career journey to the F&B sector, register here to speak to a career coach!